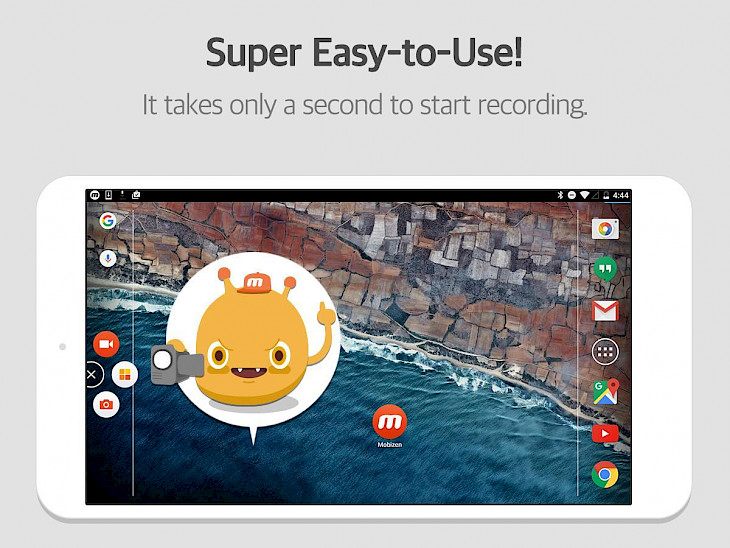 Download Mobizen
With the Mobizen app, using your smartphone from your PC becomes a reality. Use the keyboard to type, display images, and videos saved on your phone, and use your mobile apps. It has never been easier to use your mobile. Share your videos and pictures on a bigger screen.
Developed by RSUPPORT Co. Ltd., the intuitive nature of Mobizen enables you to monitor your Android as if it were in your hands. It has never been easier to press, swipe, or drag with your mouse. With the app, the best mobile and web experiences have been fused into one.
To continue using mobile apps and viewing multimedia content, use either a web browser or a PC program. Expand your Android experience with mirroring infinitely.
Features of Mobizen
After being paired, Mobizen Mirroring will record or capture the mobile device's screen. Document games or even live broadcasts, such as Minecraft, Clash of Clan, etc. Recording and capturing is only possible on the Technical service.
Getting Started is Quick
All you have to do is download Mobizen Mirroring, upload and install Mobizen on your computer, and link to a phone on your Android.
Seamless Screen Recording
Download the easiest-to-use Mobizen screen recorder now and make your first awesome video. The most user-friendly, convenient screen recorder that allows you to record, capture, and edit is Mobizen. To make the best videos, anyone can use the completely free features of Mobizen.
Full HD Support
Clear Full HD screen recording is possible with Mobizen. Best quality supplied with 1080p resolution, quality of 12.0Mbps, and 60 FPS settings. Freely capture your reactions when capturing game sound and Facecam's voice.
Comfortable Post-Record Editing
Trim, cut, photos, etc., with a variety of video editing features, increase the quality of your video. To make a customized video, put in your favorite Background Music and an Intro & Outro Video. Register a clean screen with Clean Recording Mode without a watermark for free.
No Root Required
Anyone can use it starting with OS 4.4 without rooting. Use all features for free for screen recording, capture, and editing. The watermark can be removed for free.
Save Your Recordings
When saving on External Memory (SD Card), you can record long videos without worrying. Store recorded file. The screen recorded with Mobizen will only be stored on the computer of the user. You must consent to Storage, Camera, Mic, and Draw over Apps Permissions to enjoy all the features of the Mobizen Screen Recorder.
Download and Install Mobizen for Windows PC
From the Google Play Store or the link shared in the download button above on this page, download the Mobizen mirroring app. Once downloaded, install the app on your Windows PC by running the setup installer for Mobizen.
After installation, the desktop icon for Mobizen will appear on your Windows PC screen. Using the icon, you can quickly launch Mobizen whenever you want to pair your Android phone with your Windows PC to cast your mobile screen on the bigger computer screen while playing a movie or game. Enjoy!
You might also like