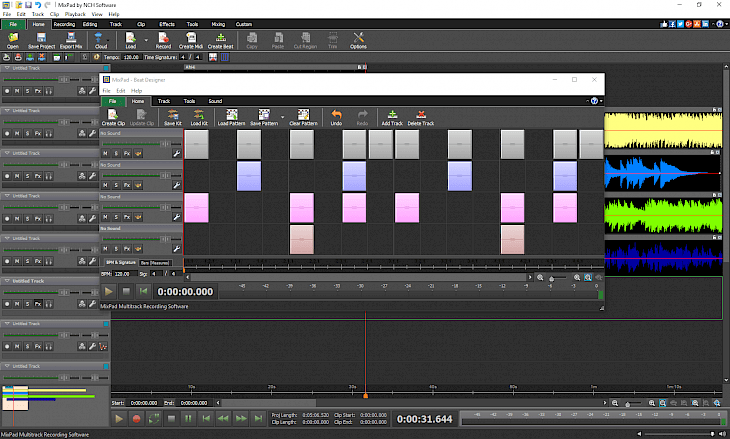 Download MixPad Music Mixer
MixPad Multitrack Mixer is a sound recording and mixing audio tool to mix your audio and music files easily. As the name referred to as "multi-track" you can record and mix multiple audio tracks. This excellent platform offered professional recording and mixing equipment on one platform.
This fantastic software helps the users to perform various tasks such as creating their own music, recording a podcast, mix songs, and more. The software is free to use and available for non-commercial use. MixPad Multitrack Mixer provides a user-friendly interface and can be used easily without any prior technical experience. You can edit and rips clips, sample tracks, change pitch, add effects like beats and reverb, and supports low-latency recording for making the best audio quality tracks.
The user can create an awesome mix by following three steps. You will need to find the perfect sound files for your mix or start your recording. Now create an amazing mix with great effect in perfect digital quality. Finally, you are free to take your mix wherever you go and share your tracks with your friends online.
FEATURES
Record single or multiple tracks simultaneously.

The user can mix an unlimited number of music, vocal, and audio tracks.

You are free to load any audio file. This platform supports comparatively more formats than other similar mixer platforms.

To make your audio more effective, add audio effects including EQ, compression, reverb, and many more.

Includes a royalty-free sound effect and music library with hundreds of clips to use in your productions.

VST plugin support is available for added studio effects and instruments.

Very low latency, ASIO support for sample accurate recording.

Supports sample rates from 6kHz to 96 kHz.

Export at all popular bit depths up to 32 bits floating point audio.

Mix to mp3, burn to CD or upload your productions.

You can save your audio in any file type you need from studio quality wav files to high compression formats for sharing online.
How to install MixPad Multitrack Mixer on the Windows Operating system?
MixPad Multitrack Mixer is a typical multi-recording application that allows users to perform various functions and record stunning tracks. You can use this platform to record instruments and vocals for music production, produce soundtracks for videos, record and edit podcasts with separate tracks for each host, and more.
The PC version of this software is easily available. To install MixPad Multitrack Mixer on your Windows operating system you will need to follow the instructions defined below.
Step 1: You can download MixPad Multitrack Mixer directly by visiting its official website.
Step 2: Alternatively, open your browser and search "Download MixPad Multitrack Mixer for Windows" in the search box.
Step 3: You can choose any trusted websites like filehorse.com from the search result page to download this fantastic game.
Step 4: Once the downloading is completed, click the setup or .exe file twice to start the installation process.
Step 5: Follow the instructions and guidelines very carefully.
Step 6: When the installation process completes successfully. Now you can use this fantastic software on your system to start your music career and enhance your skills.
MixPad Multitrack Mixer offers a 14-days trial version to give exposure to its features and amazing tools.
You might also like