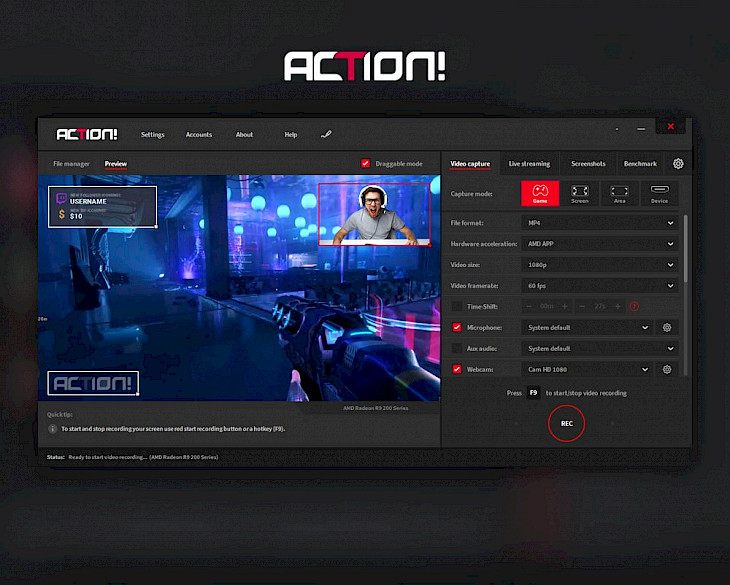 Download Mirillis Action!
Playing games has become everyone's favorite pastime in recent years. It's all thanks to the exciting and advanced developments made that have made games appear to be realistic and natural in terms of what they have to offer. There is high action paced games, intricate strategical games, and much more to choose from.
However, if you love playing it so much and you happen to stumble upon something quite interesting, or you carry out some mind-boggling action-paced move, then you might want to try screen recording it. The native ones you get on your computer might be fine, but there is plenty of other software that lets you live to stream your screen while playing games without damaging your computer performance. Check it out.
What is Mirillis Action!?
Mirillis action is a screen recorder and a broadcasting application that enables gamers to stream their gameplay to other viewers on multiple platforms. It's quite a stable application that lets you record various gameplay moments and save them in your desired preference. It's packed with plenty of features and ensures that it doesn't affect the computer's performance while playing the game. It's free while few parts here and there are locked. Buying the application provides you with fully-fledged features.
Key Features of the Software
Users can record their gameplay with the resolution going up to 4K. The framerates are kept higher, and there is no distortion on how the recording is stored. Access the application through your mobile devices and editing the time you play and pause the entire screen recording is feasible. Also, having a continuous recording format is quite possible for extended gaming sessions.
Export in popular multimedia formats
The application lets users export most of the recorded content to their favorite multimedia formats. They can even use it to upload on YouTube and Facebook. Moreover, the application has little to no effect on your computer when games use almost 100% of the absolute power.
You can record yourself and the gameplay through your webcam and insert it into the gameplay to broadcast your gaming stream on multiple platforms. Installing the webcam is relatively easy, and you don't require any additional software to get the feature enabled.
Minimum System Requirements
OS – Windows 7 or more

CPU – 1.4GHz or higher

RAM – 512MB or higher

Storage – 100MB
How to Download and Install it on PC
Download the software installer
The software can be downloaded from the application's official website. Get the latest version of it to avail of the latest features.
Open the downloaded contents and install it by following the on-screen set of instructions.
Once installed successfully, open the software and set up the preference and start using the software and see its charm in the background while playing a game.
You might also like