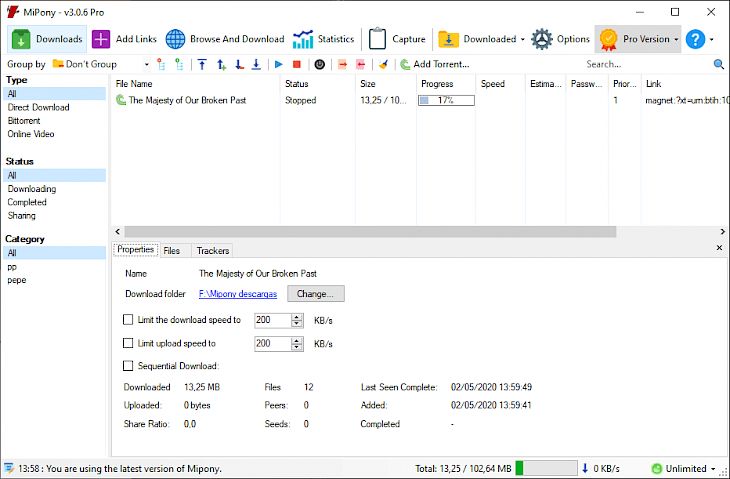 Download Mipony
Ever since the internet took over our lives in a fashionable manner, every aspect of our lives revolves around it. Whether you are looking to watch a movie, stream videos, listen to music, and whatnot, everything is on the internet. Moreover, every aspect, as such, makes our lives one step better than what it was a decade ago.
However, when like something on the internet and feel like downloading it, things don't go our way as several things affect the downloading speeds. If you download anything from a browser, you would have to wait quite sometime before it finishes to download only if there was some kind of manager to assist you in your downloads and make it a seamless affair.
What is Mipony?
Mipony lets the user manage, control, and organize all their downloads from one single application. It's where users can enter different URLs for downloading and determine which download to be completed first. Users can start and pause the downloads as well. It's free to use application that covers a whole bunch of different file-hosting sites, making it easy to use and handle.
Key Features of the Software
Download multiple files under one go
The software can be used for downloading multiple things from different sites. You can download files from torrents, videos from YouTube, and even files from the internet all the same time. Making it quite a versatile application to have.
The software is designed in such a manner that users have the freedom to choose the downloads to have the highest priority and then finish the rest. You could also leave it on its own, and it will download all the files kept in the stock to be completed one after the other.
Complete encryption of download
All downloads are checked once before letting the user see it. If there are any virus signs, a pop-up will emerge, showcasing a threat sign.
Minimum System Requirements
OS – Windows 7 or higher

RAM – 4G or higher

Storage – 250MB or higher

CPU – 2GHz processor

Network – 5MBPS network connection
How to Download and Install it on PC
The software is available on multiple sites. Get the latest version to ensure it is stable and lacks any features that make up for the best of what it has to offer.
Open the downloaded files and install it by following the instructions on the screen and completing the installation procedure.
Have fun using it right from the desktop shortcut icon or the installed directory.
You might also like