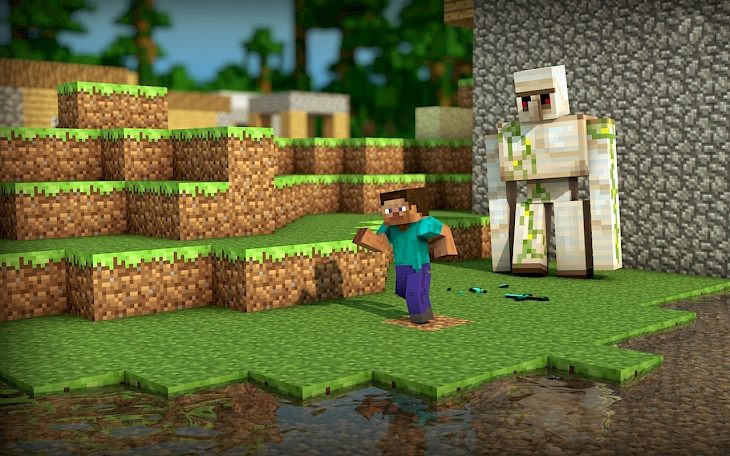 Download Minecraft PC
Minecraft is a phenomenon game where you dig and build different kinds of 3D blocks within a large world of varying terrains and habitats to explore. Download Minecraft PC free demo and start your adventure on Windows, Linux, or Mac.
When you start Minecraft PC in survival mode, a random world will be generated with trees, grass, snow, mountains or water. The first job for you is to collect wood, which you can turn into planks to make a crafting table. This way you will convert your leftover wood into a pickaxe.
Now you can start digging down into the ground to collect coal and cobblestone available in Minecraft world. Once you have those create torches and better tools and weapons. You will need weapons to protect yourself from creatures that come out in the night. One day in Minecraft world takes from 10-20 minutes in real time.
Minecraft PC demo version of the game lasts five in-game days, or about 100 minutes. Playing the Minecraft demo mode is also useful for seeing if your computer can run Minecraft before you decide to buy it.
Minecraft System Requirements
Minecraft Minimum Requirements:
Minimum Requirements:
- CPU: Intel Core i3-3210 3.2 GHz / AMD A8-7600 APU 3.1 GHz or equivalent
RAM: 2GB
GPU (Integrated): Intel HD Graphics 4000 (Ivy Bridge) or AMD Radeon R5 series (Kaveri line) with OpenGL 4.4*
GPU (Discrete): Nvidia GeForce 400 Series or AMD Radeon HD 7000 series with OpenGL 4.4
HDD: At least 1GB for game core, maps and other files
OS:
- Windows: Windows 7 and up
- macOS: OS X 10.9 Maverick
- Linux: Any modern distributions from 2014 onwards
Internet connectivity is required for downloading Minecraft files, afterwards offline play is possible.
Recommended Requirements:
Recommended Requirements:
- CPU: Intel Core i5-4690 3.5GHz / AMD A10-7800 APU 3.5 GHz or equivalent
RAM: 4GB
GPU: GeForce 700 Series or AMD Radeon Rx 200 Series (excluding integrated chipsets) with OpenGL 4.5
HDD: 4GB (SSD is recommended)
OS (recommended 64-bit):
- Windows: Windows 10
- macOS: macOS 10.12 Sierra
- Linux: Any modern distributions from 2014 onwards
You might also like