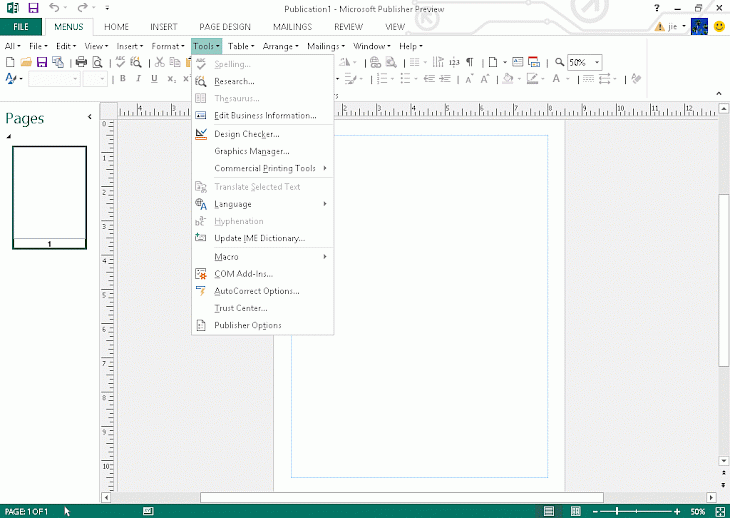 Download Microsoft Publisher
Microsoft Publisher is a text-editing software whose primary focus lies on the design and composition of pages. It acts a companion piece to Word, in the sense that the combination of the two softwares generates highly customised and well-formatted documents. In today's world, seeing is everything. Imagine you upload an article written in MS word on a website. As unfair as it sounds, your content won't score points with readers unless it crosses a threshold of visual appeal. If it appears too bland, readers will scroll right past it. The structure of content is important yes, but so is design.
Microsoft Publisher does that work for you. It hosts customisable templates that can be applied to your document. So if you own dull-looking documents on your desktop, just download this free software and start adding colours to the colourless pages. Fancy words are not enough to decorate your digital documents. You need to add an attractive design to it as well. Microsoft Publisher seeks to help you do just that.

Key Features Of Microsoft Publisher
Templates Galore
The template of your document speaks volumes to the reader. This is why Publisher establishes a steady collection of readymade templates in the form of business cards, posters, labels, e-cards and many more.
Illustrative Elements
Like Microsoft Word, Publish comes packed with cool graphics to add to your document. These can be shapes, wordart, pictures and clipart. Once you select an element, you are given options to add borders, fill the element with gradient colour, change opacity and resize it to fit your taste. Additionally, you can add your own e-signature to the document by using the all new feature i.e. Scribble pen. You will find it under the 'Shapes' menu.
Share Instantly
Once you are done glorifying your document with cool templates and shapes, you can share them with your peers. Publisher comes inbuilt with various sharing options, including mailing and importing/exporting the PDF. You can print it too, without worrying about unnecessary tweaks being made to your document. Microsoft Publisher takes great care in preserving the document template as it is.
System Requirements Of Microsoft Publisher
The following requirements need to be fulfilled in order to install Microsoft Publisher successfully.
It should have Windows XP/Vista/7/8/10 64 bit operating system

It should have a Pentium or AMD processor with a speed of 1 GHz or more

It should contain a DirectX10 graphics card with a resolution of 1024x576 pixels or higher.
How To Download It On PC
Follow the given instructions to install the software on your PC:
Click on the 'Download Now' button. A prompt opens wherein you will find another download button. Click on it as well.

Subsequently, the setup file is downloaded. Run the setup on your system.

Follow all the installation instructions that show on the box. When you finish the process, Microsoft Publisher finally gets installed.
You might also like