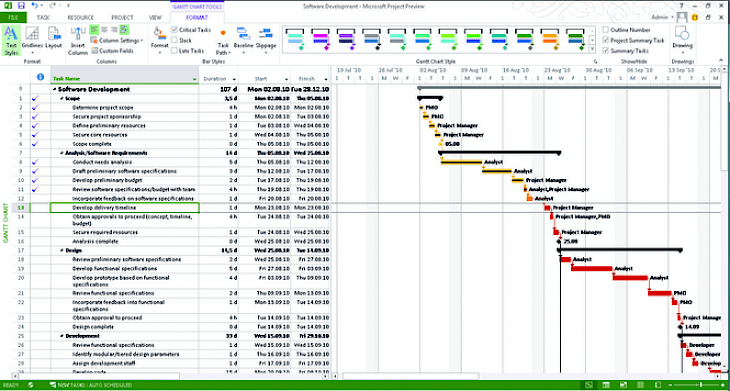 Download Microsoft Project
Project management is quite a surreal experience, given that you have to manage many things and ensure that things get completed in time. Earlier, things were done manually, and keeping track of the development of things in the project was quite difficult. It was since the advancements made in technology that we can get the desired tracking features and abilities.
Furthermore, to help project leaders and project groups to save time and see how much time is to be given to which components of the project, several applications can provide you with a. correct representation of the time spent. Microsoft develops one of them, and we have discussed it in detail below.
What is Microsoft Project?
Microsoft project is s software that lets users collaborate and segregate their project to record the time taken by each member of a group to complete the given tasks. It's more like a note keeper but has excel incorporated with smart illustrations to keep track of everything. Users can simply input the charts required, and the software would provide necessary Gantt charts for the same.
Key Features of the Software
The entire user interface of the software is designed to appeal to a more massive crowd without the need for any learning curve. It helps project managers keep the project on track and helps in cost-cutting and depicting several aspects of the project and cutting them down to save time and effort.
Effective project managing software
The software comprises advanced tools, templates, and much more. They often come in handy and help in the successful illustration of the project in terms of charts and other smart diagrams.
Smart art, in-depth analysis charts, multiple timelines, fast & secure, cloud support, excellent user interface, etc. are key features of the application.
Minimum System Requirements
CPU – 2GHz processor

OS – Windows 10 or higher

Storage – 5GB

RAM – 4GB
How to Download and Install it on PC
The software is available (not for free) on the Microsoft website and store. You can download the installer and have a 5-day free trial.
Open the download contents
Once the software installer is downloaded, open the downloaded package's contents, and set up the installer.
Upon successful installation, enjoy using the software with utmost ease and credibility and enjoy an array of features.
You might also like