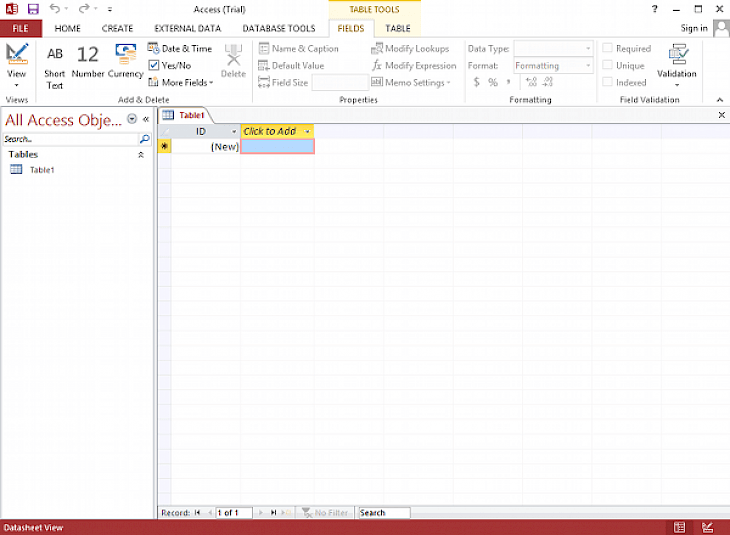 Download Microsoft Access 2013
Do you need software that lets you manage database solutions seamlessly? Consider using Microsoft Access, the industry-standard tool for database solution management.
Developed by Microsoft Corporation, Microsoft Access lets you use database solutions to monitor, report, and exchange information. Access offers a robust set of tools for experienced developers that are advanced enough but easy for new users to understand. Build or use robust database solutions that make knowledge simpler than ever to organize, access, and share.
This is a Microsoft database management system (DBMS) that combines the relational Microsoft Jet Database Engine and a graphical user interface and tools for software creation. It is a part of the Microsoft Office application suite, included or sold separately in the Professional and higher versions. It is a part of the Microsoft 365 suite as well.
Features of Microsoft Access 2013
Build apps without being a developer and share them. Customize the apps to grow your business. Integrate with multiple sources of data. Access Services are offered separately as part of the unique offerings of Office 365, SharePoint Online, and SharePoint Server 2013.
The remarkable features of Microsoft Access contain the ones mentioned below.
Much More Than Desktop Databases
Access is far more than a way for desktop databases to be developed. It's an easy-to-use tool to build apps that help you run your business. In several cloud databases, access data can be stored, so it's more secure than ever, and you can share your Access applications with colleagues.
Customizable Database Templates
Start designing a custom app quickly or get motivated by a series of new app models that are professionally designed. To reuse or share with others, build templates from your apps.
Formattable Applications
Create applications tailored to the way you and your clients do business. Make enhancements to the apps quickly and efficiently to meet changing organizational needs.
VBA Automation
To simplify business processes and increase the design and usability of forms and reports, use the richness of Visual Basic for Applications (VBA).
Data Storage in SQL
To improve reliability, scalability, robust security, and long-term handling, Azure SQL. Access applications, whether deployed on-site or in the cloud, leverage standard SQL syntax and a true mission-critical back end.
Data Integration
In Access, the connector library provides several ways of integrating data from apps and data sources that drive your business. Interconnected scenarios supply aggregated visuals and insights into the familiar Access interface through modern data sources.
Download & Install Microsoft Access 2013 for Windows PC
To download the 2013 version of Microsoft Access, visit any of the affiliate tech websites offering back editions of the software. After downloading the setup file, double-click on it to launch the Microsoft Office installer.
Once the installer is up and running on your Windows PC, follow the simple on-screen instructions to agree to the Microsoft User Agreement and proceed with the installation process. When the process ends, click on 'Finish'.
You will now see the Microsoft Access 2013 desktop icon on your Windows PC screen. Feel free to access the software for all your database management needs. Enjoy!
You might also like