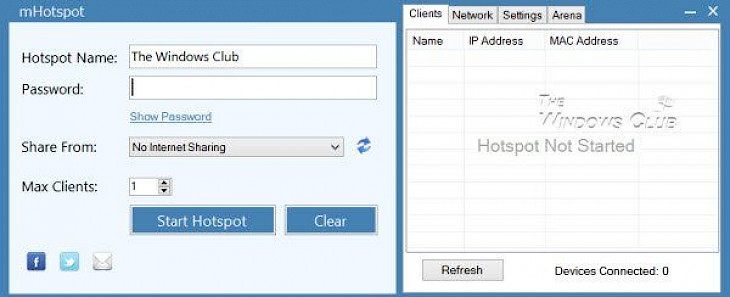 Download mHotspot
Do you want to convert your laptop into a mobile Wi-Fi hotspot? Are you looking to cut down on the cost of buying a router to connect all your devices at home via your existing broadband connection? Well, you can do all this without buying any external hardware but by merely using the devices that you already have. All you will need additionally is a free software named mHotspot.
Developed by the mHotspot team, mHotspot 7.8.8.9 is entirely free software that transforms the desktop or laptop of your Windows PC into a free virtual Wi-Fi router and creates a stable hotspot for Wi-Fi. For various devices such as laptops, tablets, android phones, PDAs, iPads, etc., you can share a single internet connection (LAN, Ethernet, Data-Card, 3G/4G, Wif) Play multiplayer gaming using mHotspot, and apart from your existing one no router or external hardware is needed.
Features of mHotspot
With mHotspot, you can turn your laptop into a Wi-Fi hotspot for your Windows operating system and render a virtual Wi-Fi router.
The most prominent features of mHotspot are provided below.
Interconnect Several Devices
With mHotspot, you can easily set up your own hotspot with any name of your choice and share any type of connection, that is LAN, Ethernet, Wi-Fi, 3G, or 4G, connecting up to 10 devices at a time.
Device Versatility
mHotspot lets you connect various types of devices like Android mobile, iPads, tablet PCs, PDAs, and others and see all their essential details like name, MAC address, IP address, etc.
Enhanced Visibility and Security
You can always keep track of your network usages like upload and download speeds, transfer rates, and the likes, and also keep your hotspot secure with WPA2 PSK secure passwords.
Wi-Fi Repeater
mHotspot can increase the range of your Wi-Fi by acting as a Wi-Fi repeater.
Increased Control
mHotspot lets you take complete control of who connects to your hotspot and who doesn't. Put a limit to the number of devices that can click and also select the internet connection you want to use within the app itself.
Download and Install mHotspot for Windows PC
mHotspot is readily available for download from the official mHotspot website. Several other tech websites on the internet let you download the same software free of cost. Once you shortlist a suitable and trustworthy source for downloading the mHotspot executable setup file, proceed with the download.
When the setup file is downloaded completely, you can click on it twice to run the mHotspot installer. The mHotspot will pop up on your Windows PC screen and ask you to proceed with the installation process by clicking on 'Next'. You will also need to agree to their User Policy. Once the installation process starts, please wait for the process to achieve completion. You will be prompted to click on 'Finish' after the installation process ends.
Doing so will automatically create a desktop icon for mHotspot on your Windows PC and also launch the mHotspot software on your screen. You can thus proceed with setting up your own personal hotspot and give it any name and password of choice, before connecting all your devices and that of your friends to share all the fun! Enjoy!
You might also like