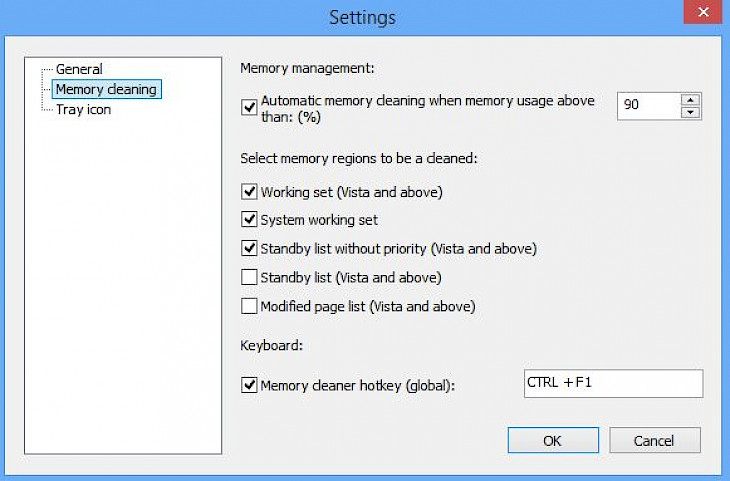 Download Mem Reduct
Do you handle plenty of data regularly which leads to your PC getting laggy? Are you having limited memory in your PC available presently to continue working smoothly? Do you wish to use the memory available on your PC more efficiently? Then consider downloading and installing Mem Reduct to monitor your PC's RAM and reduce its consumption.
Developed by Henry++, Mem Reduct helps you optimize the usage of your RAM and the performance of your PC. Available in the latest version of 3.3.5 for all versions of Windows since Windows XP SP3, the C/C++ coded software enables you to regain the RAM allocated for unimportant tasks and utilize the same for important ones yielding more fruitful results.
Mem Reduct can tell you exactly how your system is using its random access memory so that you get to know where to cut down on memory consumption. Owing to its simple configuration, it is highly user-friendly, and customers can use it to customize their RAM allocation however they deem fit.
Features of Mem Reduct
The features of Mem Reduct are pretty straightforward yet very useful. While on the one hand, it reduces the wastage of RAM by helping you identify it and relocate the RAM; on the other hand, the software itself is lightweight and causes minimal CPU usage.
Upon installation and setup, the Mem Reduct application will show you the system's total available memory, the percentage of it being used currently, and the percentage of it remaining free to use. The remarkable features of Mem Reduct have been listed below.
Real-Time Management of Memory
Mem Reduct is a lightweight software for real-time memory management that helps to monitor and clean the system memory on your PC.
Native API Utilization
The Mem Reduct software uses undocumented internal system features or native API to clear ill-utilized system memory.
System Cache Removal
Mem Reduct clears system cache like system working set, working set, modified page lists, and standard page lists with a 10%-15% variability in results.
Handy Portable Version
The software also comes in the form of a portable version or mode that can be downloaded and used instead of the installer to enjoy hassle-free usage of Mem Reduct without any installations.
Automatic Mode
When activated, the automatic mode of the Mem Reduct software can check for updates every time you start your PC and keep the version up to date.
Customizable Rules Set
With Mem Reduct, you can reduce the memory your system consumes with a set of rules that you can define yourself, making the software very adaptable and usable.
Download and Install Mem Reduct for Windows PC
Download Mem Reduct for Windows PC
Mem Reduct can be downloaded easily from the trusted website of Henry++ for both 32-bit and 64-bit Windows PCs in multiple formats like ZIP, EXE, and others.
If you download the ZIP file, you will need to unzip the downloaded file using a suitable software like WinZip or 7zip to access the EXE file inside before installing it.

If you download the EXE file, you can directly start the installation process after download.
Install Mem Reduct for Windows PC
After downloading and accessing the EXE file of Mem Reduct on your Windows PC, double-click on it to start the installation process.
The installer will appear on the screen to start the Mem Reduct installation.

Follow the on-screen installer instructions to begin the process of installation.

After the installation is over, click on 'Finish' to exit the setup.
Once installed, Mem Reduct can be run smoothly by double-clicking on the desktop icon. After running the software, you will be able to instantly visualize the RAM of your system and how it is being used. You can then proceed with reallocating it as per your needs to make your system and workflow more efficient.
---
You might also like