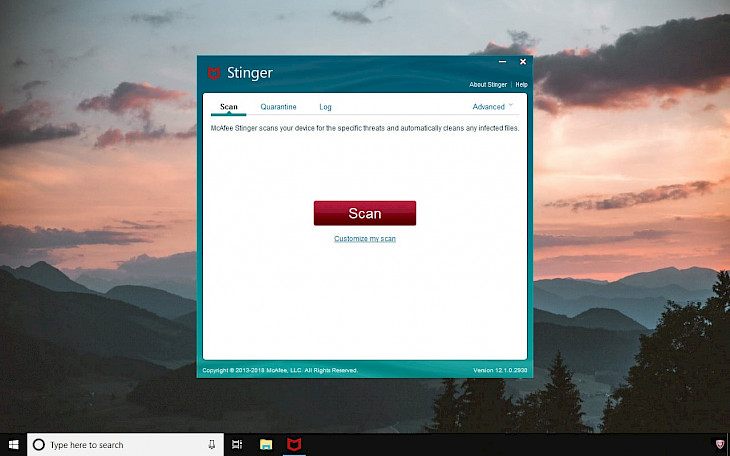 Download McAfee Stinger
McAfee Stinger is one of the most popular standalone utility to effectively remove viruses, trojan horses, malware components and other malicious applications from infected Windows systems. Stinger offers also real-time protection engine.
Real Protect packed in McAfee Stinger is a real-time behavior detection technology that monitors suspicious activity on Windows system.
Real Protect leverages machine learning and automated behavioral based classification in the cloud to detect zero-day malware in real-time.
McAfee Real Protect is activated when you run Stinger. It's not a substitute for full anti-virus protection, but a specialized tool to deal with infected system.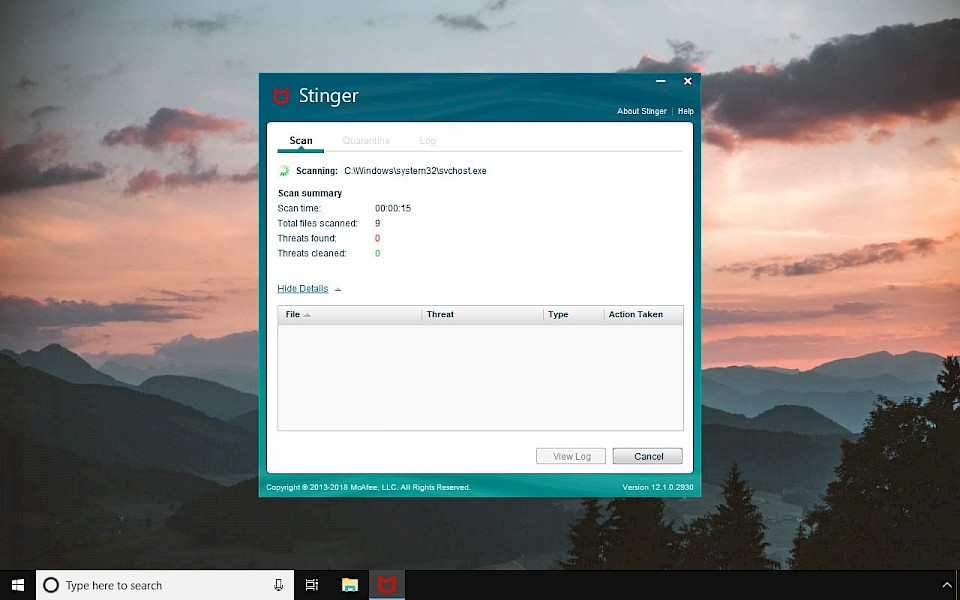 McAfee antivirus scanner allows you to quickly scan the selected location to search for potential malware. When the scan files McAfee Stinger generates a detailed report on the scan time, a number of checked files and the number of detected and removed threats.
All the infected files will be transferred automatically to the quarantine module from which the user can completely delete files or restore if necessary.
From McAfee Stinger Settings user can select target scans including Processes, Registry, Boot Sectors, Rootkits, change scan options like subdirectories, inside archives, report applications, and choose with what kind of action should McAfee Stinger proceed on thread detection like repair, report, rename, or remove.
McAfee Labs recommends that you set the "On threat detection" action to "Report" only for the first scan. You can also select the app GTI sensitivity setting.
McAfee Stinger is simple rescue tool to scan and delete viruses from Windows system. The new version of the app is packed with Real Protect, that works from system tray and scans in real time files protecting you form all kind of malware viruses. Stinger is available for free, but it doesn't offer any support for users.
The software can help you to detect over 10000 malware and remove infected files from hard drive or send them to Quarantine. McAfee Stinger download is available for Windows system only. To run the software you need to have at last Internet Explorer 8 or higher.
I really like that I can execute the software from the command line. There are a lot of options to choose from. Still Stinger, is a simple virus removal tool, that anyone can handle. The graphic interface of the app is self explaining. Give McAfee Stinger a try!
Threat List
Stinger can scan for impressive list of threats. You can access the full McAfee Stinger Threat list from the application main window. Click on Advanced, and select Threat List. You will see full list of McAfee Stinger scanned threats.
You can also search for threats by entering its name, browse the list or even save Stinger threat list to TXT file.

McAfee Stinger detect over 10600 malware threats including 7zipSFX, A2K/Vipeep, A2K/Walla, A2KM/Barama, A2KM/Julie, A2KM/Lea, A2KM/Retro, A2KM/Sadip@MM, A2KM/Tenoir, A97M/AMG, A97M/AcceV, A97M/AccessiV, A97M/AccessiV.intd, A97M/Accrest, A97M/Astigma, A97M/Barama, A97M/Birgit, A97M/Bobo, and more.
How to use McAfee Stinger?
Using Stinger antivirus scanner is really simple. By default, McAfee Stinger scans for running processes, loaded modules, and registry and directory locations known to be used by malware on a machine to keep scan times minimal.
To start system Scan click the big red Scan button. If you like you can select customize my scan to select specific directory to scan.
Stinger Quarantine
Stinger comes with quarantine module where you can find backup of all infected files that was cleaned just in case you need to restore them. There is also an option to restore or delete malware components detected by McAfee Stinger.
Stinger Log
In the Log window you can view details about each scan performed by Stinger from log files. Navigate files by date, and delete old log files in McAfee Stinger.
Command line examples
McAfee Stinger can be also used from the command line. List of all available parameters is displayed by going to the help menu within Stinger.
Run McAfee Stinger in silent scan, and start scanning immediately

STINGER.EXE –silent –go
Stinger will start scanning specific directory

STINGER64.EXE –silent –scanpath=C:\Windows\ --go
Stinger Command Line Options

--SILENT (start silent scan)

--GO (start scanning)

--RPTALL (log all files)

--PROGRAM (report applications)

--REPORTONLY (report viruses)

--RENAME (rename file if virus found)

--DELETE (delete virus)

--ADL (scan all local drives)

--AND (scan all network drives)

--AD (scan all drives)

--SCANPATH= (scan specific folder)

--NOPROCESS (don't scan processes)

--NOREGISTRY (don't scan registry)

--NOBOOT (don't scan boot sectors)

--NOROOTKIT (don't scan rootkits)

--NOSUB (don't scan subdirectories)

--NOUNZIP (don't scan zip files)

--NOARTEMIS (disable Artemis lookup)

--REPORTPATH= (save log to directory)

--DATPATH= (specify DAT folder)

--RAPIR (repair if virus found in file)

--ARTSENS= (change Artemis security level)
You might also like