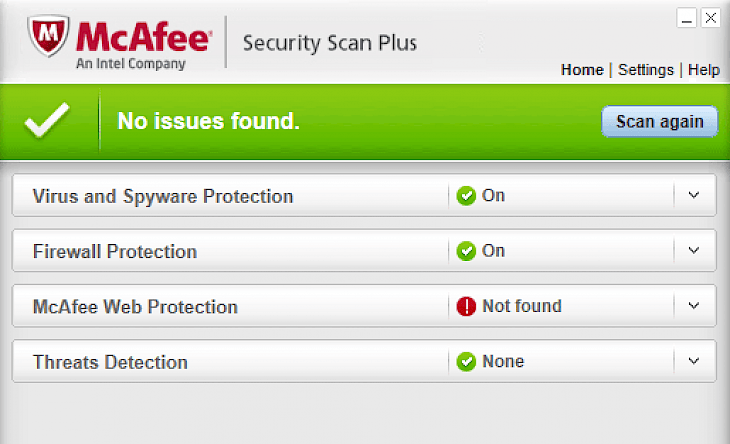 Download McAfee Security Scan Plus
McAfee security scan plus is a reliable anti-virus software that you can use to protect your system from malicious sites and other third parties. This fantastic software guards your PC, social network, identity, family, and home network from malware, viruses, hackers, and other online threats.
It is an anti-virus diagnostic program that checks your computer for core protection and makes sure that your data and identity will remain protected and secure. McAfee security scan plus detect the harmful viruses and threats before they could get to work and ruin your system. This software provides full access to total protection features including web protection, password manager, and parental controls. This instant security application alerts you when your computer is at risk and recommends solutions to solve security issues in seconds.
This excellent software detects malware and other unwanted programs in running processes and modules loaded by these processes. It can also scan web browser history and cookies.
FEATURES
Safe web browsing
This amazing software provides a clear warning of risky websites, links, and files. In this way, the users will get to know about the sidestep attack before they happen.
Performance optimization
McAfee Security scan plus helps you to enhance your productivity by reducing the digital clutter. You can also block the auto-play videos on websites that you may find annoying and time-consuming.
Safe family
The software equipped you with various parental control tools. You heard that right, you can use this platform to keep your kids safer online and to make sure that they build good digital habits.
Cross-platform access
The software is an excellent antivirus that you must have on your PC to protect your data and other important information. The user-friendly interface of this application is easy to use and compatible with Windows, macOS, and Android devices.
Online support
The customer support provided by the developer team is just awesome. You can get assistance whenever you need it from the dedicated security team.
Password manager
It is quite challenging to manage passwords of multiple sites and social networking accounts. McAfee security scan plus make your work more convenient and secure by safely storing and managing all your online passwords in one location. You can access any of your accounts in just a few clicks without affecting the security of your operating system.
How to install McAfee Security Scan Plus on your Windows operating system?
McAfee security scan plus is anti-virus software, firewall protection, and web security that you can use to guard or protect your operating system from various online threats that may affect your device. The PC version of this application can be downloaded easily from any trusted website. To successfully install McAfee Security Scan Plus on your PC, follow the instructions and guidelines described below.
Step 1: It is always preferred to install this software from the developer's official website.
Step 2: Alternatively, open your browser and search "Download McAfee Security Scan Plus for Windows" in the search box.
Step 3: Now, you will get a list of websites on your search result page.
Step 4: Once you have downloaded the setup file, follow the step-by-step guidelines and instructions to start the installation process and run this software on your system.
Step 5: After following all the steps, click on finish, and now you can use this fantastic software on your Windows operating system.
You might also like