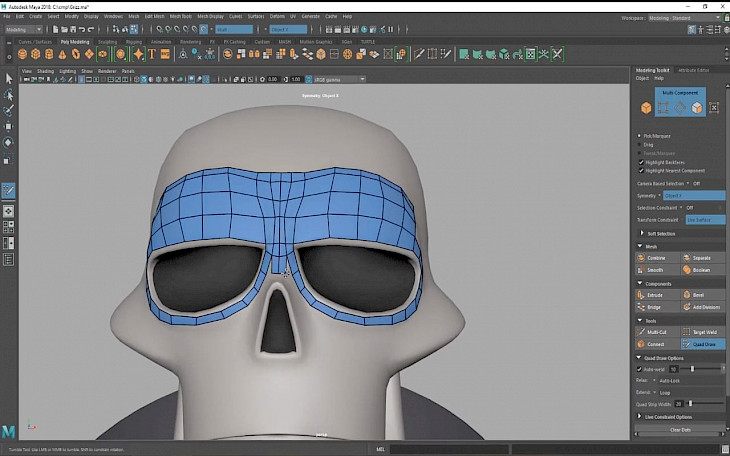 Download Maya
Maya is a 3D animation, modeling, simulation, and rendering software helps artists work faster with enhancements to existing workflows and new tools. The software was used in many movies and commercials. You can see it in action in tv-shows like The Flash, Supergirl or short Kung Fury and Fido: The untold story.
Maya 2020 offers a lot of great features including intuitive brush-based grooming tools give you greater control and accuracy for styling and posing hair and fur, nonlinear editor with high-level animation edits, bifrost ocean simulation system to create realistic ocean surfaces with waves, ripples, and wakes, Arnold RenderView integrated with Maya to view scene changes in real time, including lighting, materials, and camera and create atmospheric effects such as smoke and mist.
You can use Maya 2020 also to create branding, flying logos, title sequences, and other projects that require text, use SVG files for projects, create animation with toolset for keyframe, procedural, and scripted animation. When it goes about 3D modeling in Maya 2020 we have option to mirror enhancements and tool symmetry improvements make symmetrical modeling easier, sculpt and shape models more artistically and intuitively with revamped sculpting toolset, polygon modeling and support for OpenSubdiv.
Maya Embedded Language (MEL) or Python scripting language can be used to create scripts and plug-ins to speed-up our workflow. Maya offers buitin verious dynamics and effects including deep adaptive fluid simulation, easier-to-use XGen, adaptive aero solver in Bifrost, Bifrost procedural effects platform for genereting photorealistic liquids, Bullet Physics to create realistic rigid and soft-body simulations and Maya nCloth used to create realistic deformable materials.
You might also like