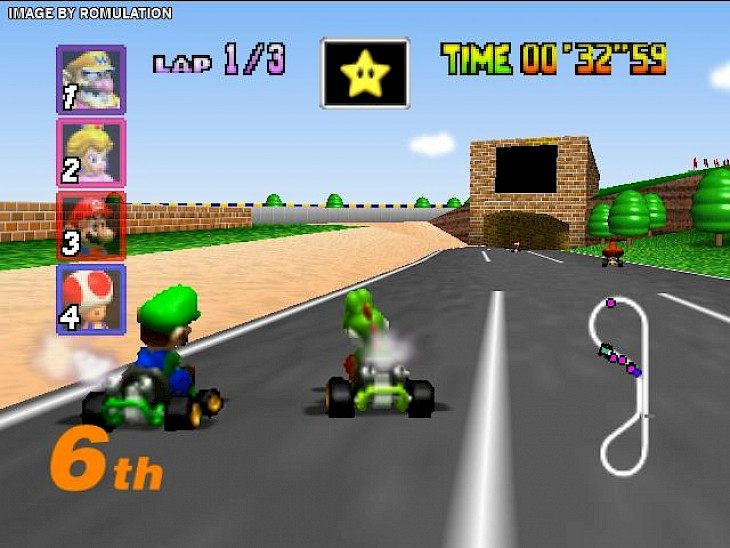 Download Mario Kart
Mario Kart is a range of go-kart-style racing video games produced and released as spin-offs by Nintendo from its acclaimed Super Mario series. The games feature characters that compete in races from the Mario franchise and other game series while using different power-ups to gain an advantage over their competitors.
Developed and released by Nintendo for Nintendo 64 (N64) and Nintendo Wii gaming consoles, Mario Kart games have sold more than 150 million copies to date. Players participate in go-kart races in the Mario Kart series, controlling one of several characters, usually from the Mario franchise. In each race, up to twelve characters will compete; the precise number varies between games.
You get to play with famous characters not only from the Mario franchise but also some other franchises like Pac-Man, The Legend of Zelda, Animal Crossing, Splatoon, and the likes. Many Mario course themes reappear throughout the series, Bowser's castle being the most prominent.
The tracks of each game are split into four 'cups' or classes in which the player must have the highest overall rating to win, and they are the Mushroom Cup, the Flower Cup, the Star Cup, and the Special Cup. Except for the original game, where all circuits need five laps to finish, most courses can be completed in three laps.
The different modes of play in the game series are:
Grand Prix mode - Players have to compete in different cups having four courses each, and the difficulty levels are determined by the engine size, with larger engines providing faster speeds.

Time Trials mode - The single-player mode where the player races alone to finish any chosen racecourse in the quickest time possible.

VS Race mode - Multiple players compete in a race against each other on any selected racecourse with customized rules like team racing and item frequency.

Battle mode - Multiple players use offensive weapons like shells in-game while battling each other in a closed arena course.

Online Multiplayer mode - Players can compete online in battles and races using online services like Nintendo Network, Nintendo Switch Online, and Nintendo Wi-Fi Connection.
Which Emulator Best Runs Mario Kart for Windows PC?
Mario Kart was built initially to run on gaming consoles like Nintendo 64 (N64) and Nintendo Wii. Therefore, you will be required to download an N64 or Wii emulator on your Windows PC before running the ROM of Mario Kart on it.
The most suited emulator to run Mario Kart on your Windows PC is Dolphin Emulator, which can efficiently run Wii games and also manages to run N64 titles with some tweaks. Apart from Dolphin, users can check out RetroArch as a possible alternative for running Mario Kart ROM.
Game Titles Similar to Mario Kart
If you love go-kart racing arcade games like Mario Kart, you should definitely try out the following titles.
Super Mario Kart
Super Mario Kart is the first game released in the Mario Kart series in 1992. Its development was scrutinized by Shigeru Miyamoto, the designer of the original Super Mario Bros. This was the first time Mario characters were featured in a racing styled game.
Mario Kart: Double Dash
The fourth installment in the series, Double Dash challenges player characters from the Mario series to compete against each other on Mario-themed tracks, similar to the previous titles. The game added a range of new gameplay features, such as two riders per kart to enable co-op gameplay. One player powers the kart, and the other uses objects. It is the series pioneer to use 3D polygon graphics for the racers instead of sprites.
Mario Kart 8 Deluxe
Mario Kart 8 Deluxe, released worldwide on April 28, 2017, is an improved Nintendo Switch version. It includes all DLC content previously released, new content, gameplay tweaks, docked 1080p graphics, and 720p in handheld mode. The Battle mode contains eight additional arenas and five new characters are included in the roster.
You might also like