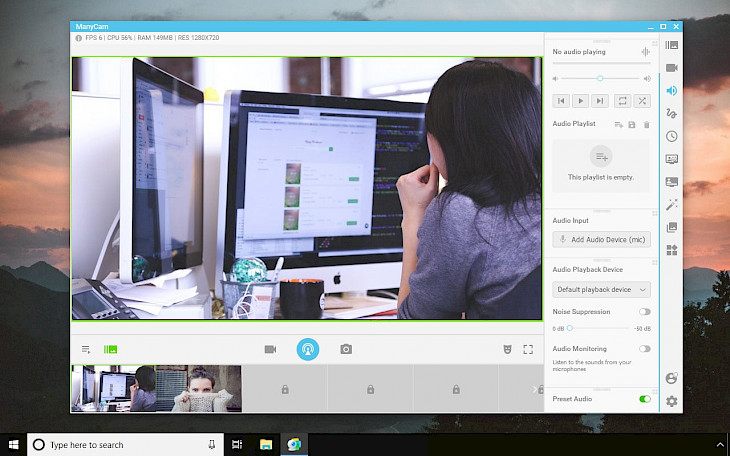 Download ManyCam
ManyCam is a free software to create in real-time special video and audio effects to image captured from a webcam. The program can be to create funny photos, professional screencasts, stream video etc. ManyCam is available for free download.
ManyCam offers quite a lot of built-in special effects and features in free version. The highlight of features includes an option to improve the sound quality, change voice in real time, add captions to video, use a webcam image in multiple applications at the same time with built-in ManyCam virtual webcam driver or change image parameters including brightness, contrast, saturation, etc.
ManyCam allows you to quickly switch between up to 24 videos, audio and image sources.
With ManyCam you can add different types of objects to an image in the form of graphics, video clips, signatures. ManyCam offers funny animations, dynamic objects, funny emotes, avatars, camouflage equipment like beard, sunglasses, hat, eyes, etc.
The software can also remove the green screen from any image. Another advantage of the application is the ability to install new effects from the online library.
ManyCam also allows you to capture and save gameplay for later upload to the server or direct stream live. You can also stream and broadcast videos from YouTube using the YouTube video source or broadcast directly on Twitch, USTREAM and YouTube live events.
ManyCam lets you use your webcam with different applications simultaneously. Use ManyCam to talk to your friends and family on Skype, Google Hangouts and Yahoo Messenger at the same time, or use it to live stream on different websites at once.
You might also like