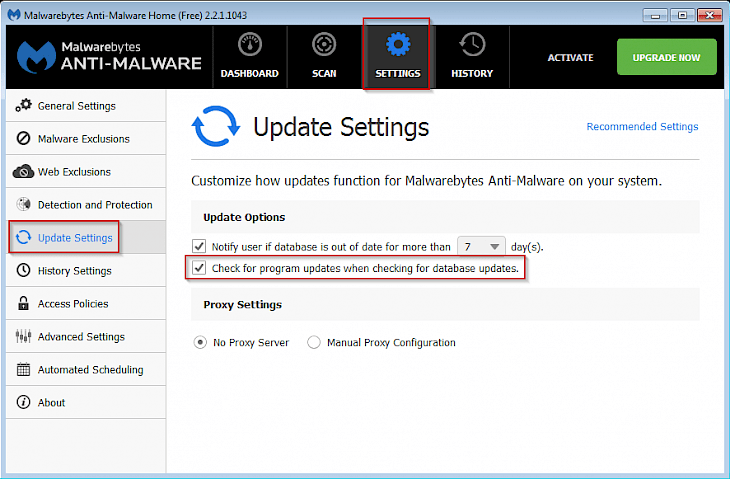 Download Malwarebytes Anti-Malware 2.2.1
Malwarebytes Anti-malware 2.2.1 is a worldwide famous desktop scanner that detects and removes malware from your desktop. Now you do not have to worry about online threats including worms, viruses, trojans, spyware, etc. You only have to run this anti-malware on your infected system. For an effective and more powerful version of this software, you can choose the Malwarebytes premium subscription. The premium version automatically scans the malware and malicious sites.
Four independent technology modules integrate with this application including anti-malware, anti-ransomware, anti-exploit, and malicious site protection. The software's amazing tools and technology detect both unknown and known threats available on the online platform and may target your system and damage it.
FEATURES
Protect your system from advanced threats
The AI technology of this fantastic Anti-malware software detects threats and provides the best protection to the user. With anti-rootkit technology, Malwarebytes effectively protects your system.
Four-layer defense
Viruses from malicious websites damage your device and steal your information. Online web surfing is the leading resource from where the infected malware enters your device. This fantastic software provides four layers of defense to stop those threats that might affect your system.
Scan smarter
The Hyper-scan mode present in this software scans and targets only active threats on your system. The analysis process is fast and takes a few minutes. You can detect the threat while booting up your favorite game.
Secure your Files
This excellent anti-malware software has machine learning and artificial intelligence technology that protect your files from online threats and malicious websites by providing real-time protection. This fantastic software detects or scans even the emerging threats that have not been detected or analyzed before.
Protects against Online Scammers
The advanced web protection of this anti-malware software detects and blocks the infected sites or malicious links that infect your system. Various websites target or trick you into revealing your private information like your bank details. Malwarebytes Anti-malware blocks these phishing scams as well to provide the ultimate user protection.
Behavior monitoring
This fantastic Anti-malware software detects and blocks ransomware with advance and reliable behavioral monitoring technology.
How to download Malwarebytes Anti-malware 2.2.1 on your PC?
To protect your system from being infected you can install this real-time protection software on your Windows operating system. Before downloading this software, check your system's specifications if they meet with minimum system requirement required to run this software on your system.
Step 1: Thankfully PC version of this application is available easily. You can install this browsing application from its official website.
Step 2: Alternatively, open your browser and search "Download Malwarebytes Anti-malware 2.2.1 for Windows" in the search box.
Step 3: Now, you will get a list of websites on your search result page. You can select any trusted website like filehorse.com to download the setup or .exe file of this software.
Step 4: Once you have downloaded the setup file, start the installation process and follow the step-by-step guidelines and instructions to run this software on your system.
Step 5: After following all the steps, click on finish. You can now use this software on your system to secure your device from online threats.
This anti-malware software provides a 14-days trial version to the user.
You might also like