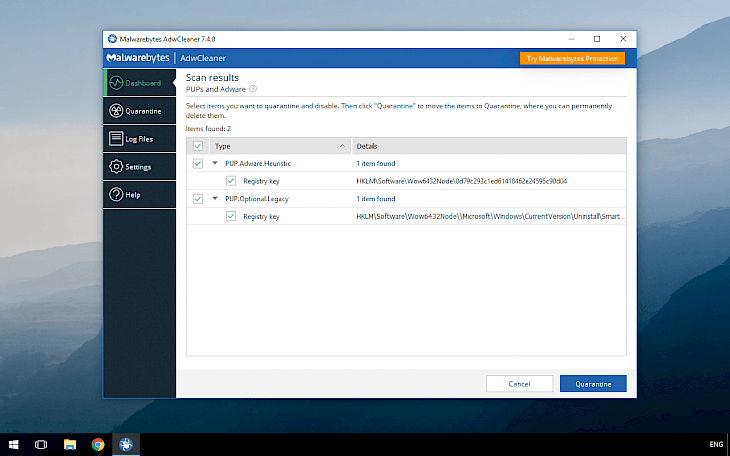 Download Malwarebytes AdwCleaner
Malwarebytes AdwCleaner is one of the best tools to remove potentially unwanted programs (PUP / LPI), adware and spyware components, toolbars and hijackers applications taking control over homepage in browsers. The software is distributed only for Windows.
AdwCleaner is compatible with Windows 10, Windows 8, 8.1 and Windows 7. The new version features automatic updates, therefore is no longer needed to manually download new versions. Malwarebytes improved also remediation capabilities, integration with Windows 7, and database size optimizations. Malwarebytes AdwCleaner download contains only one EXE-file.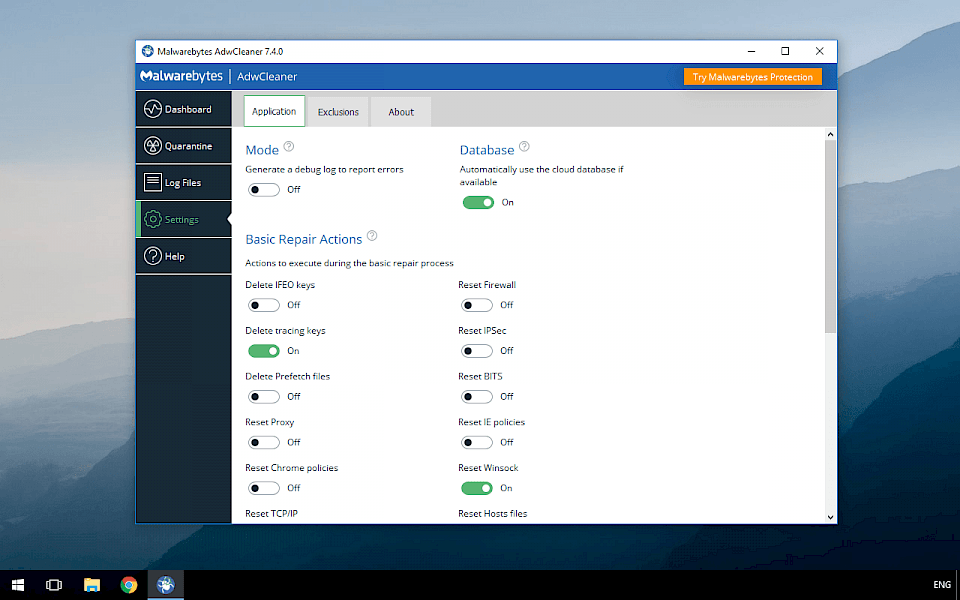 After the scan, the application displays a list of all potentially unwanted components and with a single button offers the option to completely remove them from the Windows system. Moreover, you have an option to manually select items that should remain in the system.
To delete all components a system reboot is required. It's necessary to finish some cleanup steps. When your computer reboots, any work that is currently open and unsaved will be lost. AdwCleaner uses cloud database if available.
After the reboot, you will have access to a full detailed report about deleted apps. All files and registry entries will be moved to Quarantine where you can restore some programs, files or registry keys that may have been categorized as threats.
Malwarebytes AdwCleaner searches service, shortcuts, folders, tasks, registry entries and files associated with browsers to locate and eliminate problems associated with harmful components, which in most cases are installed by spyware downloaders.
Malwarebytes AdwCleaner is primarily valued for speed and efficiency in removing potentially unwanted software, toolbars installed in browsers, components and adware are applications that control of the home page. You can also delete prefetch files and reset components including hosts file, Firewall, IPsec, WinSocks, Proxy, TCP/IP, etc. using AdwCleaner.
Dashboard
This is the default view of AdwCleaner. While the exact details change over time, the look is consistent. You can start from here the system scan and view all detected threats. A new option will appear if threats will be detected and you will have an option to Run Basic Repair to start the cleaning process or click Skip Basic Repair to return to the Dashboard.
Quarantine
From this menu, you can delete or restore threats that AdwCleaner detected during scans. Quarantined items are shown in a table format. You can find their pertinent information presented to help you determine what action needs to be taken. Each item is listed with a checkbox in the leftmost column. You can check the checkbox to delete or restore the item.
Log Files
View reports related to AdwCleaner operation, threats detected, and threats removed. You can sort on any header field, and view log file by double-clicking the log to open it. Please bear in mind that computers that have significant threat activity will also have larger logs
Settings
Configure AdwCleaner, so that it can remediate your computer efficiently. The Settings screen allows you to change all AdwCleaner settings grouped by the areas/functions which they control into tabs to maintain a clean user interface. You can select additional settings or provide the app with items that will be excluded from being checked. You can choose to add either an entire family of infection or an individual element to be excluded from the scan.
Additional Actions

Delete IFEO keys: Delete all IFEO subkeys.

Delete tracing keys: Delete all Tracing keys.

Delete Prefetch files: Delete all Prefetch files.

Reset Proxy: Remove all proxies.

Reset Chrome Policies: Delete all Google Chrome policies restore the default policies.

Reset TCP/IP: Reset TCP/IP settings to default values.

Reset Firewall: Reset the Windows firewall rules to default values.

Reset IPSec: Reset IPSec settings.

Reset BITS: Empty the Background Intelligent Transfer Service queue.

Reset IE Policies: Delete all Internet Explorer policies and restore default the default policies. Reset Winsock: Reset Winsock settings to default values.

Reset Hosts file: Restore the Hosts file to its default values.
Overall, AdwCleaner from Malwarebytes is my personal favorite tool to clean the system from toolbars installed usually when you download software from services where making money is more important than providing a great user experience for users. AdwCleaner always helped me and my friends to remove those components from browsers without pain.
If you can't change the browser home page is probably a spyware component is installed in your system preventing this action. AdwCleaner will find this threat and delete it completely from the system.
You might also like