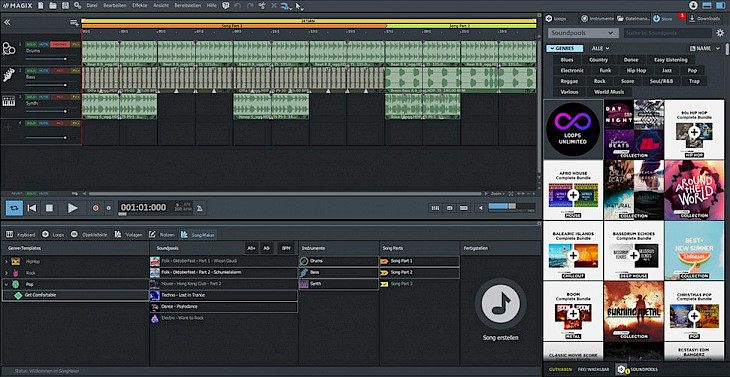 Download Magix Music Maker Premium
MAGIX MUSIC MAKER is a commercial digital music making software developed by Magix Software GmbH and was released in 2017. The software was developed for the consumer sector, and the program attributes from Magix's professional digital audio workstation, Samplitude. The first version was released in 1994, and more than a million copies were sold, making it one of European's most successful music editing programs. The tools and library are designed to allow users with minimal to no experience also to make songs in different kinds of genres and also allowed premium users to export their audio in surround sound formats. A CD version of the software was released in 2003 for Playstation 2, which was later followed by a Deluxe Edition DVD in 2005. A different version of the software called Music Maker Jam was also released in Microsoft Store which was later also followed by an Android version.
Features of MAGIX MUSIC MAKER
Double the Power for Music: The software allows to produce complex projects and comprehensive arrangements easily with a number of different instruments and sound effects setup easily without a loss in PC performance. The software comes with a 64-bit architecture that powers the application for noticeably improved performance. The software also consists of a multicore audio engine that gives optimum support for the user's CPU and also helps reduce RAM load. This helps free up more memory for a number of new musical ideas.

Bringing Old and New – VST Bridges: The software works on 32-bit plug-ins and offers streamlined support for VST plug-ins. The software has replaced the previous VST scan with a more stable scan function with the help of an improved VST2/VST3 engine and a new 32-bit bridge.

Enhanced User Interface: This feature allows users to customize their interface with sound pools, effects that are displayed in the lower part of the range.

New Look: The software comes with a customized look to help users to have a modern music production under a modern look. The interface features an elegant flat design and also an interface that is made sleek like never before.

Redesigner Arranger: The software also features an optimized function like drag loops that come under an existing track in order to automatically create a new track. Users can make use of the volume control to minimize the size or create more space.
Installation Requirements for MAGIX MUSIC MAKER
To install the MAGIX MUSIC MAKER on PC, make sure that the following requirements are met by the user in the PC desktop.
PC – Make sure that your PC is on Windows 7 or higher with at least 4 GB of RAM.

Compatibility Mode is enabled.

Hard Disk with 42 GB free space.

Graphics card with a minimum of 1024x768 resolution 16-bit color.

16-bit sound drive

DVD-ROM drive
How to Download MAGIX MUSIC MAKER on Windows
Follow the below steps to download and install the MAGIX MUSIC MAKER on your PC:
Go to MAGIX MUSIC MAKER's website, and go to Downloads.

Click on Download Now.

Select 'Save' to download the program. The file will be saved in the Downloads folder.

If you want to save in a specified folder on your desktop, then click on 'Save As' and select the folder you want the program to be saved.

After the download is complete click on the .exe file.

The installation process will start.

Run the installation package.

Wait until the update completes

Follow the Windows installation instructions and select options accordingly.

Click on Finish to complete the installation.

The program icon will appear on the desktop.

Select the icon to start the application.
You might also like