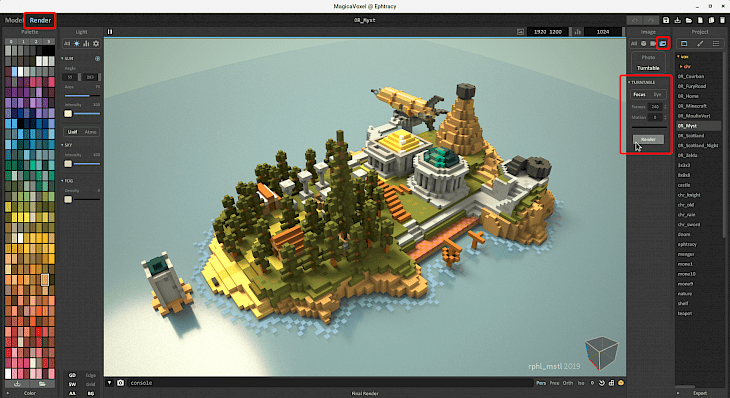 Download MagicaVoxel (32-bit)
MagicaVoxel 32-bit is a fantastic platform that allows users to easily create scenes built entirely from the voxels (small three-dimensional building blocks) and change them in outstanding visual styles, effects, and reflections. The software has a wide range of features in a versatile environment that promotes your creativity and provides access to the common tools available on this platform.
The software has an intuitive interface that permits you to conveniently start working on your 3D models right away you will not need to browse through the lengthy guides and tutorials. Although MagicaVoxel has numerous tools and features for rendering and drawing. The interface and tools are orderly arrange and easily accessible. The user can freely collapse or expand the panels to gain access to more tools and occupy more working space areas, this all depends on your needs, requirements, and preference.
The software offers you some unique rendering tools that help you to preview and analyze your model in a detailed and precise way by examining it from various angles and in different lighting conditions. On the other hand, at the same time, you can also effectively enhance your voxel model and transform it into a more realistic one by applying surface, a different path, lighting effect or field shadow, and many more.
This program is proved helpful for you if are someone who is involved in larger projects. For large projects, you need more sessions to complete and then you will finally save the project as a VOX file so that you can access the file content anytime. You can also export the model in another format such as XRAW, OBJ, ISO, PLY, SLAB, BAKE, MC, or QB and access the content with other third-party software solutions.
MagicaVoxel is a fabulous application that has the ability to alter very impressive scenes in real-time and you can even utilize the modern GPU chips to change the scenes with full ray-traced visuals (such as reflections, ambient occlusion, and shadows). This application also has an integrated conversion tool that allows the user to export the voxel scenes to Minecraft and enable the ambitious game builders to create the detailed structure inside this competent editor.
How to install MagicaVoxel 32-bit on your Windows operating system?
MagicaVoxel 32-bit is a fully-featured voxel editor that can be used easily by users of all knowledge levels to create, render, and edit voxel models. To install this program on your PC, follow the instructions and guidelines described below.
Step 1: It is always preferred to install this software from the developer's official website.
Step 2: Alternatively, open your browser and search "Download MagicaVoxel 32-bit for Windows" in the search box.
Step 3: Now, you will get a list of websites on your search result page. You can select any trusted website like filehorse.com to download the setup file of this software.
Step 4: Once you have downloaded the setup file, follow the step-by-step guidelines and instructions to start the installation process and run this software on your system.
Step 5: After following all the steps, click on finish, and now you can use this fantastic software on your Windows operating system
MagicaVoxel 32-bit requires a capable GPU for the seamless rendering of complex voxel-based scenes and objects.
You might also like