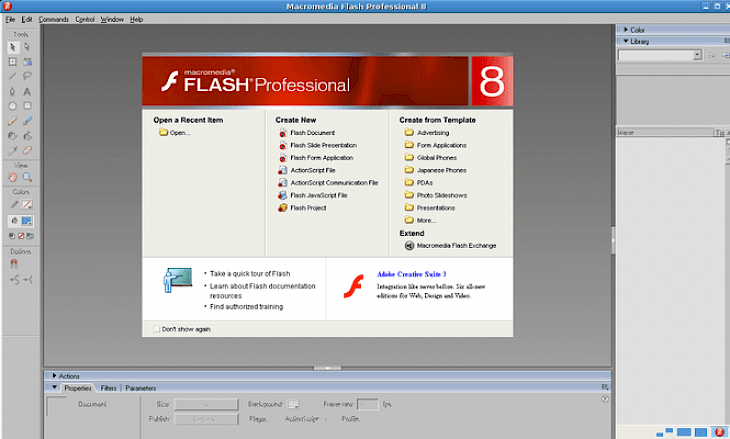 Download Macromedia Flash 8
Do you want to create amazing interactive content? Are you a graphic designer or web developer tasked with creating a jaw-dropping website? Welcome to the Macromedia Flash 8 software, the preference of the industry for rich interactive content creation.
Macromedia Flash 8 provides web designers and developers a variety of resources to create immersive user interfaces delivered from desktops to mobile phones, including visual effects, animation, text, video, and audio. To build great digital marketing, presentations, rich media ads, e-learning, entertainment, business apps, interactive video experiences, and more, use the Flash Animation Method.
The most pervasive computing interface in the world is Flash. The highly expressive, pervasive runtime environment for interactive content and applications that look and function the same on all major platforms and web browsers is Macromedia Flash Player 8.
Features of Macromedia Flash 8
In a light-weight, safe runtime, Flash Player 8 offers unprecedented performance, featuring a spotless safety track record of 9 years and 8 major versions. Flash Player continues to be delivered to major partners such as Microsoft, Apple, Netscape, and AOL to instantly carry rich content and software to 98% of the world's Internet-enabled desktops.
The exceptional features of Macromedia Flash 8 include the ones mentioned below.
Immersive Interactive User Interface Creation
Macromedia Flash 8 lets web developers and designers create interactive user interfaces that engage viewers in an immersive manner. Using this piece of software, web designers can let their imagination run wild as they create them virtually.
Digital Marketing Content Creation Tools
With Macromedia Flash 8, users can access a wide variety of tools that would aid them in creating presentations, e-learning, entertainment, rich media ads, interactive video experiences, and a lot more stuff to help in their digital marketing campaigns.
Animation Creator
The Flash Animation Method of Macromedia Flash 8 lets you create and design interactive animated content that is striking and expressive. You can even include visual effects, text, audio, and video in your animations to make them more fun to interact with.
Download and Install Macromedia Flash 8 for Windows PC
Download Macromedia Flash 8 for Windows PC
To download the latest version of Macromedia Flash 8, you can either visit the Adobe official website or go to any third-party affiliate retail website that has the same software available for download. Once you narrow down a suitable source to download it, let the process complete before clicking twice on the Macromedia Flash 8 setup file to launch the installer.
Install Macromedia Flash 8 for Windows PC
After the Macromedia Flash 8 installer pops up on your Windows PC, you need to follow the simple installer instructions displayed on the screen to get the entire installation completed.
Click on 'Next' and keep proceeding one tab after another.

Agree to the Adobe License Policy.

Choose an appropriate disk location for installing the files.

Kindly wait for the installation process to start and finish in a few minutes.

Once the process ends, click on 'Finish' and launch the software.
Now you can easily use the Macromedia Flash 8 software to seamlessly create immersive interactive content and publish it on the internet. Enjoy designing and engaging!
You might also like