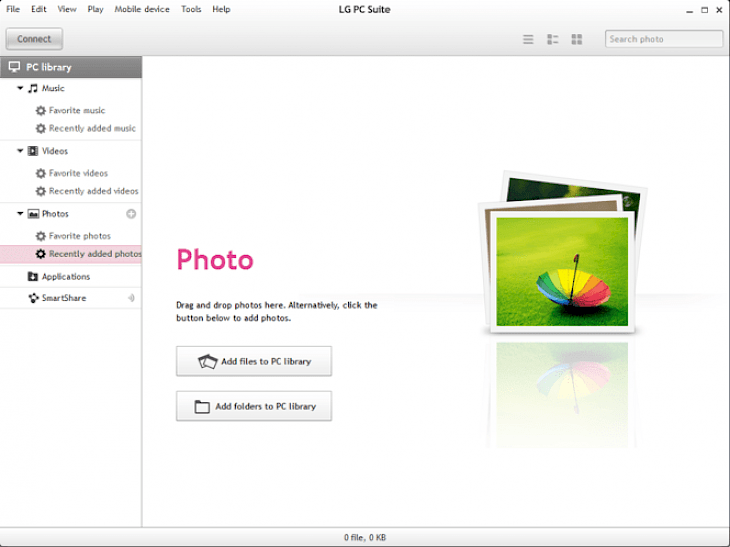 Download LG PC Suite
Sometimes, your phone settings can overwhelm you. Especially if it is a brand new model. There is so much to discover, so much you have no clue about. It requires some reading and looking into, just to get a proper hang of it. Managers are created for the purpose of making this task easy. They don't emphasize the importance of exploring your phone's settings for maximum optimization. Instead, they do it for you. You can connect them to your desktop and manage the settings from there. From transferring data between devices to cleaning your phone, the manager does it all. LG PC Suite is one such task manager designed specifically for LG phones and tablets. It lets you easily manage the data on your phone. We will look more into its features in the next section.

Key Features Of LG PC Suite
Create Your Account
To jump-start the work of the Suite, you need to create an account on the LG server first. Creating an account helps to keep track of your activities on the phone. It also helps secure a storage spot on the server so that you can share and backup your files.
Control Your Phone
By installing the LG PC Suite on your computer, you get to control your phone through the desktop. Operate on your phone in the expanse of your big PC screen. Transfer files to or from your phone, take out the garbage files that you find, and make good overall use of your phone.
Backs Up Data
Whether you use your hard drive or your cloud storage, it is important to back up your phone data somewhere. Phones are delicate beings that are susceptible to losing data like photos, videos, and documents. Before it can happen to you, LG PC Suite syncs your data to their server. This way, you will be afflicted with the loss of data from your phone.
System Requirements Of LG PC Suite
To install the software, make sure your system meets these requirements:
It should have Windows XP/Vista/7/8/10 operating system (64-bit)

The hard disk should have space that is double the installation file's size in order to run it smoothly
How To Download It On PC
There are multiple ways of downloading the app. You can download it from the Windows Store, visit the official Windows page and download from there, or download it from free software sites. In this case, we will be using the third method
From the software site, download the .exe file of the software. You will have to click the download button multiple times to initiate the download.

When the .exe file finishes downloading, run it on the system. Follow the installation instructions that show up in the setup window.

Once you are done going through all the instructions, click 'Finish'. This move finally starts the download of LG PC Suite.

When it is done downloading, you can run it by double-clicking its icon from the desktop.
You might also like