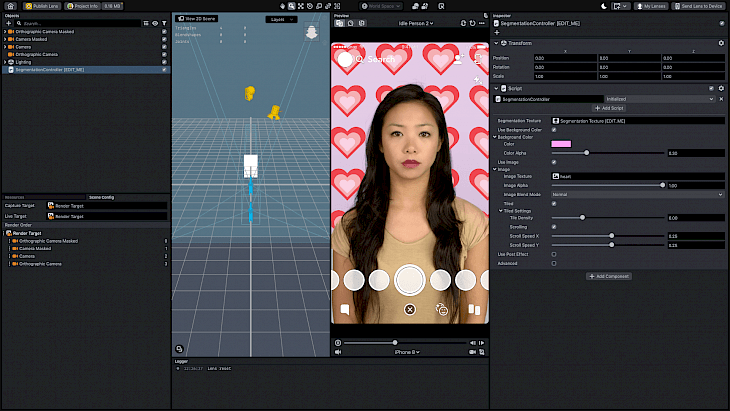 Download Lens Studio
About Lens Studio:
Lens Studio is a robust application that is designed for artists and developers for building augmented reality experiences for hundreds and millions of Snapchatters. With huge set of built-in features that include custom shaders with advanced tracking technology, possibilities are endless. Download Lens Studio for Windows PC today and enjoy. AR is core to Snapchat experience. On an average, over 75% of the community engages with augmented reality for communicating, playing, and learn every day. With cross-platform distribution on the iOS and Android, your creation can reach people all over world.
Realize any graphical style with the visual programming tool Lens Studio for PC. You can create custom shaders with a powerful Material Editor, or choose from premade Materials Library. Start with behaviour helper script to build interactive experiences without any code, or use JavaScript for creating more complex Lenses. With the multiple tracking options and features such as segmentation and Landmarker tracking, you will be able to create whatever world you dream up. SnapML enables you to make your Lenses more intelligent with machine learning. Simply plug in an ML model to apply an art style to the camera feed, attach images to custom detected objects, use custom segmentation masks, understand what is in the scene, and more. Lens Studio is a great software. Seamlessly bring physical and digital worlds closer by applying your AR creations to the Spectacles 3 content, so you can share all your world—the way you see it.
Key Features & Highlights:
Built-in features: With huge set of built-in features that include custom shaders with advanced tracking technology, possibilities are endless. Download Lens Studio for Windows PC today and enjoy.

SnapML: SnapML enables you to make your Lenses more intelligent with machine learning. Simply plug in an ML model to apply an art style to the camera feed, attach images to custom detected objects, use custom segmentation masks, understand what is in the scene, and more. Lens Studio is a great software

Other Features: You can create custom shaders with a powerful Material Editor, or choose from premade Materials Library. Start with behaviour helper script to build interactive experiences without any code, or use JavaScript for creating more complex Lenses.
Download & Install Lens Studio:
Download->
Here, you will find a button saying "Download". Click on that.

On the next page, click on the button saying "Start Download".

Your download would begin shortly now.
Installation->
After the download is done, go to the Downloads folder on your PC.

Run the setup file, and if you are prompted by User Account Control, click on yes.

Change the installation settings as per your requirement and then click on the Install button.

Once the installation is complete, run the application.
You might also like