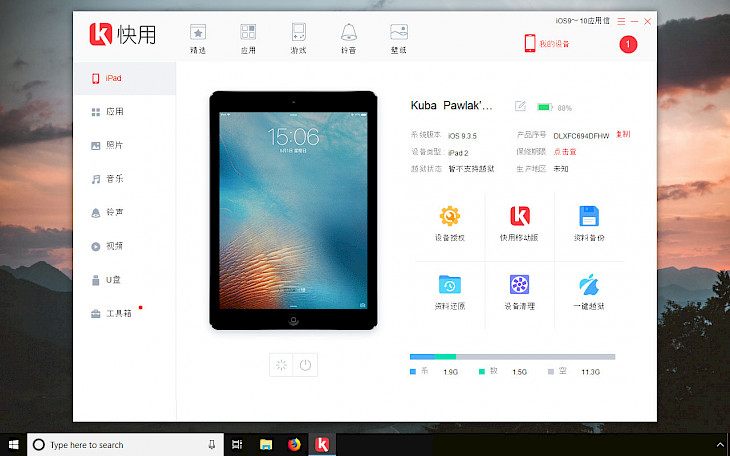 Download KuaiYong
KuaiYong is a software that allows you to install paid apps on iOS without jailbreaking the device. It can be also used to manage files, movies, audio on your Apple devices.
KuaiYong offers access to an unofficial store that you can use to search and download for the latest versions of apps and games running on iOS 9-10 system. Built-in file downloader allows you to quickly manage downloaded files.
The Helper can also filter searched items by selecting proper device like iPhone or iPad. One of the best features available in the software is an option to install the mobile version of the shop on our iDevice.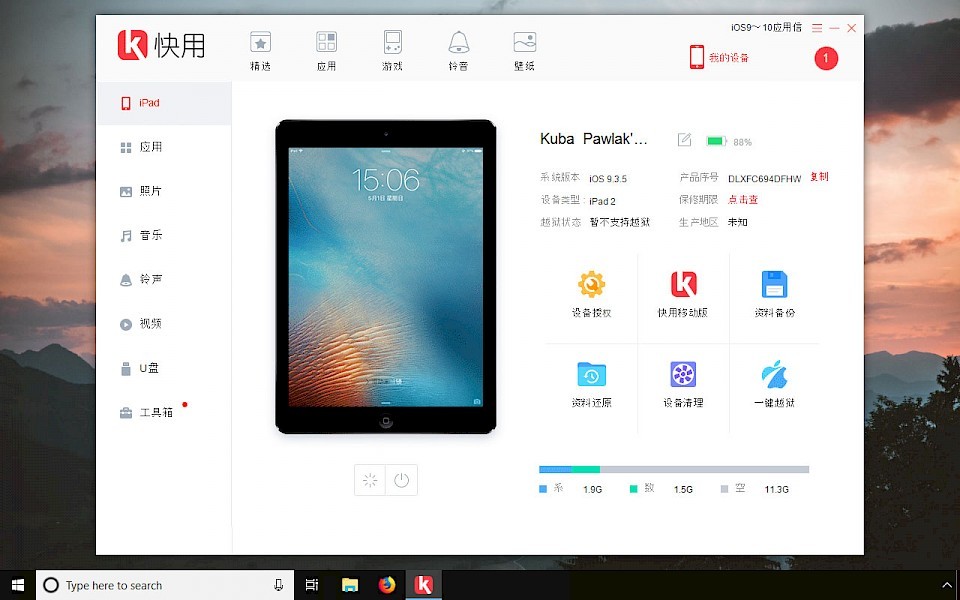 From the mobile version of the KuaiYong Shop, the user can also easily download free games and apps. The application works with devices like iPhone 3GS, iPhone 4, iPhone 4S, iPhone 5, iPhone 6, iPhone 7, iPod, or iPad.
Other features of the Helper software include option to create backups, check the battery level, and manage files on our iDevice (music, movies, files). With the app, you can also search and download ringtones and beautiful wallpapers.
Get KuaiYong download for Windows form our software hub.
KuaiYong PC is a great tool to manage older version of iPhones working on iOS 9 and iOS 10. It's not Kuaiyoung like some people type it but KuaiYong. The software is available for Desktop PC wit support for Windows 7 and above. The Helper can be also used to install paid apps and games available in App Store.
The main features of the app include options to view basic information about your device including iOS version, device name, UDID etc., manage installed apps and games, files, eBook, photos, movies and more.
What's more, you can change your iOS device into portable USB drive. Use your free space on iPhone device for storage of documents, files, etc. like on regular USB flash memory stick. KuaiYong download can be installed on Windows for free.
KuaiYong is offline
KuaiYong is no longer developed, and we recommend you to try different solutions available in our software hub. You can download and install a great KuaiYong PC alternative like Tongbu Assistant that is available in the English language or use 25PP.
If you are looking for software to install apps and games free on iOS devices you should definitely download Panda Helper or Tutuapp. All the mentioned apps are available for free download.
You might also like