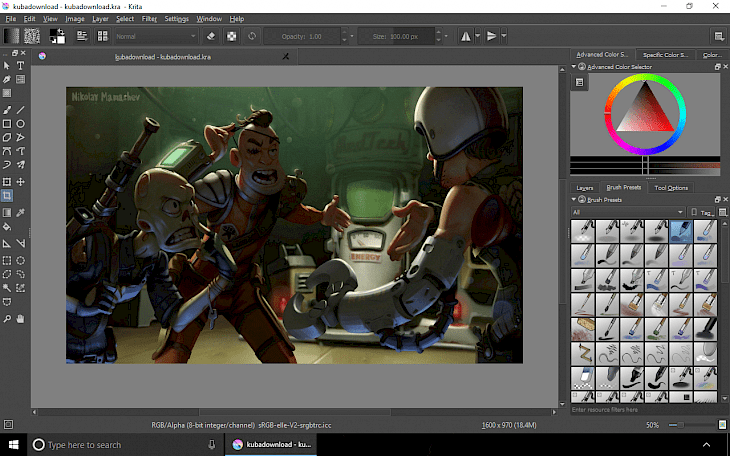 Download Krita
Krita Desktop is an application designed to paint images using graphics tablet and edit raster graphics. The tool supports also touch screens through the Sketch interface. Krita was created as painting tool designed for concept artists, illustrators, matte and texture artists, and the VFX industry.
The program was designed primarily as a painting tool, but it can also be successfully used to modify and edit photos. Krita is equipped with a rich collection of various tools and features available from the clear graphical interface.
The application supports major graphic formats including BMP, JPEG, PNG, RAW or TIFF. Krita Free includes 3 different ways to smooth and stabilize your brush strokes. There is even a dedicated Dynamic Brush tool where you can add drag and mass.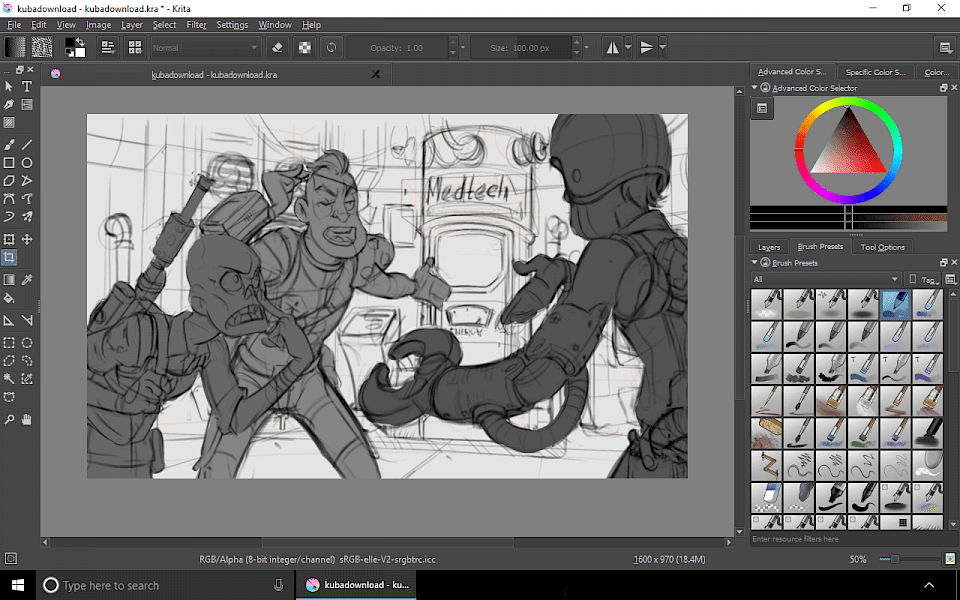 In addition to basic painting tools also get access to features designed to draw using oil paints, manipulate canvas or simulate drying paint. In addition, Krita Desktop allows you to work on layers, generate gradients and use masks and work with vector objects.
The application also also offers a set of effects like image sharpening or blur effect etc.
Customize your brushes with over 9 unique brush engines. Each engine has a large amount of settings to customize your brush. Each brush engine is made to satisfy a specific need such as the Color Smudge engine, Shape engine, Particle engine, and even a filter engine.
Krita Desktop also offers advanced brushes engines with access to the possibility to select plenty parameters of brushes, or scal and transform tools.
You can find other features like support for tablets, function to record macros or edit the metadata stored in image files. The main advantage of the software is speed of loading graphics and support for the latest multi-core processors.
Resource manager can import brush and texture packs from other artists to expand your tool set. You can download Krita free for Windows, Mac, and Linux.
Krita 4 is one of the biggest releases ever. It offers already mentioned SVG support, a new text tool and Python scripting, and it doesn't end here.
Other highlights include easy coloring of line-art with the new Colorize Mask Tool, new masked brushes: add a mask to your brush tip for a more lively effect, and new brush presets. Brush presets are now packaged as a bundle, too. And Krita 3 brush set is available, but disabled by default.
Krita 3.0 used the OpenDocument Graphics format (ODG) for vector shapes and paths. This was originally an office document file format and it does not work well with other vector graphic applications. Krita Foundation rebuilt the vector tools from the ground up in Krita to use SVG.
Currently, Krita 4.0 supports most of the SVG 1.1 standard. In the future, SVG 2 will also be supported. With the new colorize mask layer, you can fill a line art with a few quick stroke and have Krita 4.0 figure out how to fill it in. The normal flow is to make your line art, switch to the Colorize Mask tool in the toolbox, then make some quick strokes in the area.
One of the improvements funded by the 2016 kickstarter was a new text tool. With the goal of creating a tool that would be stable, dependable and simple to use, we made a lot of progress in Krita 4.0.
External pressure made it impossible to implement everything we wanted for Krita 4.0, and we will be making more updates and adding new things to the text tool as the 4.x releases progress: line wrapping, fine typographic control, vertical text layout for Asian languages, as well as improvements in workflow are all still planned.
You might also like