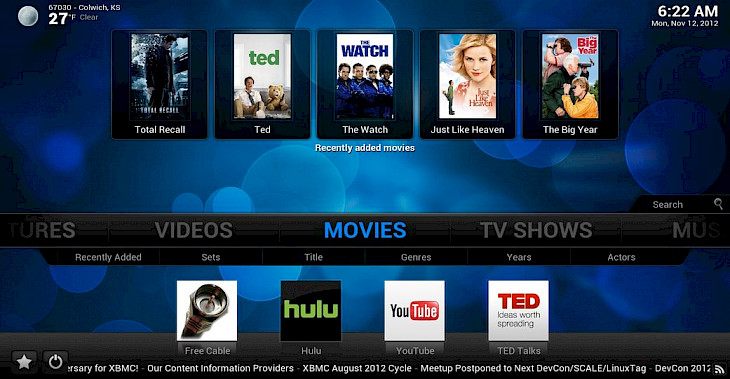 Download Kodi 16.1
Streaming your favorite multimedia online has become a hassle-free process. Each streaming site has its application, website, and what not to streamline the user experience to the greatest of extent. However, suppose you wanted to watch any multimedia files offline. In that case, you could do the same but with a dedicated media player who helps get the most of the viewing experience.
Combining the best of both worlds where users can either watch movies, listen to music, and even browse through phots couple with streaming services and access live TV showed online but through an app is what we will discuss today.
What is Kodi 16.1?
Kodi 16.1 is an application that lets you stream movies, listen to music, watch offline shows, check out pictures, and more all through one application. Moreover, this is the updated version of Kodi, and hence the "16.1." the application is quite diverse and encapsulates many software offering different features under one roof. It's available for different operating systems and even for mobile phones as well.
Key Features of the Software
The particular version of Kodi brings about plenty of changes to the software. It eliminates the hiccups the previous version bough but makes the entire user interface much better—things like the rendering of video problems. Image capture error, crash fixes, and so on are fixed and updated extensively.
While the user interface remains the same, it's quite a bit of customization options that users have with them as there are many skins to choose from. Each skin is updated with more to come in the future.
As usual, the application is free to use without any purchases required.
Minimum System Requirements
CPU – X86 Intel processor

RAM – 2GB or higher

Storage – 5GB or higher

OS – Windows 7 or higher
How to Download and Install it on PC
Download the necessary installation files
Get the latest version of the files and see to it that they are authentic without anything missing. You can head to the official site and get the files from here.
Once downloaded, then open it and set up the installer. The settings and preferences, set it up and ensure that you let the installer finish installing the software.
The user can access the software through the desktop shortcut icon after a successful installation.
You might also like