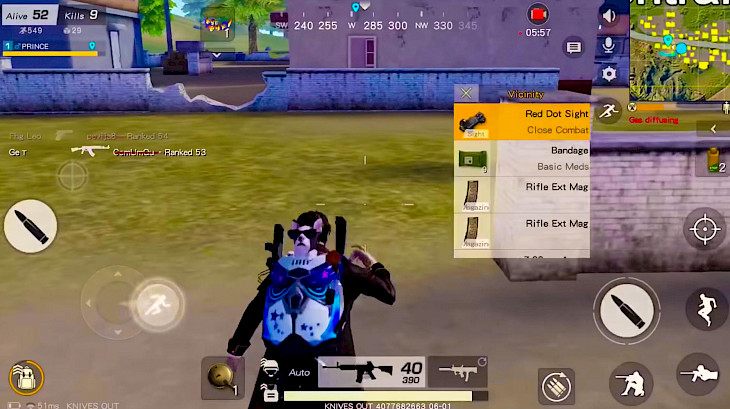 Download Knives Out
Battle Royale has become the dominant game genre ever since games like PlayerUnknown Battlegrounds and Fortnite: Battle Royale emerged on the scene. They revitalized the concept of third-person shooter games, adding cool features to a rather simple game concept. So based on this generalization, it is no wonder that Knives Out found immediate success. It follows the same third-person shooter principles that PUBG and Fortnite have modernized.
The storyline is not very different either. The player finds himself marooned on an island that is teetering with weapon-brandishing inhabitants. His mission is to get rid of these people, shooter style. Using the terrestrial constructions and hideouts, the player needs to scavenge the island for new weapons and skills whilst gunning down anyone who comes in his way. To win the game, he needs to successfully clear the island of its inhabitants, emerging as the last man standing. Knives Out is a wonderful alternative to PUBG and Fortnite so if you are looking for a change of scenery, you can download this game.

Key Features Of Knives Out
Character Customisation
You can customize your character before setting foot on the battlefield. There is a range of options available to you, starting from headwear to shoes. So deck your character in the finest threads before you embark on a shooting rampage.
Allies And Enemies
Initially, there are hundred people scattered around the map, each one having a wild agenda. You can go on a solo killing spree or you can recruit members to your team. Each team can have a maximum of five members. Once you have allies by side, you can kill enemies faster than when you go solo and clear the map in no time.
Exciting Worlds
There are exciting maps to explore. You keep unlocking maps when you finish the previous ones. Some maps have rugged mountainous areas whilst some have concrete jungles. The objective of the game designers was to make each map easy for navigation. So whether you are scaling the mountain tops or hiding behind buildings, you will find each map is extremely joyous and scalable.
Miscellaneous Tasks
If you get tired of walking lengths of road, you can get into the nearest car and drive around. However, you won't be able to see weapons stashed in little nooks of the map. Also, your car will alert other enemies of your presence.
System Requirements Of Knives Out
Make sure that your system satisfies the following requirements:
It should have Windows XP/Vista/7/8/8.1/10 operating system

The preferred processor should be Intel Core 2 Duo Q6867 or higher
How To Download It On PC
After green-lighting the above requirements, follow these steps to install the software.
This site provides a safe and secure downloadable link for the software. Clicking on the download button directs you to another page.

Click the download button on this page to initiate the setup file's download.

Once the download completes, run the .exe file. On the setup window, follow the installation instructions.

When you finally click 'Finish', Knives Out will get downloaded on your system.
You might also like