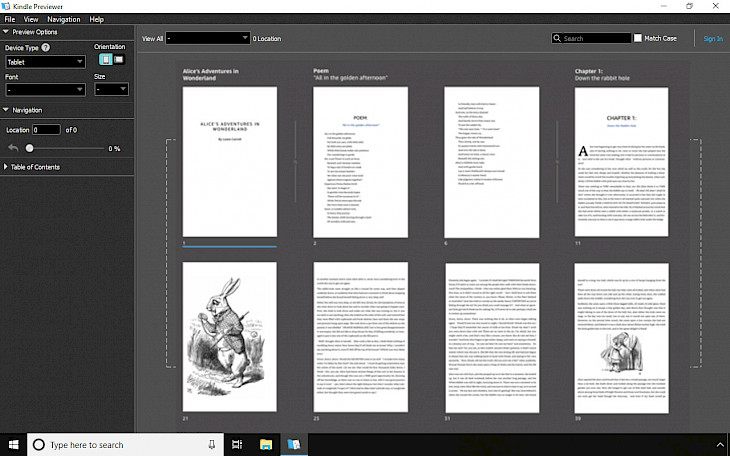 Download Kindle Previewer
Kindle Previewer is a free desktop software for publishers and eBook service providers to preview how their books will appear on Kindle devices. You can use Kindle Previewer to audit books for different screen sizes, display orientations and font sizes.
Kindle Previewer supports previewing your book with the latest typographic and layout improvements that come with Enhanced Typesetting. Some of these improvements include higher quality images, better table formatting and font alignments, smoother word spacing, hyphenation, kerning and ligatures. It is recommend to use the latest
Kindle Previewer 3 to review how your books look as a best practice while formatting and before publishing.
With Enhanced Typesetting, Kindle Previewer provides a better reflection of your book layout. The software supports MOBI, EPUB, HTML and OPF file formats, and allows you to view Kindle Text Pop Ups and Kindle Panel Views.
You can get a bird's-eye view of your book to quickly validate the overall layout, and selectively preview key aspects of your Enhanced Typesetting enabled book such as images, tables, dropcaps, links and lists without having to go through the entire book.
Kindle Previewer is available for Windows and macOS. Amazon Kindle Previewer offers 9 preview templates including Kindle, Kindle Fire, Kindle for iPhone or Kindle for iPad.
You might also like