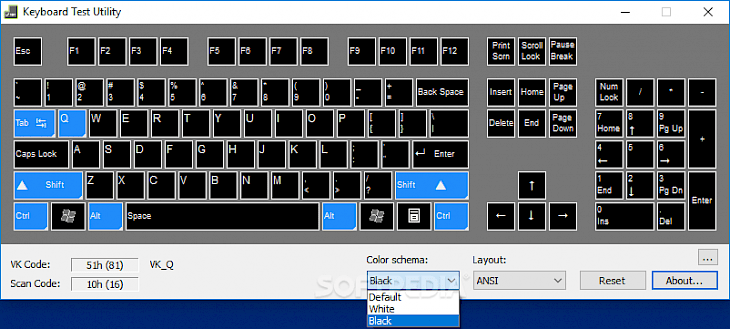 Download Keyboard Test Utility
Are you facing problems with your PC keyboard? Do you feel your keyboard should perform better than it is currently doing? The Keyboard Test Utility software lets you check all these by allowing you to inspect the health status of your keyboard anytime you find something suspicious with it.
Developed by Javad Taheri, Keyboard Test Utility is a user-friendly program that will, with only a few button presses, help you assess the status of your computer keyboard. This simple tool lets you check if the keys you press are the ones read by your computer, while also listing the corresponding Virtual Key Codes and Scancodes if you feel like your keyboard is not behaving the way it is supposed to be.
Keyboard Test Utility is a lightweight health program for hardware that can enable Windows OS users of all levels of experience to test their keyboards' health status quickly and easily. Although many users will detect any issues with their keyboard hardware immediately, such as missed clicks, double or multiple signals on each keystroke, or sending the wrong keystroke signal in sporadic cases, this app can enable us to really solve the problem and clearly see whether the fault is hardware or software.
Features of Keyboard Test Utility
The primary aim of Keyboard Test Utility is to help you understand what's wrong with your keyboard if at all anything is in the first place. To do this, it displays some features like the ones mentioned below.
Simple User Interface
The whole user interface consists of a visual display of a typical keyboard layout with virtual buttons that light up when users click their keyboard keys.
Diagnostic Screen
The little diagnostic screen at the bottom will display the digital instruction that has been sent to the PC by the keyboard.
Adaptive & Customizable Layout
The app supports swapping to reduced button configurations to accommodate better the needs of users who do not have the default keyboard layout on their laptop or notebook. ANSI, DP-72, and SL-91 are the layouts that are supported. In addition to that to display multiple colors of keyboards, the whole interface can be modified.
Recordkeeping
The Keyboard Test Utility software also tracks keystroke history, which can be erased by pressing the 'Reset' button, which is prominently featured.
Easy, Fast Diagnosis
This accessory diagnostic app's simplistic nature can allow users to spot the position of defective buttons very quickly.
Download & Install Keyboard Test Utility for Windows PC
Download Keyboard Test Utility for Windows PC
The most remarkable thing about Keyboard Test Utility is that you do not have to undergo the hassle of installing any software on your PC for checking the health status of your keyboard.
The entire application for the Keyboard Test Utility is distributed online in a single executable file (.EXE) which does not have an installer.
Just download this portable file from any of your local storage devices, including portable USB flash drives, and run it, and the app will be instantly up and running.
Thus you can imagine the lightweight nature of Keyboard Test Utility. It solves the problem it is meant to solve - diagnosing keyboard problems - by serving as a visual showcase for keystrokes, without much hassle. Even though it lacks advanced features like in-depth configurations or automated tests, it does what it is meant to do just fine.
Simply download the Keyboard Test Utility executable file on a USB and run it on any computer device at any place, at any time. Enjoy!
---
You might also like