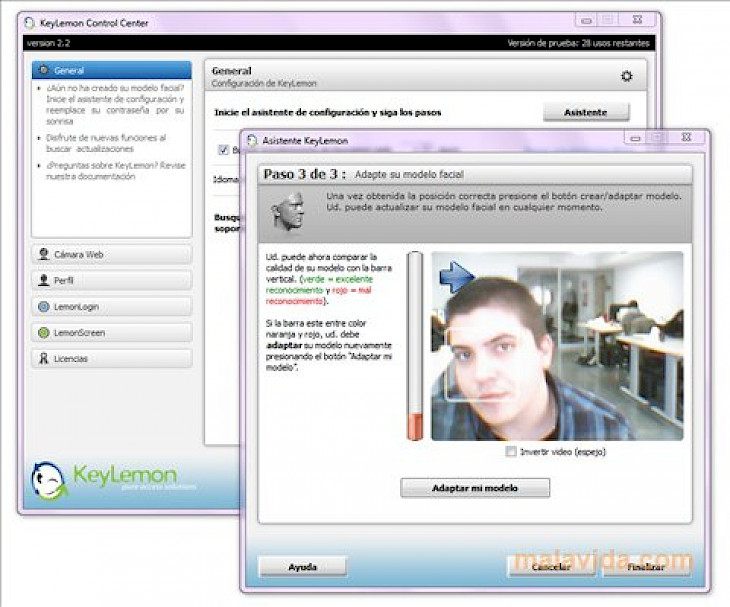 Download KeyLemon
Security is of the utmost importance when it comes to safety and keeping data safe and secure. No doubt, there are multiple ways to keep our electronic device safe from viruses and malicious attacks, but keeping them safe from unprecedented logins is where the system could show vulnerability.
Though several companies have adopted to face login, password protection, and fingerprint sensor, few applications take security and safety one step further. Today we are going to discuss in detail one such application. Check it out.
What is KeyLemon?
KeyLemon is a security application that lets users log into the computer with their face recognition software. Not only this but if your computer has multiple accounts, then the software detects the face and ensures that the particular account is opened up, making it relatively easy and straightforward.
Furthermore, there are plenty of options that you can choose from when you set up the software to ensure how the login process should occur and more. Having a camera is a must, which almost all laptops and computer systems come with these days.
Key Features of the Software
The software can be used as an alternative login solution to ensure that you have multiple ways of logging into your system and don't have to worry if one method fails. You still have your face to log in.
During the unlocking phase of the computer through Key Lemon, it takes some time and then unlocks the computer. It's to ensure that there is no image put in front of the computer but an actual person blinking.
As soon as the user gets up from the computer and moves away, the software detects this and locks the computer to ensure the utmost privacy and security.
The accuracy for recognition varies based on your preference. Users can have their settings adjusted too high, medium, or low. According to this accuracy, the unlock mechanism will work from poorly to high alert unlocking every time you look at the computer.
Minimum System Requirements
OS – Windows 7 or higher

RAM – 1GB

Storage – 250MB

CPU – 64bit processor
How to Download and Install it on PC
Download the installation file
Users can get the basic version of the gold version of the file. One is free, and another one is paid. Hence, download the version relevant to your usage.
Once downloaded, then set up the installer and let the installation process complete.
Enjoy using the software in unlocking your computer hands-free and only through the medium of your face.
You might also like