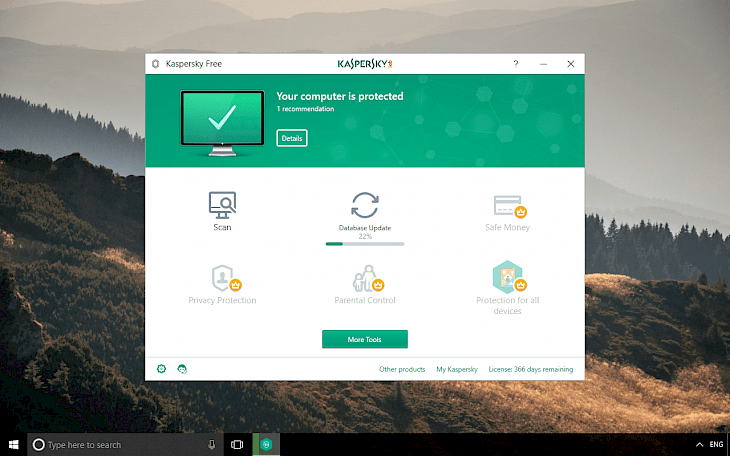 Download Kaspersky Free Antivirus
Kaspersky Free Antivirus 2019 is a freeware antivirus software offering real-time protection. Detect unknown threats, scan system files for offline and cloud service and verify files and dangerous websites. Download the free version of Kaspersky Lab Antivirus.
Protect your PC from malware available on the Internet. The free anti-virus software offers only basic system protection. The Antivirus works on the award-winning Kaspersky Lab Ant-Virus engine available in commercial products like Kaspersky Internet Security.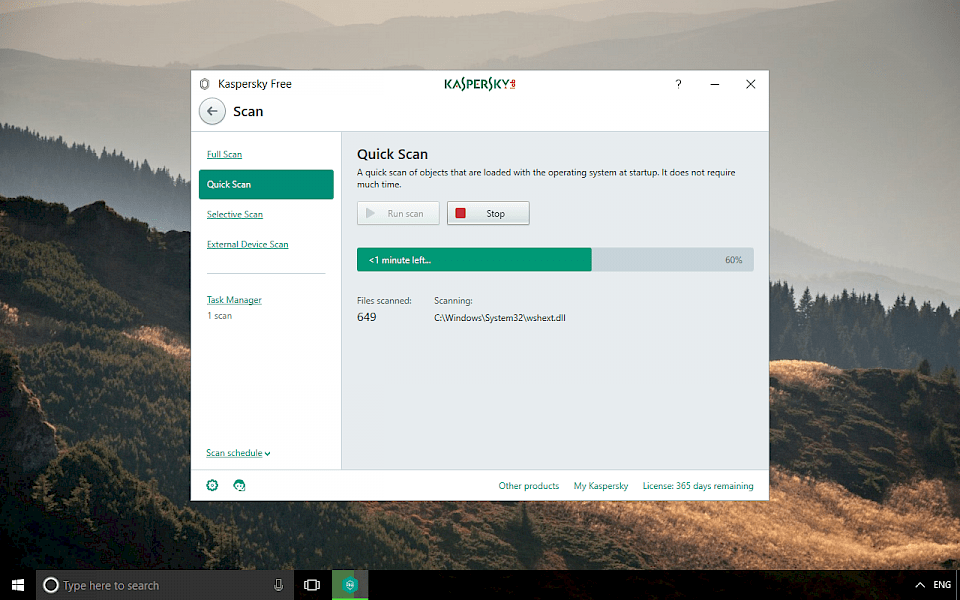 Protect your Desktop and remove malware that infected Windows system. Antivirus from Kaspersky displays also information on the reputation of the Web pages user visit and offers Anti-Phishing feature to protect the user from Web sites and e-mails trying to extort confidential data.
Entering logins and passwords on the web through a regular keyboard can put your confidential data at risk. Your passwords and logins may be stolen by means of spyware programs which register keystrokes, in example hardware keyboard interceptors or keyloggers, and then transferred to criminals.
On-Screen Keyboard tool built into the program will keep your private information protected. The 1-year free version of Kaspersky Antivirus offers also a quarantine module to store all infected and potentially dangerous files. There are also frequent signature database updates allow for protecting Windows system against the latest viruses.
Going with the trend Kaspersky Lab released a free version of its Antivirus solution to protect Windows PC. The free antivirus is a great software to protect your Windows system against malware in real-time. The anti-virus offers only basic protection with antivirus engine, but if you are using secure websites to download files the protection offered by free Kaspersky Antivirus is good enough. Free Antivirus from Kaspersky (ca. 130 MB) is available for Windows only, supported systems include Microsoft Windows 8, Windows 8.1 and Windows 10.
Free Antivirus Shields

The free version offers cloud-based antivirus protection, where the app uses cloud database to detect danger files immediately. The quarantine module stores files that were modified or deleted during virus detection. The On-Screen Keyboard in Kaspersky Free protects your data from keyloggers.
Antivirus Reports
Kaspersky Antivirus is packed with self-explaining reports module where you can view statistic about neutralized objects, database updates, full and quick scans, etc. There is also access to detailed reports for all actions provided by Kaspersky Free Antivirus.
View events by categories like detected objects, database updates, file ant-virus, IM anti-virus, mail anti-virus, network attack blocker, system watcher, web ant-virus, etc.
Antivirus Scan
Antivirus from Kaspersky offers a real-time scanner that works in the background providing security against malware. There is also an option to manually start the Full Scan. Use it to scan your entire PC. It's recommended to start Full Scan immediately after installation of the antivirus.
Another option available in KAV Free is Quick Scan that scans objects loaded with the operating system as a startup. Scan schedule is also available in Kaspersky Free Antivirus. Run it manually, every day, weekday, weekend, weekly or monthly.
Kaspersky Internet Security

Freeware Antivirus offers only basic protection and it informs you about additional features available in Kaspersky Internet Security.
The paid version of Kaspersky Antivirus offers Kaspersky Rescue Disk to clean system from viruses before the system starts, Network Monitor that shows network activities of applications, Software Updater to keep applications up-to-date, Application Control to monitor and block dangerous activities, add software to Trusted mode and a built-in PC Cleaner to detect and remove unnecessary files and apps.
You might also like