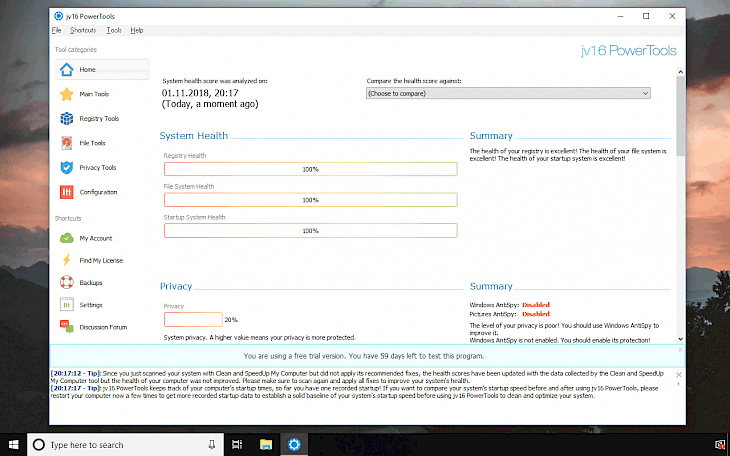 Download jv16 PowerTools
jv16 PowerTools is a Windows utility software designed to make your computer work fast and smoothly. The main window gives you easy access to all of the product's features and shows you the overview of the health status of your system.
The main tools available in jv16 PowerTools utility are Clean and Fix My Computer, Uninstall Software, and Leftovers, Control Which Programs Start Automatically, Speed up My Computer's Startup, Immunize My Computer and Decrap My Computer.
With them, you can find and take care of registry errors, unneeded registry junk, unneeded files, left-over temporary files, unneeded log files, and much more. Startup Optimizer is an easy-to-use tool designed to improve the way Windows starts up. It works by integrating itself into the Windows boot process and offers real-time optimization each time the system starts.
The app allows you also to list and remove any software installed in the system, including left-over traces of old software you cannot uninstall by normal means, easily apply tweaks to Windows in order to improve its performance, block adware and spyware by automatically modifying the Windows hosts file, control which programs and DLL files start automatically with Windows.
The main feature of jv16 PowerTools is that it can make your Windows PC run faster and better. But it also contains many other tools. It can for example Find and replace data inside files, Find and replace data from Windows Registry, Mass rename files, Merge and split files, Remove files on reboot or Wipe files.
You might also like