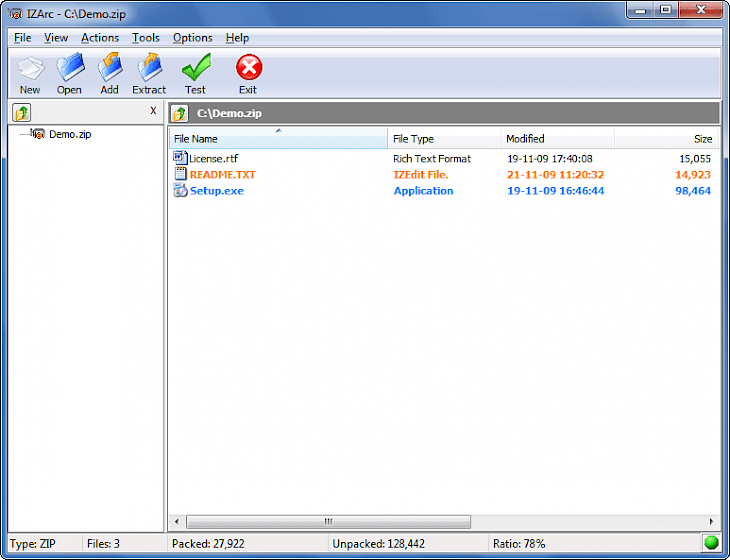 Download IZArc
In the past, sharing files has never been a more straightforward affair. There was always the problem of storage, and there was a cap on the bandwidth of information that could be transferred via the internet. Yet, users still tried to have massive pieces of data stored in discs and other portable storage devices. However, it wasn't efficient as it did lead to the further storage of CDs, USB drives, and whatnot.
When such a situation arose, the need for compression arose, and it was necessary. It helped compress the data as much as possible, ensuring that people got lots of information cramped up in the smallest of places. It's where compression programs came to picture, and such programs are still being used to date. Out of the many popular ones, we have one software discussed below.
What is IZArc?
IZArc is a file compression software that helps convert any given piece of data to various compressed formats. The software support multiple compression file formats. Furthermore, it also helps in converting, extracting, and even encrypting the data files for better storage and security features. the software is well equipped with features where users can repair damaged encrypted files, restore the corrupted compressed files, and much more. The entire application is free to use and is supported by several platforms.
Key Features of the Software
Multi-platform compatible
The software is vastly supported by plenty of operating systems spanning different electronic devices. It's smooth and works like a charm without any hiccups or distortion whatsoever.
The software is built on a stable platform and implies AES-256-bit encryption on all its compressed files and data. It also enables scans to check out the contents of any information that is to be compressed before the process of compression occurs.
Multi compression support
There are an array of compression features that the software supports. These formats include ZIP, RAR, GZA, BZA, PK3, MIM, YZ1, ARJ, HA, B64, UUE, LIB, ARC, ENC, GZ, CPIO, LZH, and many more. The software helps in the conversion of information compressed in one format to another format as well.
Minimum System Requirements
OS – Windows 7 or higher

CPU – Pentium processor

RAM – 1GB or higher

Storage – 100MB
How to Download and Install it on PC
Download the software installer
The software installer is available on IZArc's official website. You can download it for free as well. There are no hidden costs involved.
Once the download finishes, open the contents and open the installer. Set it up to install the software.
After the successful installation of the software, enjoy effortless compression processes to be carried out.
You might also like