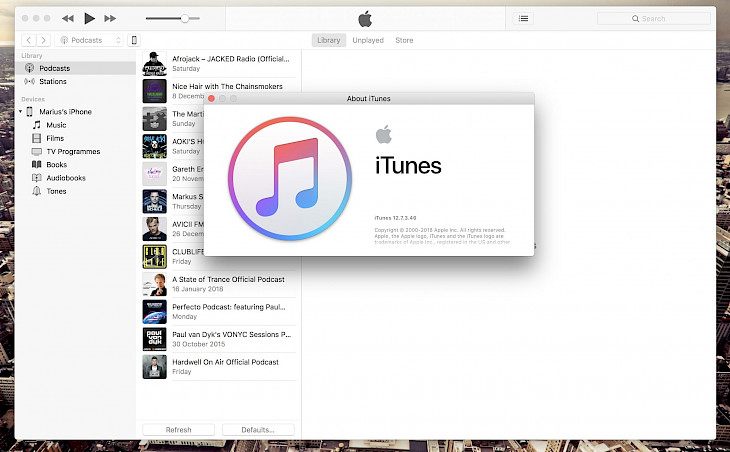 Download iTunes 12.7.3 (64-bit)
For many people worldwide, multimedia content is one thing that has become a part of their lives. No matter how many shows, movies, and even songs come out, it's becoming a part of our lives. However, when it comes to music, people do have mixed opinions. Whether they like it or not, organizing the same is unique and different on multiple platforms. For this, a standard MP3 has a file manager that a nominal desktop running windows could enable access.
However, for iPods and other Apple devices, things are quite different. If you were to access an iPod from a file manager, you could hardly get any information out of it. It's why you will need additional software that will help you in all the syncing and managing of your apple multimedia players. Check it out.
What is iTunes 12.7.3 (64-bit)?
iTunes 12.7.3 (64-bit) is a version of iTunes that brings about multiple features and variations to the traditional software. The existing ones bring about stability and bug fixes that a user might have experienced while using iTunes. Also, many users predominantly use the software to sync their Apple devices and even manage their audio all under one roof. It's quite the application that keeps all your Apple devices safe and secure. It's free to download at no additional cost or charge.
Key Features of the Software
The application lets users import mucin onto the application and allows for a seamless music listening experience. It helps in getting the best of everything and also allows for a broader listening experience. If the album art or information is missing about the track, the application tries to get the information online and applies it to the track.
Buy/listen/stream music from the iTunes store
The application comprises a store where you can stream/download and even mix up your multimedia content viewing experience. There are multiple songs, millions of movies to choose from, and even get ringtones for your iPhone from the application.
The entire application is free to use and can be downloaded from the o0ffical apple website.
Minimum System Requirements
CPU – 1GHz or higher

RAM – 512MB or higher

OS – Windows 7 or higher

Storage – 300MB or higher
How to Download and Install it on PC
The software is available on multiple app hosting sites. Even the official apple website has the software. Download it from any place you desire.
Once downloaded, install the software by opening the installer from the downloaded package contents.
Enjoy using the software to the fullest extent.
You might also like