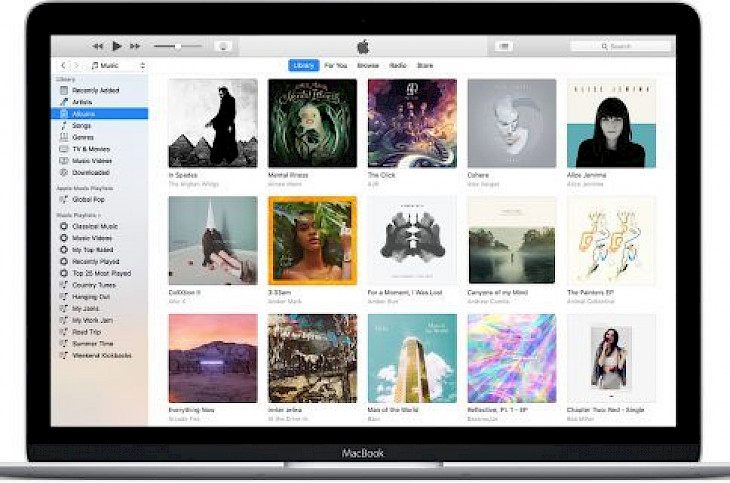 Download iTunes 12.7
The full-featured mp3 player-organizer by Apple now has a new version which is also available for Windows users. iTunes 12 was released as a beta earlier for OS X Yosemite and is now available for new users and also as an update to iTunes 11. This update allows you to sync your iOS products with Windows XP and Windows Vista PCs. It now includes a video-player organizer which means an all-in-one application to keep all your music, videos, podcasts, audiobooks, etc. organized.
Key Features Of iTunes 12.7
Overall New Look
iTunes 12.7 now does away with having the various categories in the sidebar – instead, the main menu includes icons like My Music, Films, TV Programmes, and more. The overall look is much cleaner, and it also allows you to customize and choose icons to be displayed.
To customize the icons:
Click the more button (three dots)

Click the Edit button at the bottom of the menu

Check which icons you want to use

Click the Done button
This is useful as it allows you to hide categories that you are not interested in and provides a much more uncluttered view.
New Devices View
In iTunes 12.7, each iOS device you own shows up in the main toolbar as an icon letting you see if your iPhone or iPad is connected. This requires them to be on the same WiFi network and logged into iCloud or iTunes. You can synchronize and manage a particular device's content by clicking on one of the icons and opening the device manager.
Recent Items And Playlists
Since iTunes now includes a video-player organizer all the new content such as movies or music that you have recently added appears in the top section of iTunes 12.7. This is comparatively more convenient, as all the new content purchased is always accessible in the main view. The recently added items still remain visible in the normal Playlists section.
Another new change is that your Playlists can now be viewed on the left side of iTunes while viewing your content at the same time in the main window. This makes it very simple to organize and create playlists by dragging and dropping items onto them.
System Requirements Of iTunes 12.7
Make sure your system meets the following requirements so the software can run smoothly on the system:
It should be compatible with Windows XP/Vista/7/8/10 operating system (32- or 64-bit)

Intel or AMD processors with a speed of 1 GHz is enough but it should support SSE2 as well.

To play videos on the iTunes store, a DirectX 9.0 video card is required
How To Download It On PC
You will find a safe and reliable download link for the software below.

Click on the 'Download' button. When you are taken to the next page, click the 'Start Download' button on it.

iTunes' .exe file is downloaded on the system. Run this file once the download completes.

Skim through the installation instructions. Once you reach the end, iTunes will successfully install on your PC.
You might also like