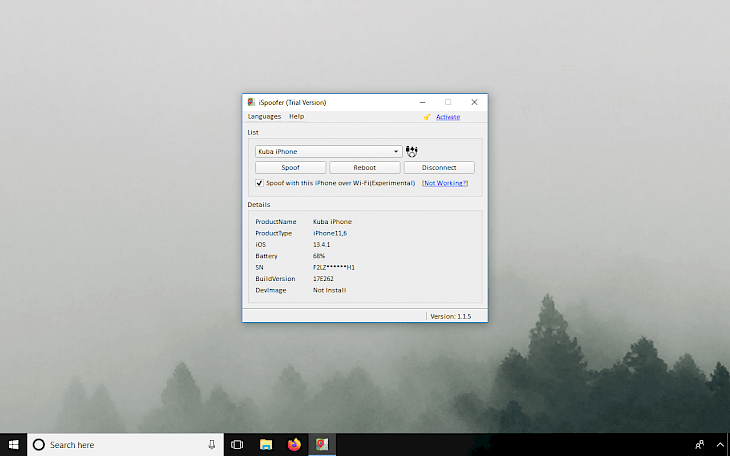 Download iSpoofer for PC
iSpoofer for PC is a Windows and Mac program allowing you to change the location on your iPhone with just a few clicks. It can be used to spoof location in AR games like POGO, Ingress, and Wizards Unite. The program is safe to use but be aware that you can't just teleport between location to cheat in games.
Download iSpoofer for PC available for Windows and Mac. The program works on a 64 and 32-bit system and was tested to operate from Windows 7 and up to Windows 10, and macOS Catania and above. Change your location on iPhone in AR games like Pokemon GO, or Harry Potter: Wizards Unite, etc.
Location Simulation feature available in Xcode is used by app developers to test location-based apps for iOS. iSpoofer for PC brings the testing framework libraries and tools for simulating location on iOS to Windows and Mac users. What's more, you don't need to have any programming knowledge. First, install iTunes.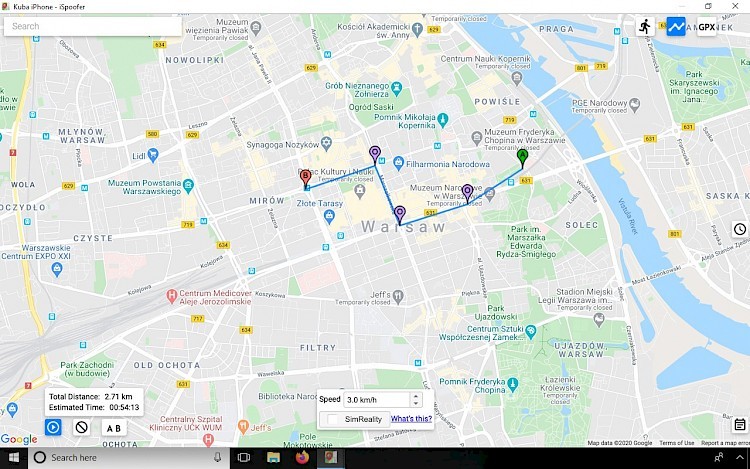 With iSpoofer PC you can change the location on your iOS device, spoof to anywhere in games without actually walking, or fake your location in social apps. Your iPhone will actually believe that it is in a totally different location.
From the main window of the application, you can view some basic information about the device such as product type, iOS version, battery level, SN, or build version. There is also the option to reboot your device and open the Spoof window where the magic happens. Configuring the iOS location changer is easy.
iSpoofer for PC revolves the Google map where you can find every location and teleport to it with just one click. What's more, you can customize routes and setting moving speed to pretend that you are walking or driving. The app displays the total distance and estimated time to arrive at the destination.
Use this program to simulate any GPS location on your iPhone and iPad. iSpoofer for PC features options like Auto-Moving, support GPX files, speed adjusting, manual moving with a joystick, customizing routes, and Wireless Spoofing.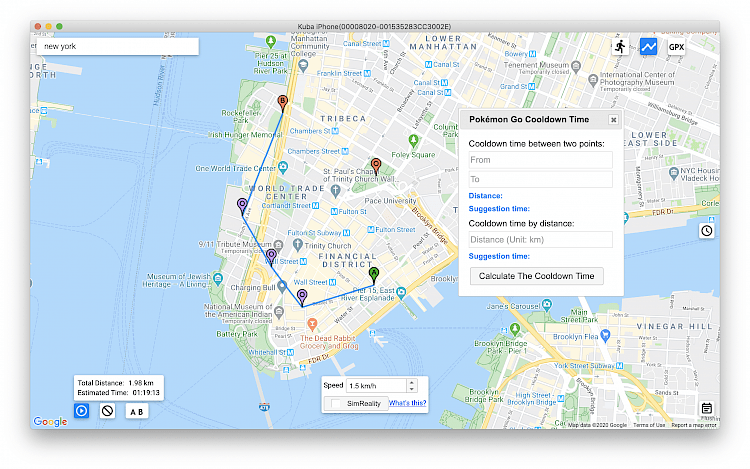 The most important thing when you teleport is respecting timers, depending on how far you want to teleport and interact with the game. After each teleport, you need to calculate the amount of time to use an in-game action depending on travel distance in the game. You will need to wait Cooldown time to use your next in-game action or you can be baned. iSpoofer for PC includes a Pokemon GO Cooldown Time calculator, that helps to calculate the Cooldown time.
iSpoofer for POGO is one of the best iOS apps to spoof the location in Pokemon GO, but it's hard to install and keep in running for more than a few days. iSpoofer for PC uses a different technology that doesn't have this issue and it works every time.
The trial version can be used for 3 days. Once, the trial period is expired, you have to purchase the license to unlock the functionality. If you enjoy using the program, you can invest in the full version for $12.95 (3-Month Plan subscription). You can run the app on up to 3 devices (either computer or mobile phone).
Overall, iSpoofer for PC is a great solution for everyone interested to change location on your iOS device in a smart way. The software is easy to use, and it can also work with your iPhone over Wi-Fi. Pokemon GO players can bring sniping to the next level with this app. What's best, it works always when you need it.
You might also like