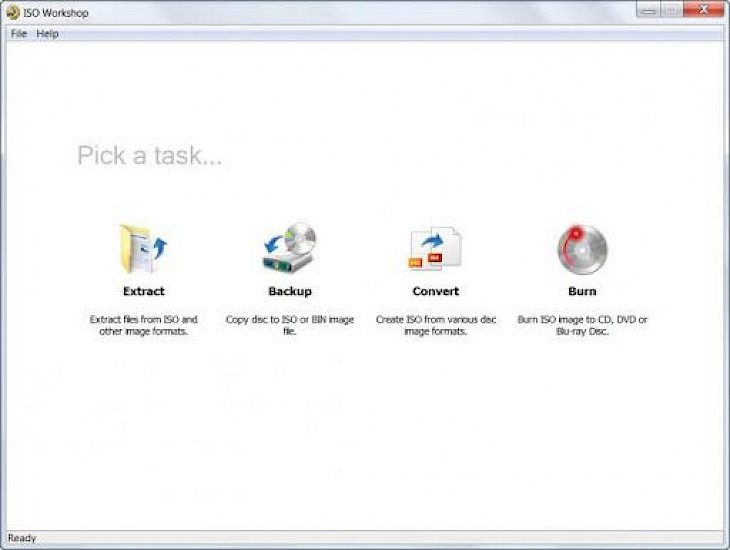 Download ISO Workshop
Are you looking for a free tool to help you with disk image management? ISO Workshop is a free program designed specifically to promote operations of disc image control, conversion, and burning. The app has a very simple user interface and allows you to create ISO images, remove files from disc images, create backups of discs, convert and burn disc images.
Developed by Glorylogic, ISO Workshop allows you to use your local files and directories to create ISO images. With different file systems or bootable ISO images, you can make regular ISO images to prepare the boot disc.
You can make an exact copy of your CD, DVD, or Blu-ray Disk on your hard drive with the ISO Workshop to backup essential data or audio CDs. You can also copy on-the-fly CDs, DVDs, or Blu-ray Discs.
Features of ISO Workshop
You can conveniently burn disc images to a CD, DVD, or Blu-ray disc using the CD/DVD program of ISO Workshop. It may be an image of the disc, not just the regular ISO image. Also, rewritable CDs, DVDs, or Blu-ray discs may be deleted.
The remarkable features of ISO Workshop are enumerated below.
Multiple File System Support
ISO Workshop lets you make bootable or standard ISO with multiple different file systems.
Disk Burning
With ISO Workshop, you can burn an ISO image or any other disk image to a CD, DVD, or Blu-Ray Disk.
Quick Image Extraction
ISO Workshop enables you to browse and extract files from different disk image formats.
Disk Copying
With ISO Workshop, you can copy any DVD, CD, or Blu-Ray Disk to an ISO or a BIN image. Make exact copies of CDs, DVDs, and Blu-Rays on the go.
Disk Image Conversion
ISO Workshop can help you convert a disk image of any format to standard ISO or BIN formats.
Supports Multiple Windows Versions
ISO Workshop supports and runs smoothly on both 32-bit and 64-bit versions of Windows 7, Windows 8, Windows 8.1, and Windows 10.
Download and Install ISO Workshop for Windows PC
Download ISO Workshop for Windows PC
To download the latest version v10.0 of ISO Workshop, you can head over to the official Glorylogic website. Or else, you can simply download it from a trusted third-party website on the internet. Once you select a trustworthy source to download the software from, proceed with the download before clicking on the downloaded setup twice after the download is completed to run the installer.
Install ISO Workshop for Windows PC
Once the installer is up and running on your Windows PC screen, you can follow simple on-screen installer instructions to proceed with and complete the installation process.
Click on 'Next' till the User Agreement tab appears.

Agree to the User Agreement.

Please wait for the installation process to begin and attain completion.

Click on 'Finish' once the process ends.
There you have it! ISO Workshop will now be present as a desktop icon for you to access anytime and create and convert disk images without breaking a sweat. Enjoy!
You might also like