Start IrfanView download now, for free!
Category: Image viewers
Version: 4.52
Last update: Dec 13, 2018
OS: Windows
License: freeware
What is IrfanView?
IrfanView is one of the most popular graphic browsers, offering support for over 100 file formats. The program works fast, stable, and offers access to a plethora of options. This 3 MB program can view images, PDF files, play multimedia, and edit graphics.
IrfanView download is available for Windows users. Minimum system required to run IrfanView is Windows XP SP3, and it works also with the newest version of Windows 10 (32 and 64-bit version are supported). IrfanView is 100% freeware and safe.
You can download IrfanView from our software hub. The browser supports multi language and Unicode. Only one EXE-File, and no DLLs. This is the perfect image viewer with built-in multimedia player.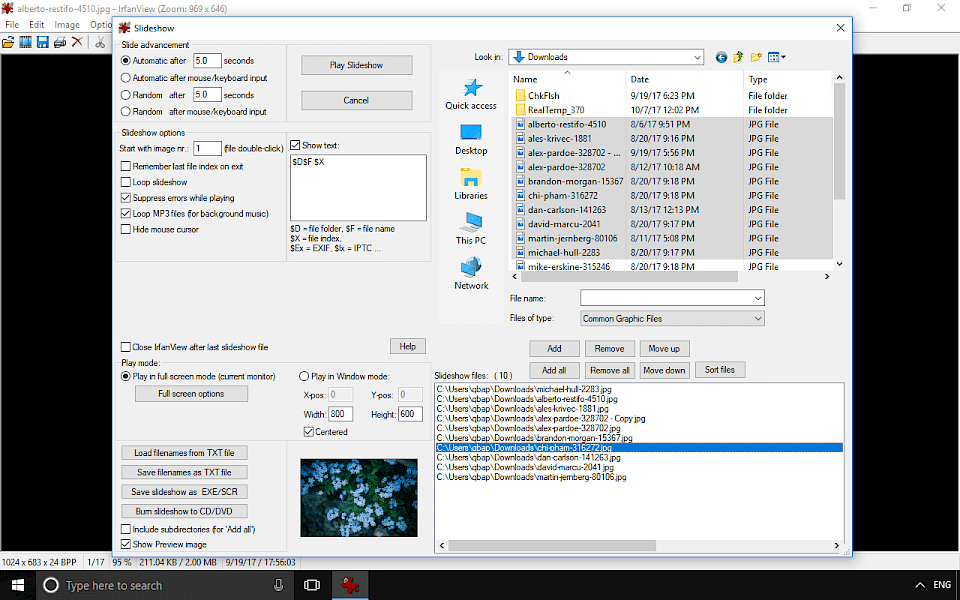 IrfanView can easily present thumbnails, generate slideshows, or search for files. There is also an option to paint simple shapes on images (draw lines, circles, arrows, straighten image etc.), add watermarks, and read EXIF and IPTC data from files.
IrfanView supports Adobe Photoshop Filters, offers a function to extract icons from EXE/DLL/ICLs files, and can be used from the command line without the need to start the graphical interface, offer batch conversion (with advanced image processing of all files), option to print files and much more.
Moreover, IrfanView offers a lot of great features including an option to edit photos using the built-in filters like Sharpen, Blur, Adobe 8BF, Filter Factory, Pixelize, Sepia, Filters Unlimited, convert to grayscale, red eye reduction, add frames, change canvas size, replace color, etc.
IrfanView can also cut and crop images, add watermarks, capture screen, edit IPTC, change color depth, save slideshow as EXE/SCR or burn them to CD. IrfanView supports very large files/images (image RAM size over 1.3 GB).
IrfanView from version 4.50 offers no more support for Win9x platform. If you like to run the image viewer on Windows 95 or 98 you need to use older versions of the software.
IrfanView is equipped with a built-in media player that can play most popular audio and video formats. Another interesting feature of the application is the ability to take screenshots with automatic recording and editing, scan images (batch scan supported) and an option to manage a collection of photographs by pressing T from the keyboard.
You can also access most of functions using keyboard shortcuts, or available command line options.
Batch conversion
IrfanView offers a Batch conversion feature (activated by B hotkey) that works as batch conversion, batch rename, batch conversion and rename files.
You can select output format and configure save options like image quality, or even apply filters (sharpen, brightness, contrast, gamma, crop etc.).
From the batch rename options offered by IrfanView select name patter, and actions how to copy, move or rename the files.
Slideshow generator
The IrfanView Slideshow (W hotkey) allows you to immediately play image slides with options like loop slideshow, play MP3 files for background music, hide mouse cursor, select time to slide, play in window mode or full screen mode.
Moreover, you can save slideshow to EXE/SCR using IrfanView or bur slideshow to CD/DVD.
Files search engine
IrfanView can also search for files (CTRL + F) with fast built-in engine. You can select folder destination, filename pattern, date created between, and some options to sort files by name, date, size, extension, EXIF data etc.
Results can be shown in Viewer, Full screen or Thumbnails.
Thumbnails browser
IrfanView Thumbnails (hotkey T) is a simple, and powerful image browser packed with IrfanView. Thumbnails browser works extremely fast, allowing you to browser through folders and view available images.
All files can be viewed in Thumbnails, Titles, Details, or List mode.
Scan/TWAIN
IrfanView can also scan images from installed in system scanner. You can scan the selected area of the image, select an option for the type picture to scan like the color picture, grayscale picture, and also adjust quality of the scanned pictures.
There is even an option to scan multiple images.
Paint
IrfanView Paint dialog (F12) offers access to simple image editing tools like draw lines, draw arrows, eclipse and rectangle tools, measure, clone tool, erase, color picker, remove color, or paint brush with configuration settings.
Added changes can be saved to supported formats.
Add watermark and text
IrfanView can also add watermark image on file with overlay transparency. User can select the start corner or type own offset. There is also a feature to add overlay text to image. Available options include Add copyright, date, time, EXIF date/time, select font size and color, add shadow and more.
The options are available from Edit menu.
Capture screenshot
IrfanView Capture screenshot (hotkey C) allows you to quickly capture full desktop (all monitors), desktop area, foreground window, custom rectangle, selected object or fixed screen rectangle.
There is also an option to capture multiple images with timer delay.
IrfanView Plugins
IrfanView offers support for additional plugins extending the possibilities offered by this great image browser.
Download iview452_plugins_setup.exe and install plugins like IV_Player, Med, Mp3, Burning, Nero, Quicktime, Real Audio, SoundPlayer, Awd, B3d, BabaCAD4Image, Crw, CADImage, Dicom, DjVu, EaFsh, Ecw, Exr, Flash, Formats, Fpx, Hdp, Ics, ImPDF, ImPDN, ImCXF, JPEG2000, Jpeg_LS, Jpm, Kdc, Mng, Mrc, MrSID, PDF, PhotoCD, PNGOUT, Postscript, RIOT, Sff, Wbz, WebP, Wsq, Vtf, Filter Sandbox, Film Simulation, Filter Factory, Filters Unlimited, and Email, FaceDetect, Ftp, Lcms.
Supported image formats
IrfanView can open images in formats like JPG, JPEG, JPE, GIF, BMP, DIB, TIF, TIFF, PNG, PCX, TGA, PCD, SUN, RAS, ICO, AVI, IFF, PPM, PGM, PBM, LBM, WMF, EMF, WAV, PSD, MPG, MPE, MPEG, MID, RMI, MOV, CUR, ANI, DCX, EPS, CLP, CAM, G3, AIF, AU, SND, PSP, PSPIMAGE, ICL, SFW, KDC, RA, MP3, DCM, ACR, FPX, XBM, XPM, DJVU, SWF, FLV, IMG, IW44, WBMP, SGI, RGB, RLE, MED, RLE, SFF, JP2, JPC, J2K, JPF, CRW, B3D, WMA, WMV, TTF, SID, MNG, JNG, RAW, ECW, ASF, TXT, WAD, ICS, IDS, CDR, CMX, NEF, NRW, ERF, ORF, RAF, MRW, DCR, X3F, SRF, ARW, PEF, RW2, RWL, SRW, MOS, 3FR, OGG, DWG, DXF, DDS, JPM, PLT, CR2, DNG, PS, PDF, AI, CGM, SVG, DCM, HDR, FITS, HDP, WDP, JXR, EXR, WSQ, JLS, WBZ, WBC, MP4, MKV, MTS, M2TS, TS, M2T, M4V, 3GP, VOB, MPO, PDN, XCF, WEBP, and WEBM.
Software review

IrfanView download contains only a 3 MB file will a lot of free features. The most important thing that I like about IrfanView is the speed. The software works extremely fast, and if you need a browser to view images this is the right app to download. In my option this is the best free image browser for Windows. IrfanView is more then that. The developer is adding unique, new and interesting features to IrfanView. You can use this app to take Screenshots, generate screen slides, edit images, find files, apply filters, scan images, and much more. The software works fast on old computers, and when you open a image files it will load in second. IrfanView is also a multimedia player with support for audio and video files. You can play those files directly in Viewer window. IrfanView can also save images for web using a proper plugin.
Related articles
Useful IrfanView Keyboard Shortcuts