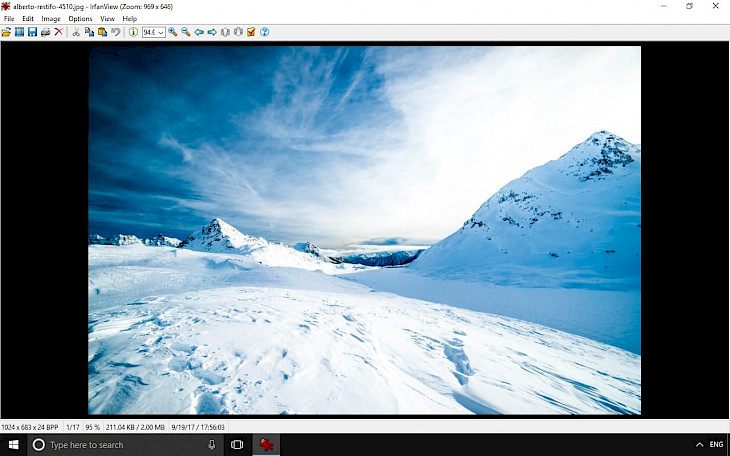 Download IrfanView
IrfanView is one of the most popular graphic browsers, offering support for over 100 file formats. The program works fast, stable, and offers access to a plethora of options. This 3 MB program can view images, PDF files, play multimedia, and edit graphics.
The minimum system required to run the image viewer is Windows XP SP3, and it works also with the newest version of Windows 10 (32 and 64-bit version are supported). IrfanView is 100% freeware and safe.
The browser supports multi-language and Unicode. Only one EXE-File, and no DLLs. This is the perfect image viewer with a built-in multimedia player.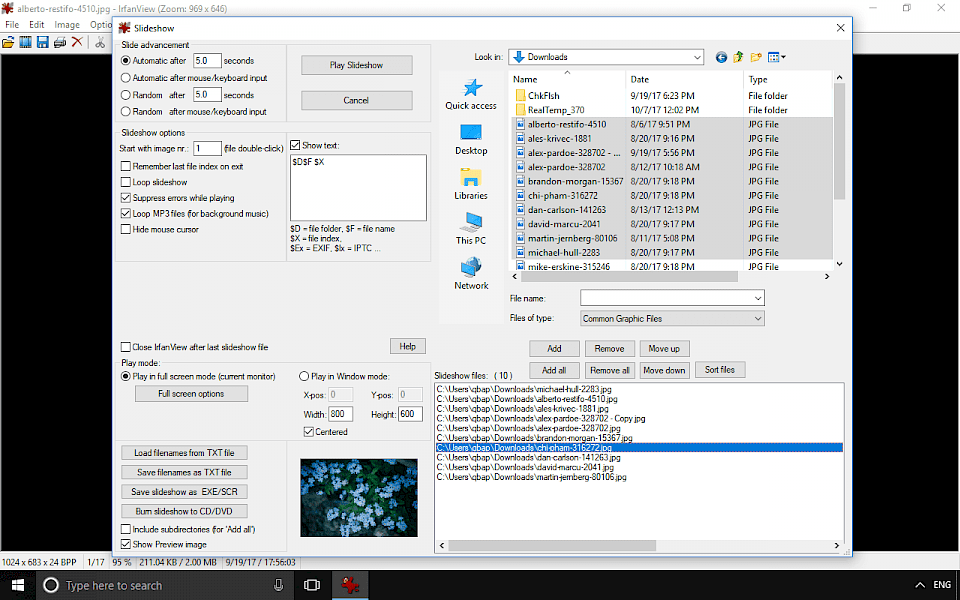 The app can easily present thumbnails, generate slideshows, or search for files. There is also an option to paint simple shapes on images (draw lines, circles, arrows, straighten images, etc.), add watermarks, and read EXIF and IPTC data from files.
IrfanView supports Adobe Photoshop Filters, offers a function to extract icons from EXE/DLL/ICLs files, and can be used from the command line without the need to start the graphical interface, offer batch conversion (with advanced image processing of all files), option to print files and much more.
Moreover, the software offers a lot of great features including an option to edit photos using the built-in filters like Sharpen, Blur, Adobe 8BF, Filter Factory, Pixelize, Sepia, Filters Unlimited, convert to grayscale, red-eye reduction, add frames, change the canvas size, replace color, etc.
IrfanView can also cut and crop images, add watermarks, capture screen, edit IPTC, change color depth, save slideshow as EXE/SCR or burn them to CD. The image viewer supports very large files/images (image RAM size over 1.3 GB).
From version 4.50 the app offers no more support for Win9x platform. If you like to run the image viewer on Windows 95 or 98 you need to use older versions of the software.
IrfanView is equipped with a built-in media player that can play most popular audio and video formats. Another interesting feature of the application is the ability to take screenshots with automatic recording and editing, scan images (batch scan supported) and an option to manage a collection of photographs by pressing T from the keyboard.
You can also access most of the functions using keyboard shortcuts, or available command line options.
IrfanView download contains only a 3 MB file will a lot of free features. The most important thing that I like about IrfanView is speed. The software works extremely fast, and if you need a browser to view images this is the right app to download. In my option, this is the best free image browser for Windows.
The developer is adding unique, new and interesting features to the viewer. You can use this app to take Screenshots, generate screen slides, edit images, find files, apply filters, scan images, and much more. The software works fast on old computers, and when you open image files it will load in second.
IrfanView is also a multimedia player with support for audio and video files. You can play those files directly in the Viewer window or save images for the web using a proper plugin.
Batch conversion
IrfanView offers a Batch conversion feature (activated by B hotkey) that works as batch conversion, batch rename, batch conversion and rename files.
You can select the output format and configure save options like image quality, or even apply filters (sharpen, brightness, contrast, gamma, crop, etc.).
From the batch rename options offered by IrfanView select name pattern, and actions how to copy, move or rename the files.
Slideshow generator
The Slideshow (W hotkey) allows you to immediately play image slides with options like loop slideshow, play MP3 files for background music, hide mouse cursor, select time to slide, play in window mode or full-screen mode.
Moreover, you can save the slideshow to EXE/SCR or bur slideshow to CD/DVD.
Files search engine
Search for files (CTRL + F) with the fast built-in engine. You can select folder destination, filename pattern, date created between, and some options to sort files by name, date, size, extension, EXIF data, etc.
Results can be shown in the Viewer, Full screen or Thumbnails.
Thumbnails browser
Thumbnails (hotkey T) is a simple, and powerful image browser packed with IrfanView. Thumbnails browser works extremely fast, allowing you to browse through folders and view available images.
All files can be viewed in Thumbnails, Titles, Details, or List mode.
Scan/TWAIN
Scan images from installed in system scanner. You can scan the selected area of the image, select an option for the type picture to scan like the color picture, grayscale picture, and also adjust quality of the scanned pictures.
There is even an option to scan multiple images.
Paint
Paint dialog (F12) offers access to simple image editing tools like draw lines, draw arrows, eclipse and rectangle tools, measure, clone tool, erase, color picker, remove color or paintbrush with configuration settings.
Added changes can be saved to supported formats.
Add watermark and text
Add a watermark image on file with overlay transparency. User can select the start corner or type own offset. There is also a feature to add overlay text to an image. Available options include Add copyright, date, time, EXIF date/time, select font size and color, add shadow and more.
The options are available from Edit menu.
Capture screenshot
Capture screenshot (hotkey C) allows you to quickly capture full desktop (all monitors), desktop area, foreground window, custom rectangle, selected object or fixed screen rectangle.
There is also an option to capture multiple images with timer delay.
IrfanView Plugins
IrfanView offers support for additional plugins extending the possibilities offered by this great image browser.
Download iview454_plugins_setup.exe and install plugins like IV_Player, Med, Mp3, Burning, Nero, Quicktime, Real Audio, SoundPlayer, Awd, B3d, BabaCAD4Image, Crw, CADImage, Dicom, DjVu, EaFsh, Ecw, Exr, Flash, Formats, Fpx, Hdp, Ics, ImPDF, ImPDN, ImCXF, JPEG2000, Jpeg_LS, Jpm, Kdc, Mng, Mrc, MrSID, PDF, PhotoCD, PNGOUT, Postscript, RIOT, Sff, Wbz, WebP, Wsq, Vtf, Filter Sandbox, Film Simulation, Filter Factory, Filters Unlimited, and Email, FaceDetect, Ftp, Lcms.
Available keyboard shortcuts in IrfanView:
Key function

+  Zoom In

=  Zoom In

– Zoom Out

é Scroll image up

ê Scroll image down

è Scroll image right OR next image in directory (if no selection rectangle)

ç Scroll image left OR previous image in directory (if no selection rectangle)

Arrows If no scrollbars visible: Move selection rectangle

Page Up Load previous file in directory OR scroll image up

Page Down Load next file in directory OR scroll image down

CTRL + Page Up Show previous page in a multipage image OR load previous file in directory

CTRL + Page Down Show next page in a multipage image OR load next file in directory

Space Load next file in directory

Backspace Load previous file in directory

CTRL + Arrow Proportional resize of the selection rectangle

SHIFT + Arrow Move selection rectangle

ALT + Arrow Change width/height of the selection rectangle

Browsing mode If CTRL pressed: increase or decrease file index by 5 (default: 1 = next/previous file), used for Space, Backspace, è,ç, etc.

If CTRL + Number (0 - 9) pressed, increase file index by Number (0 = 10, 1 = 1 etc.)

If CTRL + SHIFT + Number (0 - 9) pressed, decrease file index by Number (0 = 10, 1 = 1 etc.)

ESC Close actual window (main window, slideshow, full screen, thumbnails or a dialog)

Enter Switch between Fullscreen and Window mode

TAB Switch between main and thumbnail window (if visible)

CTRL + TAB Control switch in the thumbnail window

Pause/Break Pause an automatic slideshow. Press any other key again to resume the slideshow.

DEL Delete file

Home Scroll to begin (horizontal scroll) OR load first file in directory

CTRL + Home Load first file in the directory

SHIFT + Home Load first page in a multipage file

End Scroll to end (horizontal scroll) OR load last file in directory

CTRL + End Load last file in the directory

SHIFT + End Load last page in a multipage file

F1 Help

F2 or F6 Rename file

F3 Show image in HEX viewer

F4 Append current file to current slideshow

F5 or U Refresh (display and directory list)

SHIFT + F5 Refresh + force resample (if Resample activated in View->Display options)

F7 Move file

F8 Copy file

F9 Start OCR PlugIn (on full image or selection rectangle)

F10 Open page preview dialog for Multipage files

F11 Show/hide mouse in Fullscreen/Slideshow mode

F12 Show Paint dialog

A "About IrfanView" dialog

B Batch Conversion/Rename

C Capture dialog

D Clear display (=menu: Edit -> Delete) (works also in Fullscreen/Slideshow mode)

E Show EXIF dialog for JPGs with available EXIF data

F Switch (toggle) between 'Fit images to desktop' and 'Fit window to image'

G Stop/resume GIF or ANI animation (if stopped, you can browse animation frames using Page Up/Down keys)

H Horizontal flip

I Show image information

K Filter Factory dialog

L Rotate left

M Minimize IrfanView window

N Toggle fullscreen/slideshow text display

O Open dialog

P Properties dialog

R Rotate right

S "Save as" dialog

T Thumbnails

V Vertical flip

W Slideshow dialog

X Browsing (window or fullscreen mode): tag current file 

CTRL + A Select/Unselect whole image or Select all thumbnails (if thumbnail window active)

CTRL + B Open "Browse-Subfolders" dialog

CTRL + C Copy image to clipboard

CTRL + D Image -> Add Border/frame

CTRL + E Effects setup

CTRL + F Search files

CTRL + G Create grayscale image

CTRL + H Original size (no zoom)

CTRL + I Show IPTC dialog for JPGs

CTRL + J Edit -> Redo

CTRL + K Adobe 8BF filters dialog

CTRL + M Open random image from the directory

CTRL + N Open current file in another IrfanView window

CTRL + O Start Google Earth with the EXIF-GPS data of the loaded file

CTRL + P Print dialog

CTRL + Q Edit multipage TIF

CTRL + R Resample dialog

CTRL + S File -> Save menu (with dialog, if enabled)

CTRL + T Edit -> Insert text into selection

CTRL + U Image -> Fine/Custom Rotation

CTRL + V Paste image from clipboard

CTRL + W Start slideshow with current directory files

CTRL + X Cut out selection rectangle

CTRL + Y Crop selection rectangle

CTRL + Z Edit -> Undo

CTRL + number Browsing (window or fullscreen) mode: increase file index by number (0-9)

CTRL + Print Start capturing/screenshot in custom rectangle/region mode

CTRL + Insert Copy image to clipboard

SHIFT + 1 Open in external viewer/editor 1

SHIFT + 2 Open in external viewer/editor 2

SHIFT + 3 Open in external viewer/editor 3

SHIFT + 4-0 Open in external viewer/editor 4-10 (advanced users, see this Help page)

SHIFT + A Start/stop automatic viewing (slideshow in window)

SHIFT + C Edit -> Create custom selection

SHIFT + F Fit only big images to desktop

SHIFT + G Enhance colors

SHIFT + H Show Histogram

SHIFT + J JPG lossless operations

SHIFT + L Lock/unlock zoom (also in full screen mode)

SHIFT + M Send image by email

SHIFT + N Create new image

SHIFT + O Fit window to image (1:1 display)

SHIFT + P Copy current filename to clipboard

SHIFT + Q Browsing (window or fullscreen mode): show tagged files in Thumbnails window

SHIFT + R Reopen file

SHIFT + S Sharpen

SHIFT + T Jump into the toolbar edit field

SHIFT + U Auto color correction

SHIFT + V Add canvas (Change canvas size)

SHIFT + W Fit images to window

SHIFT + X Browsing (window or fullscreen mode): un-tag current file

SHIFT + Y Red eye reduction

SHIFT + Insert Paste image from clipboard

SHIFT + TAB Open/Close tablet mode


Alt + SHIFT + S Show/hide status bar

Alt + SHIFT + T Show/hide toolbar

Alt + SHIFT + M Show/hide menu bar

Alt + SHIFT + C Show/hide caption


CTRL + SHIFT + A Acquire/Batch Scanning

CTRL + SHIFT + J Lossless JPG crop

CTRL + SHIFT + M Show Comment dialog for JPGs

CTRL + SHIFT + K Keep scroll position

CTRL + SHIFT + L Lossless JPG rotation - to Left

CTRL + SHIFT + R Lossless JPG rotation - to Right

CTRL + SHIFT + C Set as wallpaper - centered

CTRL + SHIFT + F Set as wallpaper - fill

CTRL + SHIFT + T Set as wallpaper - tiled

CTRL + SHIFT + S Set as wallpaper - stretched

CTRL + SHIFT + P Set as wallpaper - previous wallpaper

CTRL + SHIFT + W Stretch images over all monitors (toggle)

CTRL + SHIFT + X Set as wallpaper - stretched - proportional

CTRL + SHIFT + Y Auto crop borders

CTRL + SHIFT + number Browsing (window or fullscreen) mode: decrease file index by number (0-9)

CTRL + SHIFT + '+' Increase GIF/ANI/PNG animation speed

CTRL + SHIFT + '-' Decrease GIF/ANI/PNG animation speed

CTRL + SHIFT + arrow Fine rotation: Left/Right arrow: 0.10 deg; Up/Down arrow: 0.05 deg

CTRL + SHIFT + Mouse click Create rectangle selection based on clipboard image dimensions

CTRL + ALT + P Print image, hide print dialog (direct print)


1 Full screen mode: Show images/movies with the original size (1:1)

2 Full screen mode: Fit to screen: large images only

3 Full screen mode: Fit to screen: all images/movies

4 Full screen mode: Stretch all images/movies to screen

5 Full screen mode: Fit image width to screen width

6 Full screen mode: Fit image height to screen height

Numpad 5 Scroll image to center
Available selection rectangle shortcuts in IrfanView


Left button click/hold/move Draw selection

CTRL + Left button click/hold/move Draw proportional selection with the ratio from "Create Custom selection" dialog

ALT + Left button click/hold/move Draw proportional selection with the inverted ratio from "Create Custom selection" dialog

Left button click  Zoom into selection

CTRL + Left button click  Clear selection

Right button click/hold/move Move selection

CTRL + Right button click/hold/move Move selection: Y axis only

SHIFT + Right button click/hold/move Move selection: X axis only

Arrows Move selection (if no scrollbars visible)

SHIFT + arrows Move selection

CTRL + arrows Proportional resize of the selection

ALT + arrows Change width/height of the selection
Available mouse shortcuts in IrfanView


Left button click/hold Show the mouse coordinates and pixel color in the window title (or zoom into selection)

SHIFT + Left button click/hold Show coordinates and pixel color + copy Hex color value to clipboard

SHIFT + Left button click + drag Drag&Drop current file to another program (you can release SHIFT when Drag&Drop is started)

Left button click + drag Make a selection rectangle

CTRL + Left button click + drag Resize the selection rectangle/edge using the actual rectangle aspect ratio

Right button click  Scroll image or show context menu (if activated or video playing).

CTRL + Right button click + drag  Scroll image in direction of drag even if the context menu is activated.

Right button click + drag Scroll image in direction of drag. If within the selection, move the selection rectangle.

Left button double click Switch to full screen mode

Wheel up Load previous file in directory OR scroll image up

Wheel down Load next file in directory OR scroll image down

CTRL + Wheel up Zoom in (center to mouse)

CTRL + Wheel down Zoom out (center to mouse)

Wheel up/down Zoom in/out => if the option "Browsing->View other files" is DISABLED

SHIFT + Wheel  Scroll image horizontally
Thumbnails window in IrfanView


CTRL + Left button click In the folder tree: Load selected folder with all subfolders
Full screen or Slideshow mode


Left button click Load previous image in the directory

Right button click Load next image in the directory

CTRL + Right click If video playing: show video context menu

Left button click ... in the upper left or right screen corner = close full screen.

C Center image on screen, On/Off

F Change/loop the full screen display/fit option

Q Pause a timer slideshow

è Load next image in directory

ç Load previous image in directory

F8 Copy (current) file

F11 Show/hide mouse

SHIFT + . Toggle slideshow user play modes: random/automatic (after user input)

SHIFT + Z Change mode: load all or landscape/portrait images (based on current image ratio)

Unused keys Like: J, ",", ".", "#" etc. will close slideshow/fullscreen
Video playbar (DirectShow mode) hotkeys in Full screen/Slideshow mode

B Hide/show playbar

Y Hide/show file name in the playbar

CTRL + C Copy current frame to clipboard

Up/down arrow Change audio volume of the video

+ / - Zoom video (in / out)

Left/right arrow Skip 10% of the video length

CTRL + Left/right arrow Skip 5% of the video length

SHIFT + Left/right arrow Skip 1% of the video length

Mouse move At the bottom of the video: Hide/show playbar
EXE Slideshow

E Extract all files from EXE slideshow

T or N Show/hide image text

F Change/loop the full screen display/fit option

F1 Show help infos

F11 Show/hide mouse 
You might also like