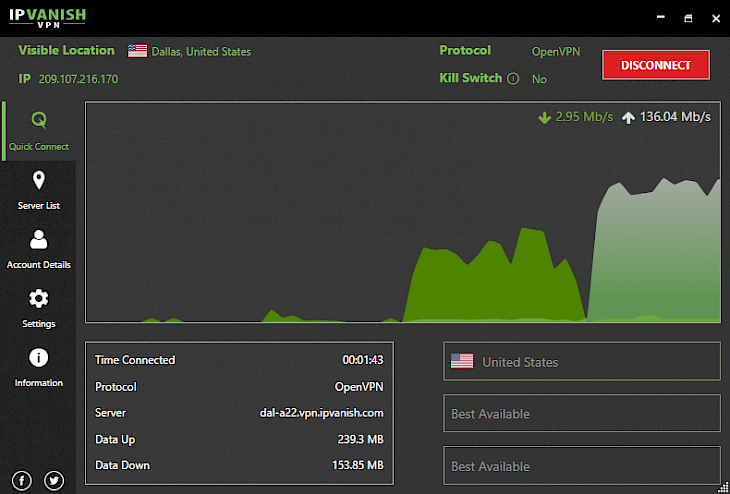 Download IPVANISH
About IPVANISH:
IPVANISH is an open-source VPN which can be used to make any internet connection secure. It provides a completely secure environment for daily internet activity. Once you turn the VPN on, all your internet browsing and data will pass through their encrypted tunnel. However, you can't be identified because your identifying IP address is completely concealed.
IPVANISH software acts as a tunnel between you and the internet, securing the data you access and keep you safe from any viruses or malware. It works by establishing an encrypted connection between you and the data available on the internet by using a tunnelling protocol to transmit data which leaves from your device- both, the information of your connection and the data carried by your traffic.
You can consider yourself completely safe from any attackers, firewall or Government issues. The best part about using VPNs is that you get the ability to access various websites and media without any sort of restrictions. You also have the control to stop ISPs from interfering with your connection. You can avoid hackers to peek into your data while you're connected to a public Wi-Fi. You can keep your online presence completely private and inaccessible to everyone. An active VPN connection changes your IP address and you can even change your location. You can prevent marketers and websites from analysing and using your IP location.
Key Features & Highlights:
Stop geo-targeting: An active VPN connection changes your IP address and you can even change your location.

VOIP with IPVANISH: VOIP and other long distance communication companies often set their base communication charges high over VOIP. It is well secured by using a VPN.

Bypass censorship: With IPVANISH, you can access anything on the world wide web without worrying about the location restrictions.

Security on the go: The application is available for all platforms such as Windows, macOS, android, iOS, allowing it to reach a high amount of people.

Use public Wi-Fi: You can now use any public networks without worrying about your data being accessed by hackers and advertisers.

Prevent deep packet inspection: ISPs more often deploy packets to breach into your internet traffic and limit your internet speed. IPVANISH helps you prevent it and maintain your privacy.
Download and Install IPVANISH:
Download->
1) Click on the "Download" and your download should automatically begin.
Installation->
1) After your download is complete, head towards your downloads folder on your PC and run the setup file.
2) The installation window will open. Go through the Installation and make changes as per your preferences.
3) Finally click on "Install" and your Installation will begin.
4) After the installation is complete, click on "Finish" and search for the application in your windows search and you are good to go.
If you liked the software, you're most welcomed to submit your responses below. Thanks for downloading.
You might also like