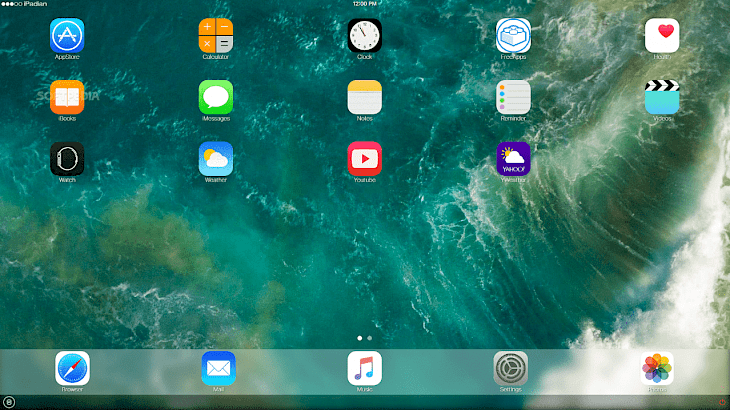 Download iPadian
Compatibility between devices seems to be the trend that is emerging broadly in the 21st century. It's where software is trying to blend with new hardware, and making the experience of having an OS neutral Experience seems quite possible. However, we aren't there quite yet, and if you are ever looking to have an immersive mobile OS on your computer, then an emulator would be required.
What is iPadian?
iPadian is an iOS emulator that helps emulate an iOS operating system on your windows computer. It's quite the software that lets you run iOS applications, games, files, and much more on your computer without the need to ever having an iOS device. Though an apple might be required to take full use of the services it has to offer, it's a complete operating system overhaul that makes it quite the catch for many.
Key Features of iPadian
The overall visuals that the emulator projects are quite sleek and robust. It's more like using an iOS device but on your computer. Though it might not provide the fluidity of using an actual iOS device, it comes close to the real deal.
The software is only supported on Windows 7 and higher. The higher the configuration, the greater the user experience it offers from the software alone.
Testing Oriented Software
If you are an iOS application developer, then this software is a must. It's quite the emulator that is less of ads and more apps. Even the user interface is designed to provide users with the utmost developing centric interface.
Minimum System Requirements
OS – Windows 7 and above

CPU – Intel i5 or higher

RAM – 2GB+

Storage – 2GB or more

Additional software – Adobe air
How to Download and Install iPadian on PC
The software can be downloaded from multiple third-party sites or its official site/ get the latest version to have the best features.
Once downloaded, then double click on the installer and open the software installer. Install the software by choosing your preferred settings and let the installer install the application.
Upon successful installation, you can access the iPadian through the desktop shortcut icon.
You might also like