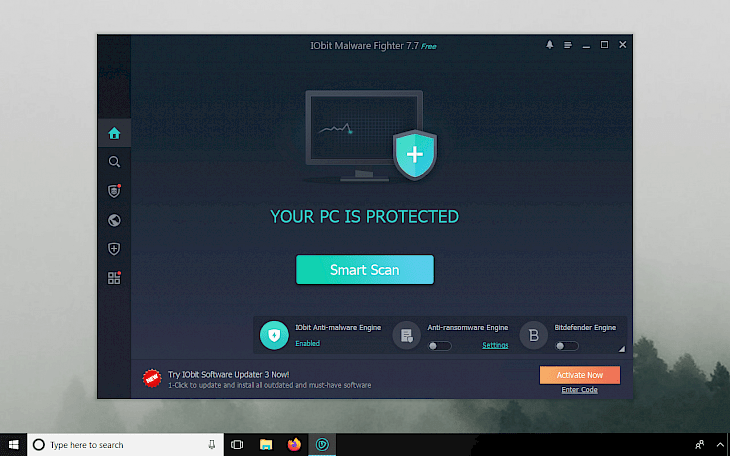 Download IObit Malware Fighter
IObit Malware Fighter Free is packed with an Anti-malware engine that offers basic protection including network guard, file guard, startup guard, and process guard. This application detects over 203,000,000 threats with Bitdefender and IObit engines. Basic real-time protection against malicious behavior is included.
Download IObit Malware Fighter for Windows and protect your system against viruses. The program works on a 64 and 32-bit system and was tested to operate from Windows XP and up to Windows 10. To access all features like Anti-ransomware Engine or Personal Data Protection, it's required to buy Pro version.
This anti-malware solution is a great tool to detect and remove viruses from your Windows system. IObit Malware Fighter Free will protect all running processes, downloaded and accessed files, startup items, and more. This is a perfect solution to detect and remove malware from an infected Windows system.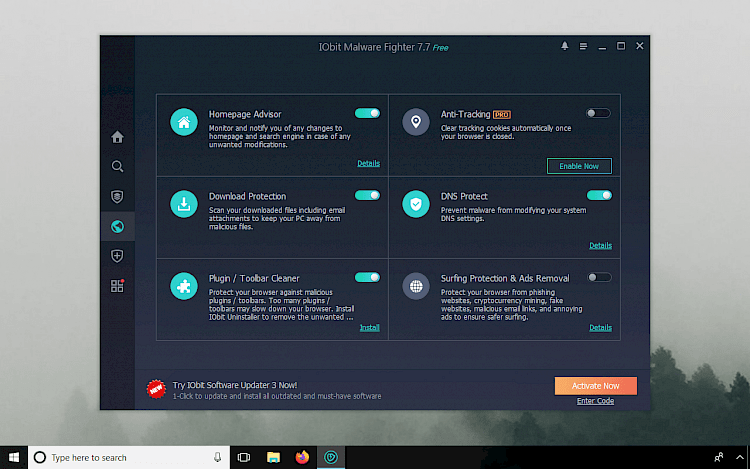 The latest version of IObit Malware Fighter comes with all-new features such as the SafeBox, anti-cryptocurrency mining extension, MBR guard, etc. IObit did everything to provide even more protection against ransomware, cryptocurrency mining malware, and block pop-up ads for safer and cleaner browsing.
IObit Malware Fighter Free offers few useful modules. Homepage Advisor monitors and notifies you of any changes to the homepage and search engine of any unwanted modifications. Download Protection scans all downloaded files including e-mail attachments to keep your PC safe and away from any infected files. Improved DNS Protect prevents malware from changing system DNS settings.
There is also the Surfing Protection and Ads Removal tool to protect the browser from phishing and fake websites, and ads. Anti-Tracking system automatically deletes all cookies after the browser is closed is available only for Pro users.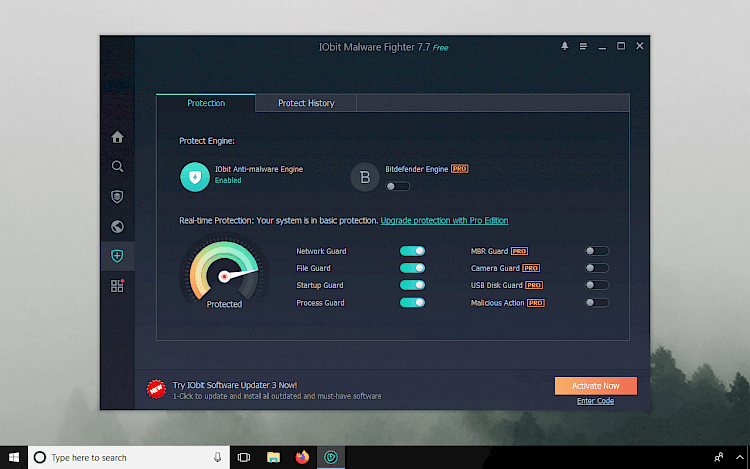 The free version comes with the standard features that provide users with basic protection. IObit Malware Fighter free can be installed in tandem with pre-existing anti-virus software on the user's computer. However, the pro version comes with built into the package Bitdefender anti-virus.
If you decide to buy the Pro version of IObit Malware Fighter you will access also MBR guard, camera guard, USB disk guard, and malicious actions guard. Malware Fighter Pro is packed also with a Safe Box, allowing users to easily perfect selected folders from unauthorized actions.
MBR Guard will protect your system boot information against malicious tampering while booting. Camera guard is responsible to protect your webcam from being hacked and used to spy on you. USB disk guard protects against any kind of malware transferred over USB disk. And lastly, there is the Malicious Action protection against malicious action taking place from non-malicious sources.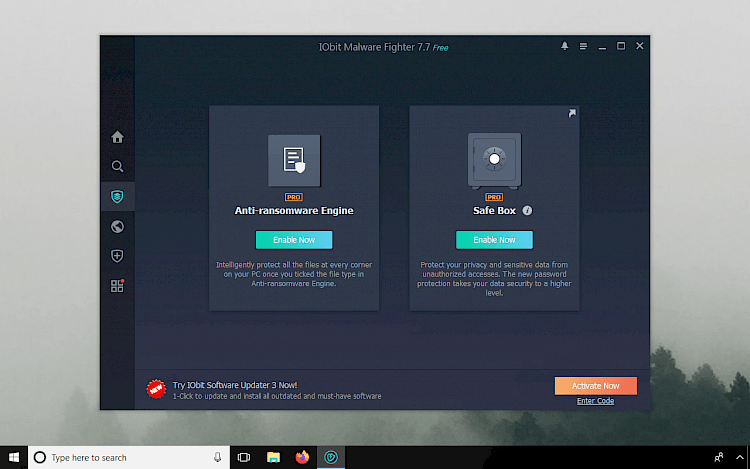 The protection available in the paid version includes also an Anti-Ransomware engine. Ransomware is malware components that will lead to data loss, privacy leaks, and huge financial loss. IObit Malware Fighter Pro prevents ransomware attacks like WannaCry, NotPetya during the boot process.
Overall, IObit Malware Fighter combined with an antivirus solution is a really solid software to protect your system against viruses. The protection in Pro versions delivers a new level of securing Windows. Bitdefender works fast on even older computers. It creates an excellent duet with IObit Malware Fighter technology.
Changelog
Version 8.0
New generation of IObit Anti-malware Engine brings faster scan speed, better detection, and higher protection.
New Advanced Heuristics detects more threats intelligently, especially for those virus variants.
New Email Protection protects your web emails against spam, phishing scam, and other email-borne threats.
New Sensitive Data Protect keeps your sensitive data away from the latest ransomware attacks.
Larger database (expanded by 100%) comprehensively protects your PC against the latest viruses, ransomware, and malware.
Updated Bitdefender Engine gives you the best protection ever.
Improved threat detection and removal processes for faster detection and thorough removal.
New UI supports high DPI displays & high-resolution monitors for a better experience.
And more can be discovered by you.
You might also like