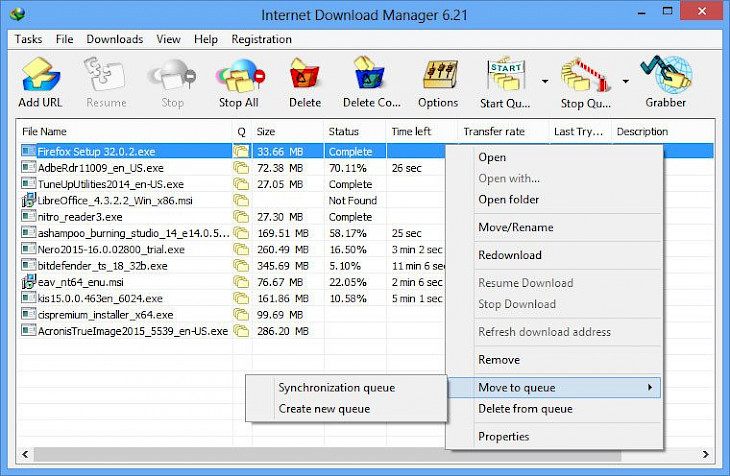 Download Internet Download Manager 6.25 Build 25
Do you want to be able to download anything and everything from the internet? Internet Download Manager (IDM) is a platform for increasing download rates, resuming, and arranging downloads by up to 5 times. Due to missed connections, network glitches, device shutdowns, or sudden power outages, robust error recovery and resume capability will reboot failed or disrupted downloads. The primary graphical user interface makes IDM easy to use and user-friendly.
To speed your downloads, the tool has a smart download logic accelerator that features intelligent dynamic file segmentation and stable multipart downloading technology. Unlike other download managers and accelerators, during the download process, the app segments dynamically downloaded files and reused accessible links without additional connection and login phases to achieve the best acceleration performance.
The Internet Download Manager supports proxy servers, FTP and HTTP protocols, firewalls, redirects, cookies, permissions, MP3 audio, and MPEG video content processing. To automatically manage your downloads, IDM integrates seamlessly into Chrome, Brave, Microsoft Internet Explorer, Opera, Mozilla Firefox, Avant Browser, Maxthon Cloud Browser, and all other common browsers. You can even drag and drop files for download, or from the command line, use the program. At the set time, the software will dial your modem, download the files you want, then hang up your computer or even shut it down when it's finished.
Features of Internet Download Manager 6.25 Build 25
The remarkable features of Internet Download Manager 6.25 Build 25 are detailed in the section below.
Speed Acceleration of Downloads
Internet Download Manager supports all common browsers and applications. Quick one-click download with Quick wizard for installation is an exclusive feature of IDM. IDM divides downloads for easier uploading into different streams. Auto/manual modification of the download address for download. Several queues aid in increasing download speed. Categories for Download, Limits for Download, Fast Function Update, Segmentation of Dynamic, and the likes are all features of IDM.
Integration of Advanced Browsers
IDM supports different kinds of proxy servers. IDM supports protocols for primary authentication. There is an automatic checking of Antivirus. HTTP, FTP, HTTPS, MMS, and Microsoft ISA Protocols are integrated. Protocols for authentication: Standard, NTLM, and Kerberos, which allow user names and passwords to be stored and authenticated automatically, are available on IDM.
Video Grabbing
IDM contains a spider and grabber website. IDM supports video downloads from video streaming sites.
Interface Customizable
Drag & Drop feature enables users to download anything from the internet by simply dragging and dropping it. The interface also provides a download overview to keep track of all download progress. Multilingual IDM is available.
Scheduler Built-in
IDM downloads by batch. List of recent downloads for quick access to directories. Dynamic segmentation in the process of downloading. Download work for Import/Export can be done via scheduling.
Download and Install Internet Download Manager 6.25 Build 25 for Windows PC
Internet Download Manager 6.25 Build 25 is a back version of IDM and can be readily downloaded from the link provided above on this page. Once downloaded, you need to give some permissions necessary for IDM to run and complete the installation process before you can use IDM to wreak havoc on the internet and download everything you get your hands on. Enjoy ripping the internet down!
You might also like