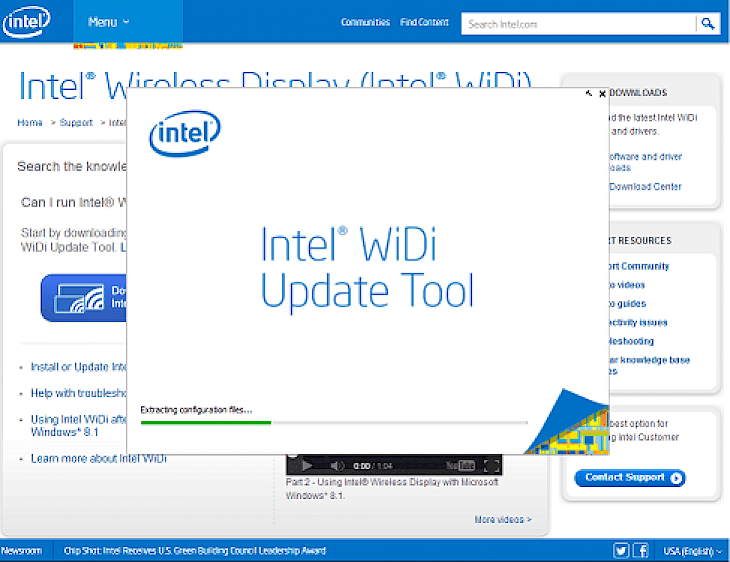 Download Intel Wireless Display
Wirelessly transmitting information from one place to another was quite the innovation when it was mainstreamed several years back. Since then, we have been reluctant to communicate things from one place to another effortlessly, and through faster Wi-Fi signals, it has made life as we know it faster, better, and easier to live with. However, back when computers could be connected to the internet, it was a revolutionary step in making life sustainable and open the flood gates of information to users.
But for those who wanted more, they could connect their computer to the television screens wirelessly, making it a perfect desktop setup. Though not many manufacturers had this idea, Intel implemented it and saw significant development as well. Although the project has seized to exist since 2015, it was a revolutionary breakthrough in getting such technological leaps in making our lives better.
What is the Intel Wireless Display?
Intel wireless display enabled the computer to be wirelessly connected to a smart television set employing Wi-Fi. It was quite a durable software that did become a thing for many people who didn't have to buy a desktop, but using a CPU, keyboard, and mouse bundled with a television setup made it economical. The software was free and had no limitation except the computer had to have the latest intel chipset, smart TV had to be connected to a Wi-Fi box, and the connection had to remain stable.
Key Features of the Software
The software was free to use and could be downloaded from Intel's official site or any other site online. It certainly made the headlines for this feature as it proved to be useful for many.
The software offered users to connect their computers to their television sets and stream multimedia content of higher quality, compatibility with mobile and tablets. Even multiple connections of TV's could be made through the software.
All it took was to search for the television name and establish a secure and safe connection to the TV. After that, it was one button to connect it.
Minimum System Requirements
OS – Windows 7 or higher

RAM – 2GB or more

Storage – 200MB

CPU – Intel i5 or higher
How to Download and Install it on PC
Download the software installer
The installer for the software is available on multiple online sites. Get the latest version before it was discontinued and download it. Ensure you carry out a virus scan to keep your computer safe from viruses.
Open the downloaded package content
Once downloaded, then open it and open the installer of the software. Follow the instructions and set it up accordingly.
Upon successful installation, enjoy streaming the contents of your computer on your television sets.
You might also like