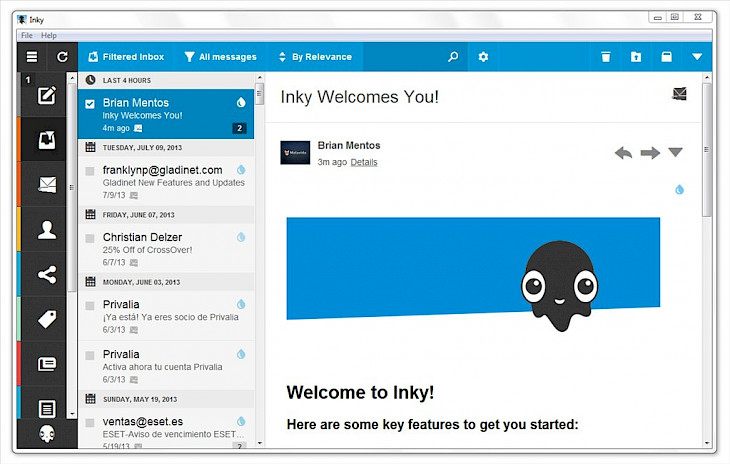 Download Inky
Digital marketing encourages digitalization and provides a reliable platform for businesses and people to increase brand awareness and interact more effectively with their customers and clients. If you use email marketing or use various email accounts, this article is just for you. There is a tool that helps you maintain a record of all your emails in an organized and satisfied manner.
Acrode Corporation developed Inky software, which provides the best tools and simplistic interface to unify all your email accounts in just one platform. This software automatically categorizes your incoming mails and saves your time. This software can work with any IMAP or POP account and helps its users to read the emails in order of importance.
FEATURES
Connect any account
This software will ensure that you can access all your email accounts from one place in a well-organized manner, which will automatically save your time. Inky supports IMAP and POP servers which help users easily log in to any account in this software.
Synched
You don't have to worry about if you forget your device or buy a new system. This software will be offered you to access your mailing accounts from anywhere with zero setups. You just have to enter your username and password and here you go.
User-friendly interface
This software is designed so that you can easily access and use all the tools and features available. You can view and send the emails quickly and in a frictionless manner.
Filtered box
Inky offered you this unique feature to view your personal messages separately without newsletters and social notifications.
View address
In this software, the email is organized so that you can see the address in one view. If you want to see an email address someone sent you four days ago, you can easily track it.
How to Download Inky on Windows?
Inky software will provide you access to different accounts, settings, and features. You can use a ton of keyboard shortcuts to work more effectively. This software allows you to log into various email services like yahoo, Gmail, and Outlook.com. This platform is best for users who want basic features to operate their emails.
You can download the PC version of this software and use this beneficial mailing software on your Windows operating system.
You can download Inky directly from this webite.

Once the downloading of the setup or .exe file is completed, click the file twice to start the installation process.

Follow the instructions and guidelines carefully.

Now Inky icon will appear on your desktop. Click on the icon to use this unified interface software on your system.
This software performs very well and easy to use, but the only drawback is if you are a power user then you will want to look elsewhere. This software does not pull google contacts and this could be disappointing for those who love Gmail.
You might also like