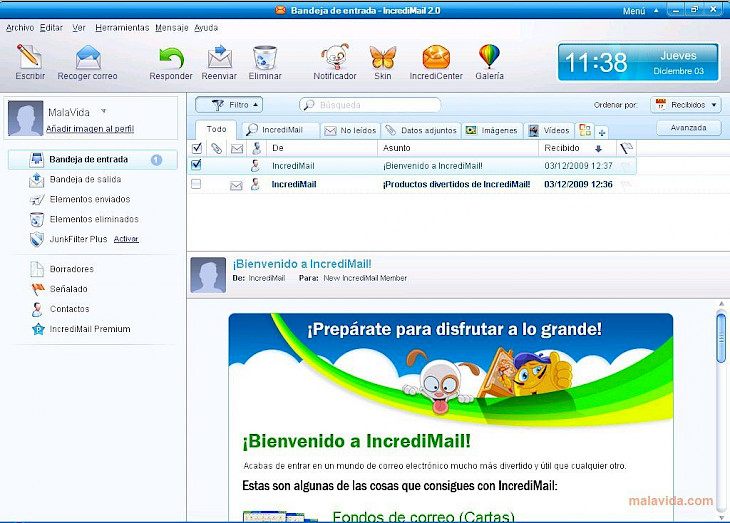 Download IncrediMail 2.5
About two decades ago, emailing was a relatively new and exciting concept. People were attuned to writing letters and physically mailing them through the post box. When they were introduced to email, they were naturally fascinated. Here was a clever way of sending letters to a loved one across the continent without having to travel to remote post offices. It was an undeniably wonderful creation. IncrediMail was among the earliest software created for enhancing the emailing process. It is credited for revolutionizing an already revolutionary concept in the digital world. It has been more than twenty years since its launch but you will still find older generations religiously using IncrediMail's services. Although it has been left rusting in the age of social media apps, 60 and 70-year-olds will still polish it and use it every day.
Key Features Of IncrediMail
Send Your Photos
Back then, sending pictures through the internet was considered a feat. IncrediMail incredibly integrated that option with mail creation. This way, you could tuck your photos into a digital envelope that encompassed your text mail. We know how overused that feature is today but back then, it was magical.
Animate Your Mail
IncrediMail is packed with cool animation features that can be added to your mail. So you do not have to send simple, wordy emails to your friends. You could decorate them with 3D emoticons using the interactive emoji keyboard. You could also animate your mail, turning them into e-cards instead. This way, you could create cards for every special occasion and send them to your circle of loved ones.
Enjoy The Notifiers
Email notifications are not depicted by a mere number. IncrediMail uses a fun, character feature that pops on the desktop screen and announces the number of unread mails lying in your inbox. It is a totally unique way of notifying the user of the mail lying in his box. IncrediMail is a definite pioneer in building an interactive, intuitive mailing experience for the user.
System Requirements Of IncrediMail
Before you proceed with the download, make sure your system meets the following requirements.
It should have Windows XP/ Vista/7/8/10 operating system

It should have the Intel Core Processor or greater.
How To Install It On PC
Follow the given procedure to install IncrediMail on your PC.
Click on the 'Download' button. When you are taken to the next page, click the 'Start Download' button on it.

Now you will be directed to the mega.nz site. A window will be displayed here. It has two options, namely 'Import To M' and 'Download'. Click the download button.

IncrediMail's .exe file is downloaded on the system. Run this file once the download completes.

Skim through the installation instructions. Once you reach the end, IncrediMail will successfully install it on your PC.
You might also like