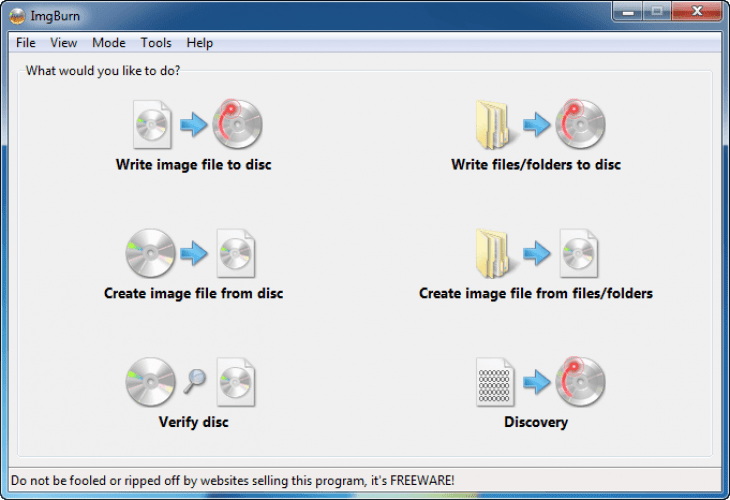 Download ImgBurn
Computers are tools that have made everything in our lives quite simple and straightforward. Any complex calculations and severe operations that have to be conducted are done within seconds with the correct answer's availability. Moreover, it's a way in which users can enhance their productivity as well. However, the consumption of multimedia content is the primary reason why computers have been at the forefront.
However, the data fed to the computers fluctuates significantly about the improvement in technology. CDs and DVDs were first being used to transport data from one computer to another. However, if you want to write anything on the DVDs and CDs, then a Special and unique software would be required. Out of the many available, we have enlisted a free and unique software below.
What is ImgBurn?
ImgBurn is a software application that helps in burning content into CDs and DVDs seamlessly. The entire application is lightweight in construction and design, offering impeccable services and features with no costs whatsoever. Users can create their very own CDs, DVDs, Blu-ray disc, and much more. The software can support many file formats to ensure that the burning process is executed most appropriately.
Key Features of the Software
The software offers users plenty of features such as the reading of data on the disc, verifying the content, discovering hidden files in the disc, building a whole new file system on the disc, writing more unique files on the discs, and much more.
A broad range of file support
The software supports a broad range of files that can be written on the discs. Such files include CUR, DVD, NRG, BIN, PDI, and more.
Attractive user interface
The entire user interface gets as simple as possible. There is no much present other than the standard functions of what the software is designed to execute.
Minimum System Requirements
Hardware – the optical drive

RAM – 1GB or higher

Storage – 100MB or higher

CPU – Pentium III or higher

OS – Windows 7 or higher
How to Download and Install it on a PC
Download the software installer
The software installer is available on any hosting application site. Get the latest version of the software compatible with your operating system.
Once downloaded, open the installer and install the software by following the on-screen set of instructions.
After a successful installation, enjoy burning content onto discs and creating newer ones as per your preference.
You might also like