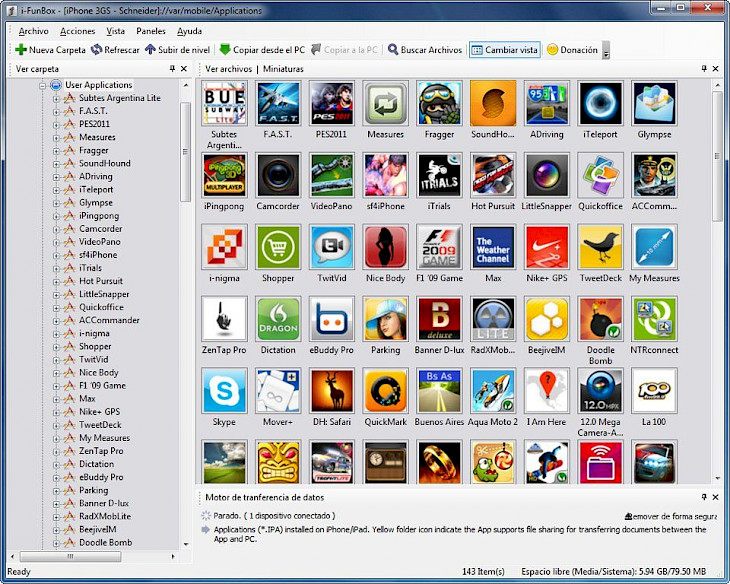 Download iFunBox
Most of the time, it's a common experience that managing the iOS devices through iTunes is not very intuitive. Due to this, various software is developed and designed that helps iPhone users to manage their devices easily and conveniently. iFunbox is a beneficial and comprehensive file manager program that helps to transfer data between iPhones, iPad, and computers. You can easily transmit your files and other relevant information with optimized file transfer and browsing.
iFunbox is an excellent general file management software used by the iPhone and other Apple product users to conveniently manage and organize their data. Besides managing the files, this fabulous software application offers multiple tools to convert and manage user's data into PC, the tools offered include One-stop app install and backup, accessing to app sandbox without jailbreaking, and many more. The software interface is intuitive and can be used easily.
This fantastic platform provides you the ability to connect your iOS device to your desktop and place them into categories like music, app, etc. so that it would be convenient and easier to copy and manage appropriate files in an organized and appropriate manner.
FEATURES
Manage multimedia files
This fantastic platform enables the users to use a wide range of tools to easily manage the equipment applications, photos, music, mobile phone ringtone, videos, and other multimedia media files in just a few clicks at your glance.
iOS root file system
To enhance the browsing experience of the user, iFunbox helps to easily attain jailbreak iOS device root file system which consequently delivers fast browsing speed, instant file review, and fast file search and also enables the users to customize Springboard Desktop theme.
General storage
iFunbox is a beneficial software application that supports files of any type and size. You hear that right; in the interface of this platform, you will have "my device" or "toolbox" where you will find a folder called "mobile hard disk" which supports a wide range of file types and formats. Hence you will not need to think twice before transferring any file.
USB Tunnel
Just like iPhone USB Tunnel Suite, USB Tunneling maps opening TCP ports on iOS devices to PC, and this will allow or permit the window program on PC connecting to them for communication.
Other tools and features
iFunbox offers a wide range of features and tools to enhance the user experience. This includes navigation, upload, and download; quick preview, drag and drop; delete rename and move; iOS app manager; back up installed app to. IPA package; quick app list review; schedule data transferring; real-time progress indicator and more.
How to install iFunbox on your PC?
iFunbox is a fantastic software application and a reliable file management platform. To install the PC version of this excellent software, you can follow the guidelines and instructions described below.
Step 1: It is always preferred to install this software from the developer's official website. To visit the official site, click https://www.i-funbox.com/en/index.html.
Step 2: Alternatively, open your browser and search "Download iFunbox for Windows" in the search box.
Step 3: Now, you will get a list of websites on your search result page. You can select any trusted website like filehorse.com to download the setup file of this software.
Step 4: Once you have downloaded the setup file, follow the step-by-step guidelines and instructions to start the installation process and run this software on your system.
Step 5: After following all the steps, click on finish, and now you can use this fantastic software on your Windows operating system.
You might also like