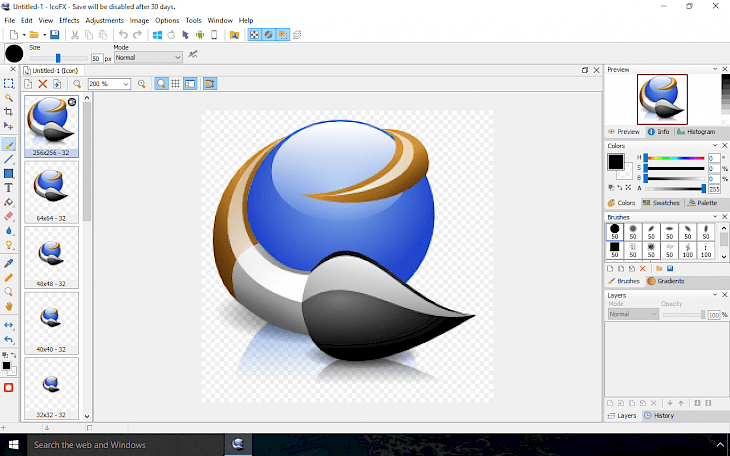 Download IcoFX
IcoFX is a professional, full-featured icon and cursor editor for Windows. It offers more than 30 tools to select, edit and retouch your images. You can also use IcoFX to extract icons from EXE and DLLs files.
You can use the software to import and export graphics in formats like BMP, PNG, JPG, JPG2000, TIF and GIF, converter images and icons, capture desktop area, edit file resources and more. IcoFX can also change icons or cursors inside Windows EXE or DLL files. Using the "Batch Create Icons or Cursors" dialog you can create icons or cursors from images. You can use the icon to icon tool to convert Macintosh icons to Windows icons or vice versa. You can remove image formats from icons or add new ones.
IcoFX offers over 30 tools to create and edit icons including Rectangular, Elliptical, Lasso, Magic Wand, Move tool, Crop, Brush, Pencil, Gradient, Fill, Line, Curves, Text, Color Picker, Hand, Zoom, Ruler, Eraser, Color Eraser, Blur, Sharpen, Brighten, Darken and more. The software comes with a lot of pre-installed image objects. You can make icons simply by combining the image objects. IcoFX offers effects that you can apply to your images, icons, and cursors.
AS a designer you will appreciate the option to create non-destructive image compositions by using layers. IcoFX offers a simple and intuitive Layers palette where you can quickly select, arrange, merge, change the blending and opacity of layers. Three color modes for easier color selection are supported (RGB, HSB, and grayscale). You can select the desired color mode on the Colors. Moreover, using the Icon Customization window you can change the icon of folders or a drive or removable media.
You might also like