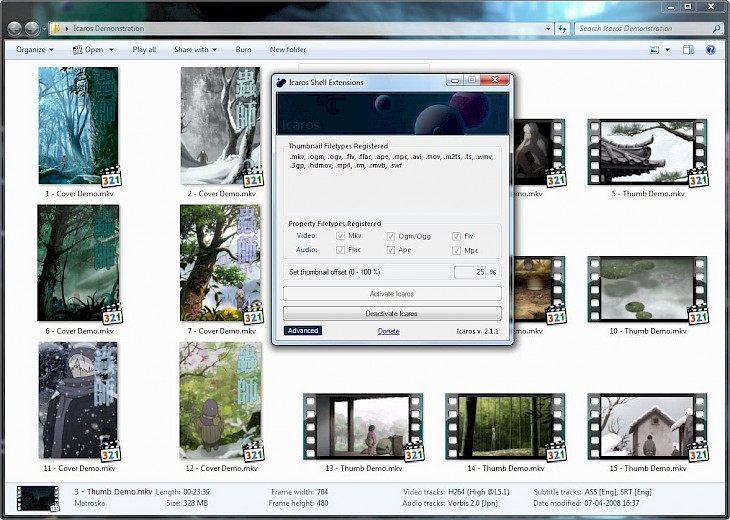 Download Icaros Shell Extensions
Icaros Shell Extensions is a series of Windows Shell Extensions that are lightweight and of high quality. Icaros can provide thumbnails for Windows Explorer, including common file types such as Mkv, Flv, Avi, Mp4, Mov, Rmvb, M2ts, Ogm, etc., for virtually any video media format supported by FFmpeg.
Icaros also provides custom parsers in addition to the FFmpeg supported filetypes, which can generate Cover Art thumbnails for Mkv, Flac, Ape, and Mpc formats. Windows Explorer pro is also available with Icaros Shell Extensions.
Icaros Shell Extensions is a way to introduce additional multimedia features to the Windows Explorer program's necessary capabilities. The software presents a range of Windows Shell Extensions that, by providing video thumbnails from inside the Windows Explorer framework, bring video content to life.
Features of Icaros Shell Extensions
The exquisite features of Icaros Shell Extensions are detailed below.
Multiple File System Support
Support for MKV, MOV, MP4, AVI, WEBM, OGV, FLV, RMVB, OGM, M2TS, and other video formats is provided using FFmpeg. Audio formats for FLAC, OGG, OPUS, SPX, APE, MP3, MKA, TAK, OFR, OFS, and WAV, etc., are also supported. Extensions of Windows Shell. The following video formats are supported: MKV, MOV, MP4, AVI, WEBM, OGV, FLV, RMVB, OGM, M2TS. The following audio formats are supported: FLAC, OGG, OPUS, SPX, APE, MP3, MKA, TAK, OFR, OFS, and WAV.
Thumbnail Previews
With visual film attributes, the thumbnail preview produces a film-like left and right effect. Either a visible number or a capture from the video itself is the critical video thumbnail. To help the program catch just the right frame from a video clip to use as the active thumbnail, a slider can also be used, plus timer settings. Add thumbnails for video and audio to Windows Explorer. Film-like preview thumbnails are more appealing than the default look. Pick where to take the shot for the thumbnail in a video recording.
Cover Art
Cover art may also be embedded in thumbnails, so it is also possible to add poster art from a movie or a TV series into the thumbnail. On a 64-bit Windows computer, 32-bit thumbnails may also be activated. Thumbnails for video and audio files are supported. Utilize a poster with graphic cover art as a thumbnail.
Slick User Interface
The GUI is pretty slick. For Thumbnailing, Assets, Cache, and About, there is a left sidebar with options. The main display changes when you pick from the sidebar to give the settings for that specific segment. Within the Thumbnail segment, the thumbnailing function can be activated or disabled as required.
Download and Install Icaros Shell Extensions for Windows PC
Icaros Shell Extensions can easily be downloaded from the link given above. The installation usually finishes with no problems. With the setup kit, there is no adware, toolbars, spyware, or malware included.
Windows OS includes the Icaros Shell Extensions. Icaros Shell Extensions is an excellent way of using this extension to spice up the video and audio thumbnails of Windows Explorer. Selecting the thumbnail to be included in a video clip from a picture or using poster art. Enjoy!
You might also like