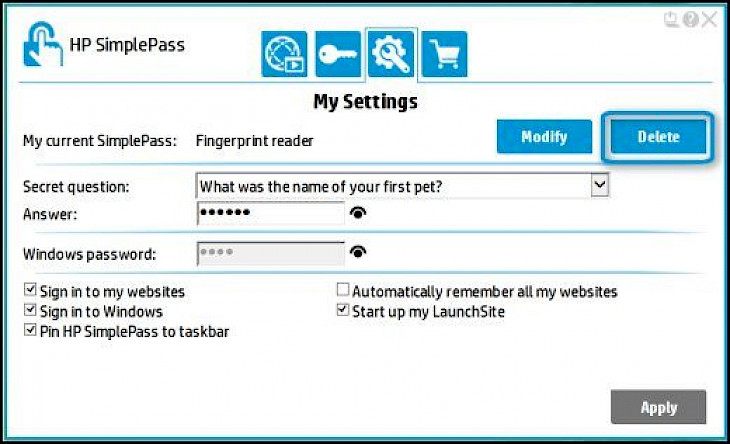 Download HP SimplePass
HP SIMPLEPASS is a security program that allows users to log on to secure websites and applications by scanning your fingerprint instead of typing your user name and password. The software also allows the users to log on to secure websites and applications by monitoring the user's fingerprint instead of typing their user name and password every time. The software has been designed to increase data security and prevent other users from accessing restricted data in the user's device.
Features of HP SIMPLEPASS
Biometrics: The software consists of a unique biometrics function which is used to boost security even further as biometric information cannot be guessed or imitated by someone else, as each fingerprint is unique of its own. This kind of fingerprint recognition can be used in devices to securely store passwords and utilize them to log in to various websites. The user needs to keep the username and the password in the app to use the fingerprint authentication.

Plugins: The software when installed, the user can also add a browser plug-in that can be used for popular Internet browsers such as Google Chrome or Mozilla Firefox.

Data Transfers: The software also consists of the ability to transfer the security data if the user ever chooses to change their device. The Export Identity feature allows users to create a file, which includes the entire configuration in which the file is protected by an additional password.

Sign in to Websites: This option allows the software to remember the websites used by the user and automatically fill in the credentials.

Sign in to Windows: The software allows users to sign in to Windows automatically without the necessity of keying passwords every time.

Pin Application to Taskbar: This option allows the user to pin the HP SimplePass Control Center to the user's Windows taskbar for easy access.
Installation Requirements for HP SIMPLEPASS
To install the HP SIMPLEPASS on PC, make sure that the following requirements are met by the user in the PC desktop.
PC – Make sure that your PC is on Windows 7 or higher with at least 4 GB of RAM.

Compatibility Mode is enabled.
How to Download HP SIMPLEPASS on Windows
Follow the below steps to download and install the HP SIMPLEPASS on your PC:
Go to HP Simplepass's website, and go to Downloads.

Click on Download Now.

Select 'Save' to download the program. The file will be saved in the Downloads folder.

If you want to save in a specified folder on your desktop, then click on 'Save As' and select the folder you want the program to be saved.

After the download is complete click on the .exe file.

The installation process will start.

Run the installation package.

Wait until the update completes

Follow the Windows installation instructions and select options accordingly.

Click on Finish to complete the installation.

The program icon will appear on the desktop.

Select the icon to start the application.
You might also like