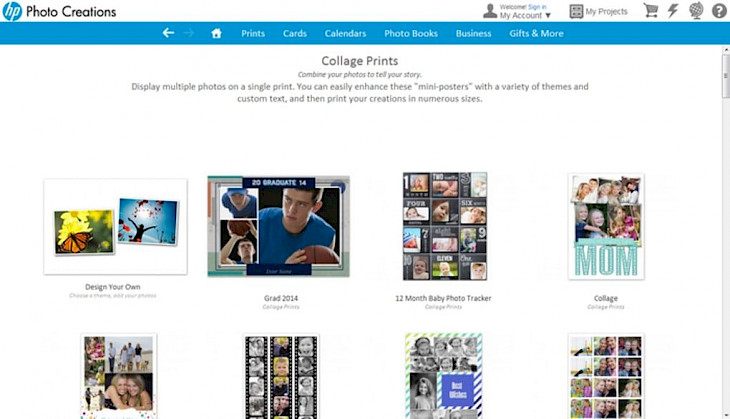 Download HP Photo Creations
HP-Photo Creations is a fantastic tool that helps users enhance their photography by adjusting their home photographs. This software acts as a photography manager for your system and allows users to enhance their photo libraries. HP-Photo Creation offers unique features to the user to create their customized cards, Photobooks, calendars, etc., by infusing their photos into multiple fascinating templates.
This fantastic software will guide and enable the users to transform their favorites photographs into attractive keepsakes. You can print an adorable customized gift for special occasions and present it to your family and friends.
HP-Photo Creation has this fantastic "ship-to-home" feature that allows you to order custom-produced items featuring your favorite pictures. You can feature your photographs on key tags, posters, mousepads, mugs, coasters, T-shirts, and more that will be available to you. If you want to give your friend a unique gift, this will be an absolutely perfect gift that you can present to anyone.
The interface of this application is quite simple. The main window represents seven primary tabs including Home, prints, cards, calendars, Photobooks, business, and more. To save time, you can choose any template to print your photograph or you can create your own template and customize it in your way to represent your creativity effectively.
FEATURES
The user interface is well-organized which makes this software easy to use.

"Ship-to-home" allows the users to order custom-produced items and print their favorite photographs on the same.

Show your creativity by making the customized templates to print the cards, calendars, etc.

This excellent tool helps you manage your photo libraries and easily find photos that can be integrated into your current project.
How to install HP-Photo Creations on your Windows Operating System?
HP-Photo Creations is a reliable platform to transform your pictures into something great. You will get an impressive collection of templates that you can use for cards, calendars, photo books, and more. This fantastic software allows users to generate and customize collages. You can import and export data easily and conveniently by using this beneficial platform.
This creative experience will consequently enhance when you use this software on your PC. Yes, you heard that right. The PC version of this software is easily available and you can download it from any trusted or published website. To install HP-Photo Creations on your Windows operating system, you will need to follow the instructions described below.
Step 1: You can download HP-Photo Creations by visiting the developer's official website.
Step 2: Alternatively, open your browser and search "Download HP-Photo Creations for Windows" in the search box.
Step 3: You can choose any trusted websites like filehorse.com from the search result page to download this fantastic game.
Step 4: Once the downloading is completed, click the setup or .exe file twice to start the installation process.
Step 5: Follow the instructions and guidelines very carefully.
Step 6: When the process is finished, the HP-Photo Creations icon will appear on the desktop.
Step 7: Click on the icon and use this fantastic software on your system.
Unfortunately, HP-Photo Creations retired on November 30, 2019, and no longer available for the user. You can use the other alternatives of this software including HP Photosmart, ArcSoft Print Creations, and many more.
You might also like